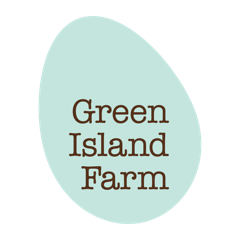 Welcome! We are a small family farm on Martha's Vineyard.
Who are your farmers? We are Susie Middleton, Roy Riley, Libby Riley, and Farmer (the black dog).
What do we raise and grow? Our main product is delicious, fresh (very fresh!) eggs from our 600 laying hens, but we also grow more than 40 kinds of vegetables and herbs throughout the year.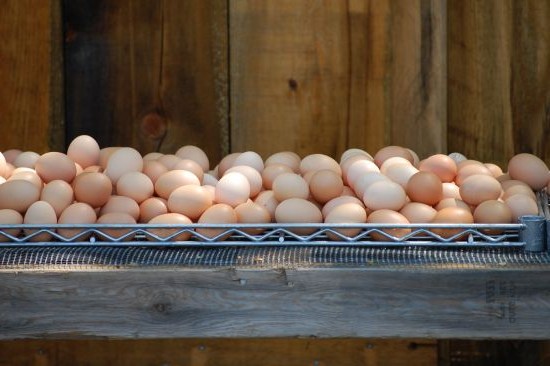 Where can you buy our eggs and vegetables? You can visit our self-serve farm stand in West Tisbury, directly across from the Martha's Vineyard Agricultural Society Fair Grounds (known as the "New Ag Hall" to Islanders) on State Road, from 8 am to 6 pm, 7 days a week. Eggs are available year-round from the self-serve fridge at the farm stand.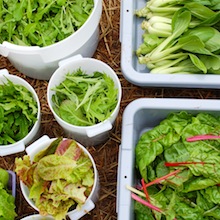 Vegetables are available as harvested from late spring to late fall, with some greens available year-round. Our eggs are also occasionally available at Up-Island Cronig's and Alley's General Store.
What kind of chickens do you have? Are they free-range? We have a beautiful flock of blue-egg laying Aracaunas, and our original small flock of "Ladies" are a mix of Barred Rocks, Buff Orpingtons, and Partridge Rocks. But our largest group of laying hens are a heavy-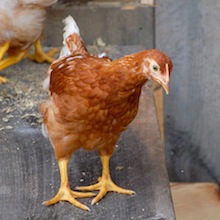 laying breed that is a cross between a Rhode Island Red and a White Leghorn. All the hens range outside during the day (the smaller flocks are completely free-range; the larger groups have expansive fenced-in-pens with trees for shade), and return to their coops at night. During the day, not only do they eat whatever grass is available, but they especially love bugs and worms. They also eat a mineral-fortified mixed grain chicken feed.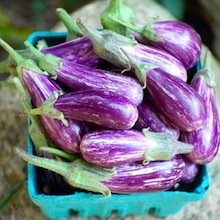 What vegetables do you grow? Salad green mixes–including beautiful lettuces, arugula, mizuna, tat soi, baby mustard and other delicate greens; radishes; kale and Swiss chard; baby bok choy; shell peas and sugar snaps; carrots; green beans and yellow beans; (lots of) tomatoes (including a beautiful mix of cherry tomatoes); bell peppers; several kinds of eggplant, including Fairy Tales; French Fingerling potatoes and red gold potatoes; zucchini and patty pan summer squash; butternut and acorn squash; Sweet basil and Thai basil; mint, cilantro, rosemary, parsley; spring onions and bulb onions; fennel; beets; turnips and rutabagas; berries.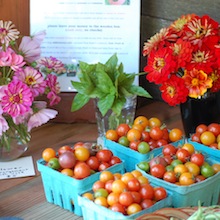 Is the farm open to the public? We're sorry but the farm itself (beyond the farm stand) is not open for touring or walking around, for your own safety and for the safety of our animals as well as the efficient operation of the busy farm. If we are at the farm stand during your visit, we would be happy to bring a chicken to show your child if time allows. Please keep your dogs in your car! As much as we love dogs, they can scare farm animals or be tempted to rough up a chicken!
Thank you. We look forward to seeing you.                                   —Susie Middleton and Roy Riley