Asparagus, Leek, Bacon & Croissant Bread Pudding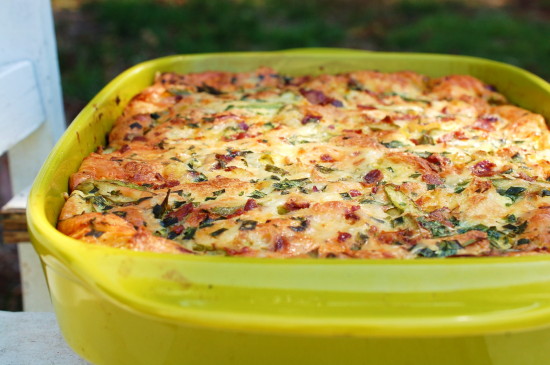 kosher salt
1 tablespoon extra virgin olive oil
1 bunch medium asparagus, trimmed and thinly sliced on a sharp diagonal (to yield about 2¼ cups)
7 eggs
1¾ cups whole milk
1 cup heavy cream
3 to 4 tablespoons sliced fresh chives
2 teaspoons coarsely chopped fresh thyme leaves
⅛ tsp. ground nutmeg
Worcestershire sauce
½ pound day-old grocery store or bakery croissants, torn into 1-inch pieces
1½ cups (packed) coarsely grated Gruyere cheese
Preheat the oven to 375 degrees F. Rub a 9×13-inch (3-quart) baking dish all over with a little butter.
In a large heavy nonstick skillet, cook the bacon over medium-low heat until crisp and browned, about 10 to 14 minutes. Transfer the bacon to a paper-towel lined plate and break up into smaller pieces when cool. Pour off half the bacon fat from the skillet and add 1 tablespoon butter and the leeks. Season the leeks with a pinch of salt, cover, and cook, stirring, until softened and beginning to brown, about 6 to 8 minutes. Remove the pan from heat and let the leeks cool.
In a medium nonstick skillet, heat the olive oil and the remaining half-tablespoon of butter over medium-high heat. When the butter has melted, add the asparagus and ¼ teaspoon kosher salt. Cook, stirring, until the asparagus is crisp-tender (it will still be somewhat green), about 3 to 4 minutes. Transfer the asparagus to a plate.
In a large mixing bowl, combine the eggs, the milk, the cream, the chives, the thyme, the nutmeg, a couple dashes of Worcestershire sauce, and 1 tsp. salt. Whisk well to combine.
Arrange half of the croissant pieces over the bottom of the baking dish. Sprinkle half of the asparagus, half of the leeks, half of the Gruyere, and half of the bacon over the bread. Repeat with the remaining bread, veggies, cheese, and bacon.
Pour the egg mixture evenly over all. (Start at one end and pour slowly back and forth). Using your hands, gently press down on the bread and veggies to force the custard to evenly surround everything. Let sit for 20 minutes. Bake until the bread pudding has risen and is set and dry in the middle (it will be golden all over), about 40 to 44 minutes.
Recipe by
Sixburnersue.com
at https://sixburnersue.com/cooking-fresh-eating-green/2012/04/asparagus-eggs-croissants-in-a-recipe-for-easter-brunch/