Cooks love tips—anything that makes life in the kitchen easier, tastier, more fun. I once did a TV tour where all I did was demonstrate cooking tips (of course with no stove or running water) on morning TV shows all over the country. This was somebody else's great idea, not mine, as I was sent off to do this with almost no media training. Fortunately, I was usually on for about 30 seconds between the local political scandal and the weather, so I'm sure nobody watched.  However, in one place—Fort Worth, Texas—where I am happy to say they place a great value on cooking at home—I was on for 12 whole minutes. This required a little bit of effort to prepare for (and I'm not talking about the serious make-up they applied to me before I went on the air. I looked like Susiezilla). I had to expand my 30-second schpeel into a "top ten tips" kind of thing—and talk a whole lot more slowly!
The host (and the viewers) loved that tip demo, and I remembered this when I was getting ready for my book signing at Bunch of Grapes bookstore last Friday night. I was asked to speak for 30 minutes (normally this would be the time when a fiction or non-fiction author would read from his or her work), and I didn't want to bore everyone to death. Plus, I am always better in front of a crowd if I have something to do with my hands. So I did a tip demo.
I peeled fresh ginger with a spoon. Made pretty squash ribbons with a hand-held julienne peeler. Zested a lemon with a Microplane zester. Cut the bottom of a potato off to stabilize it first before slicing it thinly. Stacked basil leaves, rolled them like a cigar, and sliced them across into a "chiffonade." That sort of thing. Once again, I got positive feedback from folks, and one friend asked me if I could post more of these tips on my blog. "Just give us a short blog every once in a while with a quick tip." Quick I am good at, short I am not. So while this blog could really begin with the next paragraph, I've made you all suffer through these words to get to the tip. Someday I will get it right.
Here's the tip. It's about using fresh garlic. Instead of always chopping or mincing fresh garlic, try slicing whole cloves very thinly with a paring knife. These slivers, when gently sautéed in olive oil (keep the heat fairly low to prevent overbrowning), turn into delicious golden "chips." Not only do the chips make for tasty nubbins in your final dish, but they gently infuse the olive oil with subtle garlic flavor. That olive oil, in turn, imparts a nice garlic flavor to whatever (ideally a green leafy vegetable) you next add to the pan.  (Minced garlic releases so much juice that it not only risks burning more quickly but can overpower a dish with intense garlic flavor).
I use this method (and these yummy garlic chips) to make my version of the classic side dish, garlicky sautéed spinach. (I named mine for Popeye.) The only other trick to my side dish is—your guessed it—really fresh spinach. By fresh I mean spinach still on its stems, in a bunch (not in a plastic bag). I realize how convenient bagged spinach is, and I'm all for using it when I'm making a big lasagna or that sort of thing. But to enjoy a simple spinach side dish, treat  yourself to a bunch of fresh flavor (that was a typo, I meant fresh spinach…or maybe I really did mean flavor). I especially like the variety with bodaciously crinkly leaves that give your side dish a little body, even when wilted. And I do mean wilted—that's my last tip. Don't overcook spinach. Just toss it in the infused oil until it collapses. Done.
Popeye's Garlic Spinach For Two
____________________________________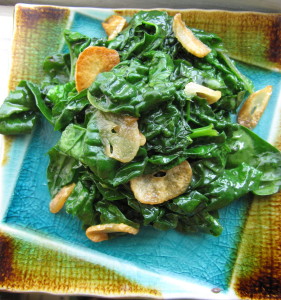 1 tablespoon extra-virgin olive oil
1 bunch fresh spinach (10 to 12 ounces), stemmed, washed well, and spun dry
3 medium-large garlic cloves, peeled, ends trimmed, and cut into very thin slices (1 1/2 to 2 scant tablespoons garlic "chips")
1/4 teaspoon kosher salt
1 teaspoon unsalted butter
____________________________________
Heat the olive oil in a medium (9- to 10-inch) nonstick skillet over medium-low heat. When the oil is hot (it will loosen up), add the garlic slices and stir with a silicone spatula to distribute them in the oil. Turn the heat to low and cook, stirring frequently to keep the garlic covered in the oil, until the garlic softens and loses its white color, and the smallest pieces become light brown, while the larger pieces are just starting to become a light golden color, 6 to 7 minutes (don't overcook the garlic or it will become bitter). You should smell a pleasant garlicky aroma, nothing acrid. Add half of the spinach and the salt and stir and fold the spinach with tongs until most of it is wilted and dark green, 1 to 2 minutes. Add the other half of the spinach and stir well again until the spinach is mostly all wilted, another minute or two. Take the pan off the heat, add the butter, and stir again to melt the butter and incorporate it with the spinach. Transfer the spinach with all of the garlic pieces to a serving bowl or bowls.
Serves 2