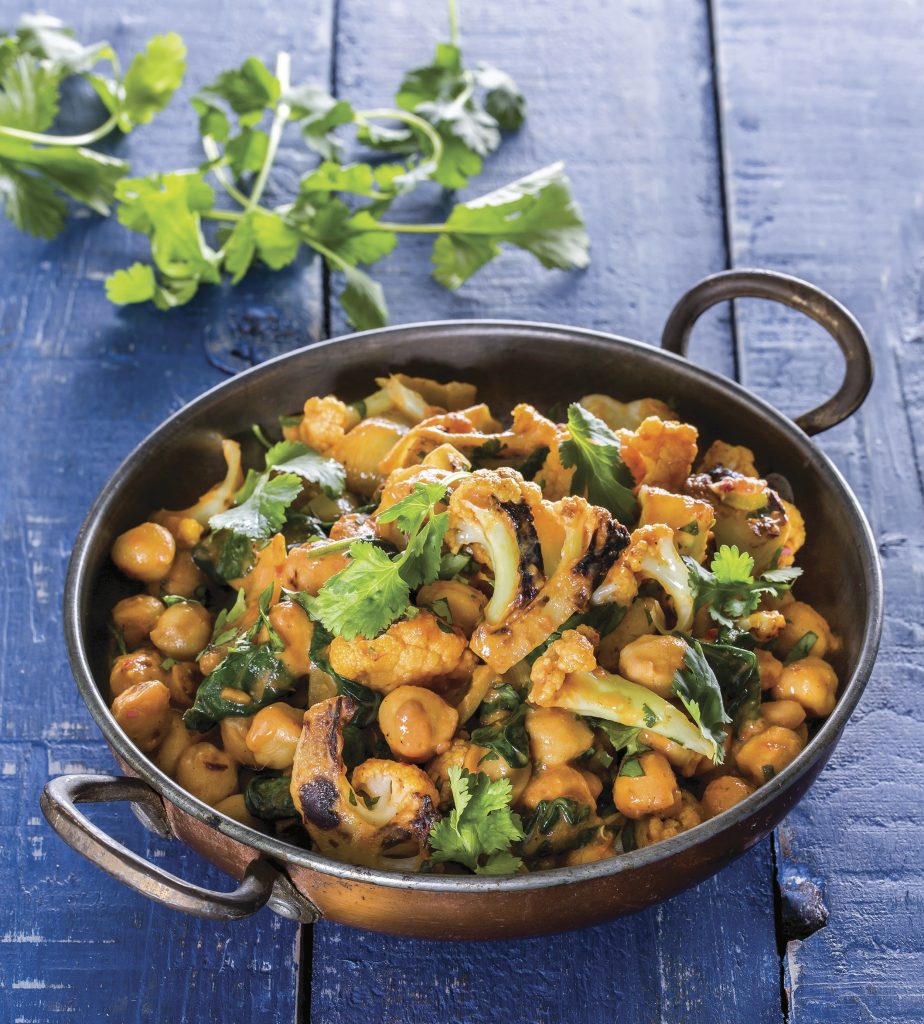 Weeknight. Cooking. Strategy. Three words we all wrestle with, but that I hope will soon bring a smile to your face when you get a hold of Simple Green Suppers: A Fresh Strategy for One-Dish Vegetarian Meals. Lately, with all the distractions, I barely noticed that the pub date for my fourth cookbook is sneaking up, and now we have just two months to go. (April 11—yay!)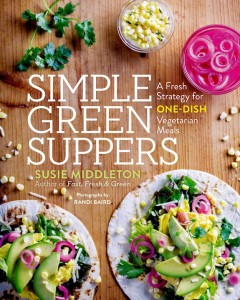 I'm pretty darn excited, because I think this is the most useful cookbook I've written since Fast, Fresh & Green, and honestly, these days, useful is good. Useful is something we can wrap our heads around.
Heck, lately I've even realized that smarter cooking might be able to help us alleviate one problem in this country—food waste. (In American households, 27 million pounds of food a year gets tossed.) But I'll offer some tips on that in a later blog.
Right now, I want to assure you that flavor comes first. Recipes that taste good and work well are the ones you will make again. When I can create great flavor, show a new technique, and offer a way to streamline weeknight cooking, I'm extra happy. Because I want you to cook more, enjoy cooking, and eat well.
So let's talk about chickpeas—those incredibly versatile, protein-rich legumes that do it all. Despite the Ottolenghi-inspired elevation of chickpeas to a sexy star ingredient (very welcome stateside after many years of unfortunate mistreatment), I still have many friends who tell me they're not crazy about chickpeas. I think this is because the texture, the liquid, and the flavor of canned chickpeas can be off-putting. Canned chickpeas can be a bit mushy and slippery, and some brands have a slight metallic or funky taste—or too much sodium. Doing a taste comparison of brands can go a long way towards eliminating some of these problems. I've found I really like Westbrae Natural Organic Garbanzos, so I stock up on them when I find them. And rinsing helps a lot, too.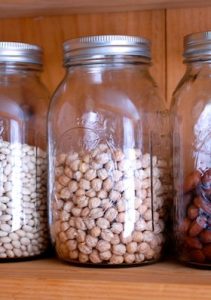 It's great to keep canned chickpeas around for convenience; I'd never suggest that you don't. But I will tell you that of all the beans and legumes I cook and eat, chickpeas are the one I most frequently cook myself.
In fact, I toss a couple cups of dried chickpeas into a mixing bowl, cover with water, and stick in my fridge most Saturday nights. (That's the overnight soak that people are fond of complaining about, when in reality it's just a habit to form, and one that takes less than 2 minutes to accomplish.) At some point on Sunday, I drain them, put them in my pasta pot, cover with lots of water, add a bay leaf, a garlic clove, and maybe a sprig or two of thyme, bring to a simmer, and cook for about an hour. Then I add a little salt and continue cooking for 15 to 30 more minutes until the chickpeas are tender to the bite. (If I have to add more boiling water, I do.) I drain them, cool them, pop them in a storage container, refrigerate, and voila!–I  have chickpeas for the week. Very little hands-on cooking time for a big payoff.
Chickpeas that you cook yourself will not only have a better flavor and texture than canned ones, but they will keep longer as well—5 to 7 days in the fridge. For a vegetarian, having a protein like this already cooked and in the fridge cuts weeknight supper prep time down considerably.
And now those chickpeas are ready for their biggest trick—one that ordinary beans and lentils cannot perform: Browning. Yes, this is the real reason I love chickpeas so much: You can sauté or roast them until they take on a golden brown color and toasty, even nuttier, flavor. And you know, I love brown!! When I discovered that chickpeas could do this, I was ecstatic. Because the flavor is killer. The crunchy texture of roasted chickpeas is a fun bonus.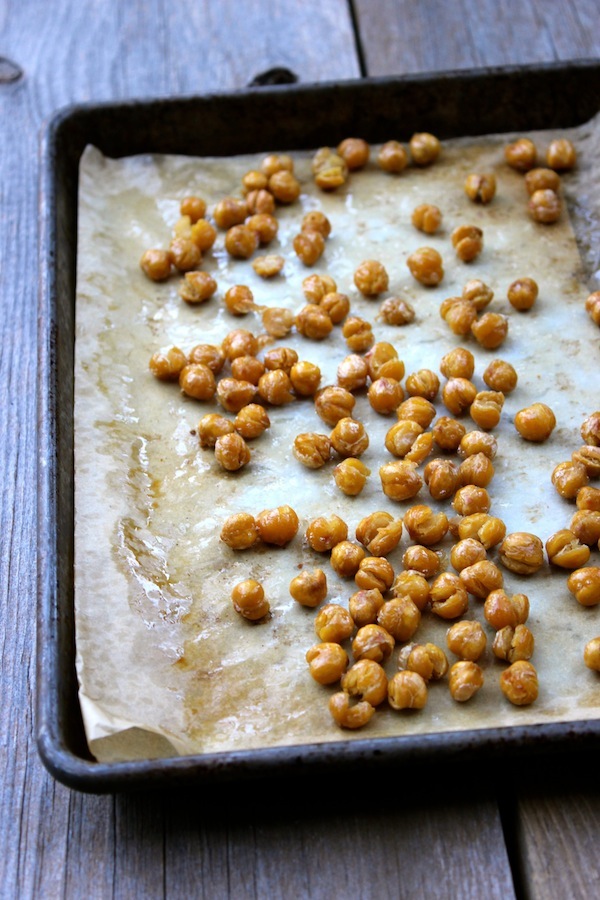 The good news is that you can sauté or roast either home-cooked or well-drained canned chickpeas. So if you're new to vegetarian eating, look at it this way: If you're making a quick weeknight stir-fry or sauté or braise, you can replace the shrimp, the chicken, or the beef with chickpeas. Chickpeas can also be part of a delicious hash, and they make a great base for quesadilla and burrito fillings. Sautéed and spiced chickpeas and veggies, along with some toasted nuts and fresh herbs, turn cooked whole grains (another great make-ahead) into a million different suppers. Marinated or dressed (don't leave them rolling around naked and lonely), they turn a chopped or warm salad into a filling supper.
But enough already. I think at this point you'd just like a delicious recipe to try all this out, so here is a favorite Indian curry from the book. I think you'll love it.
And I'll be back in a couple weeks with another teaser recipe and more tips for weeknight vegetarian suppers to keep you excited about the book. And if you haven't preordered your copy—or asked your independent bookstore to order some—please do. Click on this link.
Indian Curry with Chickpeas, Cauliflower, Spinach, Tomatoes, and Coconut Milk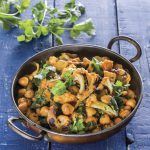 One fall night I set out to cook a comforting Indian curry that would have all the things I love in it, starting with sautéed chickpeas and cauliflower and ending with a slightly creamy coconut-tomato sauce. In between, a mix of ginger, garlic, and curry spices (as well as fresh spinach) would provide backbone. I decided to use my handy stir-fry pan, because it's great for sautéing and simmering. After a little chopping, I started cooking. Fifteen minutes later, I was so happy: I loved it! Leftovers were delicious, too. Be sure to use fresh curry powder. This dish is filling on its own, but you could serve it with rice or naan if you like.
Serves 2 to 3
3 tablespoons grapeseed or vegetable oil
One 15-ounce can chickpeas, drained, rinsed, and dried (or about 1 1/3 cups cooked chickpeas)
¾ teaspoon kosher salt, plus a pinch
3 cups cauliflower florets (1- to 1½-inch pieces, cut so that most have a flat side)
1 cup sliced yellow onion (about 1 medium-large onion, cut lengthwise)
1 tablespoon minced fresh garlic
1 tablespoon minced fresh ginger
1½ teaspoons Asian chili-garlic paste
2 teaspoons curry powder
2 teaspoons packed dark brown sugar
½ teaspoon ground cumin
3 cups packed baby spinach
½ cup canned crushed tomatoes
1 cup canned full-fat coconut milk (preferably organic), well stirred
¼ cup finely chopped fresh cilantro
In a large (12-inch) nonstick stir-fry pan, heat 1 tablespoon of the oil over medium-high heat. When the oil is hot, add the chickpeas and ¼ teaspoon salt. Cook, stirring occasionally, until all the chickpeas are golden and have some brown spots on them, 5 to 6 minutes. Transfer the chickpeas to a large plate.
Return the pan to medium-high heat and add 1 tablespoon of the oil. When the oil is hot, add the cauliflower and ½ teaspoon salt. Stir, cover, and cook, uncovering to stir occasionally, until the cauliflower pieces are browned in spots and have lost their whiteness (they will be softened but still crisp), about 5 minutes. (If the cauliflower is browning too quickly, reduce the heat to medium. If your pan does not have a lid, use a baking sheet or the bottom of a large skillet.) Transfer the cauliflower to the plate with the chickpeas.
Return the pan to medium-high heat and add the remaining 1 tablespoon of oil, the onion, and a pinch of salt. Cook, stirring, until the onions are browned in spots but haven't lost all their stiffness, about 3 minutes. Add the garlic, ginger, chili-garlic paste, curry powder, brown sugar, and cumin. Stir well to combine, and fry the spices for 30 seconds. Add the spinach, tomatoes, and coconut milk and stir well to incorporate the spices with the liquids and to soften the spinach. Add the cooked cauliflower and chickpeas and simmer, stirring, for 1 minute. Stir in the cilantro and remove the pan from the heat.
Serve hot or very warm in two or three bowls.
Recipe From Simple Green Suppers by Susie Middleton, © 2017 by Susie Middleton. Reprinted by arrangement with Roost Books, an imprint of Shambhala Publications, Inc. Boulder, CO.
Photo of Indian Curry by Randi Baird © Randi Baird