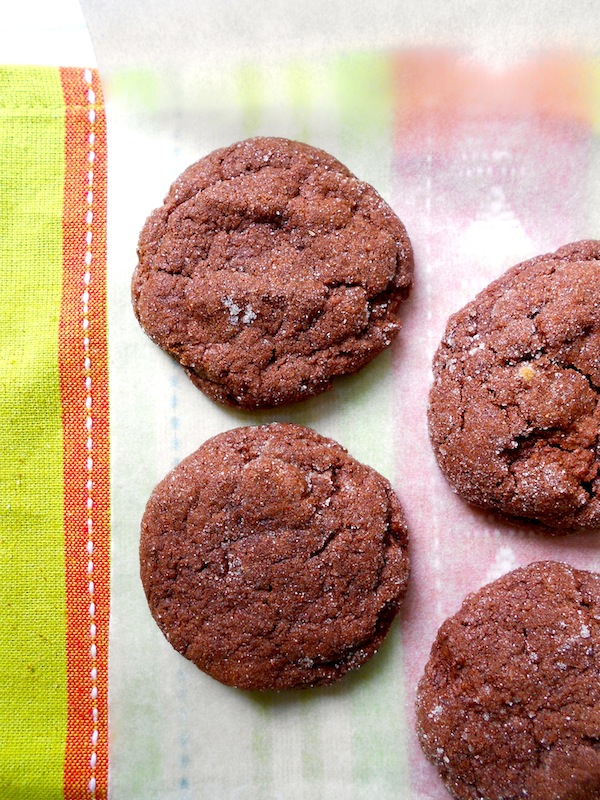 Chocolate and orange—Love it or hate it? This is one of the (grueling) debates we used to have in the Fine Cooking magazine test kitchen when it came time to test recipes for the holiday issues. There was always a chocolate soufflé or chocolate something that had orange zest or oil added to it. Some of us were firmly on the side of "no orange in my chocolate!" Me, I happen to be a fan. That bright, citrusy tang adds complexity by bringing out the fruity side of a good bittersweet chocolate.
But, yeah, in the scheme of things, these are not the kinds of debates that are going to keep us awake at night. (Although they are a good diversion from things that are!) And really, the one thing they remind me of this time of year is what a gift those test kitchen tastings were. After eight years at Fine Cooking—and hundreds of recipes tasted—I had this huge collection of taste memories to refer to whenever I needed a recipe for a special occasion (or any time, really). Of course the memories were tied to recipes printed in the magazines, and I still have all 130+ regular issues on the bookshelf right behind me. But lucky for you, they are all (mostly) online at this point (and available in a CD). And better still, recipes have been collected into specially themed magazines which are easy to reference. So when it comes time to start baking cookies in December, I just pull out my Fine Cooking Cookies issue. (You can purchase it for $7.49 in the Taunton Store right now).
Most of my favorite cookie recipes are from my favorite baker, Abby Dodge (the author of several outstanding cookbooks, including The Weekend Baker). I got to know Abby when we were mere children (ha!) in the early days of Fine Cooking. Abby was the magazine's first test kitchen director.
She is a chocolate genius.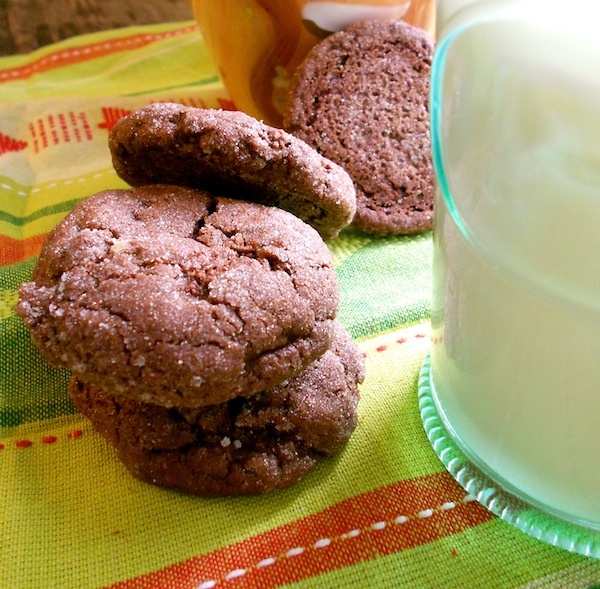 So even though I realize this is supposed to be a blog about cooking and growing vegetables, I am going to share Abby's Dark Chocolate Crackle Cookie recipe with you today. I simply have cookie-brain right now. After posting the Giant Molasses Crinkles recipe last week, I thought, well, I'll just keep on cookie-ing for now! Since my Dad is arriving today and he is a fellow-chocolate lover (he used to secretly steal bites out of my chocolate Easter bunnies), I figured it was a good time to make what may be my favorite holiday cookie (at least in the top three).
And yes, there is orange zest in this chocolate recipe. But the wonderful news is that the cookie is delicious with and without it. I've used the suggested 2 teaspoons, occasionally 1 teaspoon, and sometimes none. All have been wonderful. There is a lot of cocoa and chocolate here, but the investment is worth it since the recipe yields a lot.        
Dark Chocolate Crackle Cookies
Recipe by Abigail Johnson Dodge from Fine Cooking Magazine Issue 89
These deeply flavorful chocolate cookies have a light, cakey, almost-brownie-ish interior. They are fragile when hot, so let them cool for several minutes on the cookie sheets before moving. You can freeze balls of dough for up to 1 month instead of cooking them all right away. Thaw them overnight before proceeding with the recipe.
Yields about 5 dozen cookies
 11-1/4 oz. (2-1/2 cups) unbleached all-purpose flour
1 tsp. baking soda
1/4 tsp. table salt
8 oz. (1 cup) unsalted butter, at room temperature
2 cups firmly packed light brown sugar
2 oz. (2/3 cup) natural, unsweetened cocoa, sifted if lumpy
2 tsp. finely grated orange zest
1 tsp. pure vanilla extract
3 large eggs
8 oz. bittersweet chocolate, melted and cooled until barely warm
3/4 cup (4 oz.) chopped chocolate (white, bittersweet, or semisweet)
1/3 cup granulated sugar; more as needed
Position a rack in the center of the oven and heat the oven to 350ºF. Line three large cookie sheets with parchment or nonstick baking liners.
In a medium mixing bowl, whisk together the flour, baking soda, and salt. In the bowl of a stand mixer fitted with the paddle attachment (or in a large mixing bowl with a hand mixer), beat the butter, brown sugar, cocoa, orange zest, and vanilla on medium speed until well combined, about 4 minutes. Add the eggs one at a time, beating briefly between additions. Add the cooled chocolate and mix until blended, about 1 minute. Add the dry ingredients and mix on low speed until almost completely blended, about 1 minute. Add the chopped chocolate and mix until blended, about 15 seconds.
Shape the dough into 1-1/4-inch balls with a small ice-cream scoop or two tablespoons.
Pour the granulated sugar into a shallow dish. Dip the top of each ball in the sugar and set the balls sugar side up about 1-1/2 inches apart on the prepared cookie sheets. Bake one sheet at a time until the cookies are puffed and cracked on top, 11 to 12 minutes. Let the cookies cool on the sheet for 5 minutes before transferring them to a rack to cool completely.