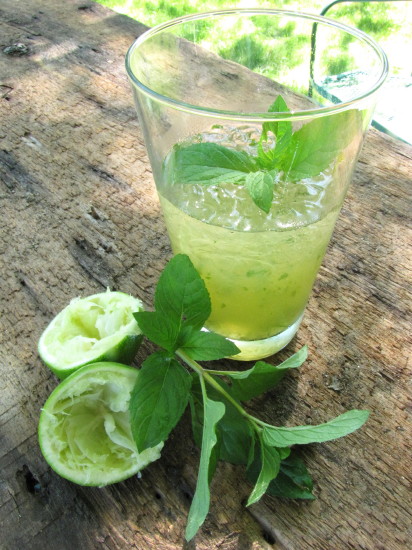 You meet the most interesting people. If you have a farm stand in your back yard, that is. The farm stand didn't start out as close to the house as it is now, but there were a couple of little problems that forced our decision to move it down the driveway. On a positive note, now when people get out of their cars, they get a great view of the garden, and some even wander over to take a look at the chickens and Cocoa bunny. Also, since I am often outside working, I get to meet more of them now.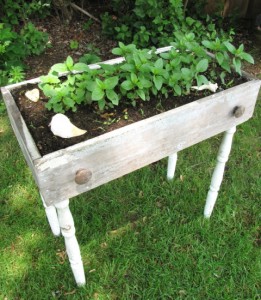 This past weekend I was chatting with a lady who'd just returned from a trip to Paris with her husband. She had her eye on our "pick your own mint" patch (which is actually mint planted in an old dresser drawer—very cute!), because she wanted to recreate a drink she had in Paris for her friends on the Vineyard. She told me it was a (non-alcoholic) combination of lime juice, apple juice, and mint, with lots of ice and a splash of soda. I didn't get any more details, but the notion of making one of these stuck in my head because it sounded so refreshing, and I love any concoction that takes advantage of the lime-mint synchronicity.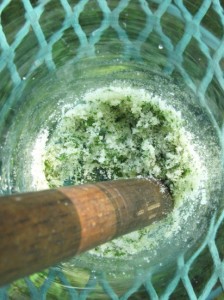 Back at my desk, I did a quick Google search of similar drinks and couldn't find one just like that. But since the drink sounded a bit like a mojito to me, I decided to follow the method in a mojito recipe by Jen Armentrout over at Finecooking.com. I started out by using the handle of a wooden spoon to "muddle" the mint with a little bit of sugar (not too much since apple juice is sweet, also). I added a pretty generous amount of freshly squeezed lime juice, a little apple juice, lots of crushed ice and a bit of club soda. It was delicious and a dead-on thirst quencher. I drank the whole thing right up as I seem to be constantly thirsty from working outside. But I've no doubt you could sip on one, too (and add a splash of your favorite spirit), in the cool shade of a maple—or a palm—tree.
Apple-Lime-Mint Spritzer
For a printable recipe, click here.
I have a wonderful old wooden spoon that's about 2 feet long (I think it must have been used for candy making) and has a thick handle perfect for "muddling" the sugar and mint. But look around your kitchen and you'll likely find something (shorter!) that will work. To make crushed ice, put ice cubes in a zip-top bag and bang with a wooden meat mallet or other heavy object.
____________________________________
6 to 8 big peppermint or spearmint leaves, plus an extra sprig for garnish
1 tablespoon sugar
2 tablespoons fresh lime juice
1/4 cup apple juice
crushed ice
club soda
_____________________________________
Put the mint leaves and the sugar in a tall glass. Crush the mint leaves with the  handle of a wooden spoon until the mint is macerated and broken up. (The sugar will have a green tint.) Add the lime juice and stir well. Add the apple juice and a generous amount of crushed ice. Top off with club soda. (Start with a small amount of soda, taste and add more if you like.) Garnish with a mint sprig.
Serves one