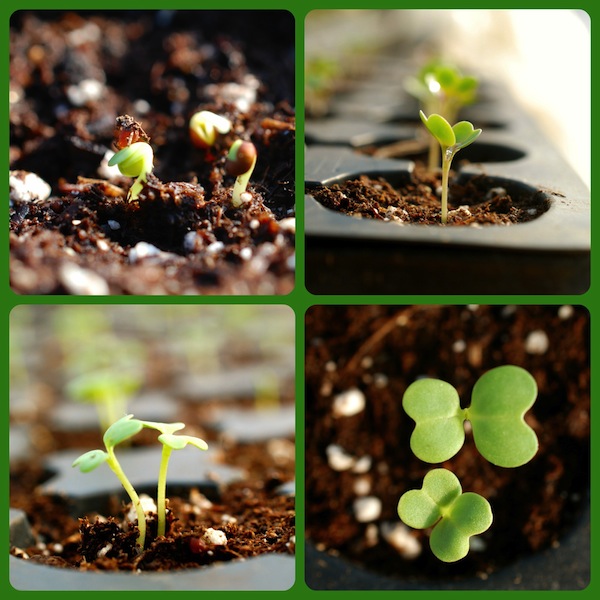 Yesterday I was hiding out in the hoop house, pretending that I didn't have a long list of things to do before getting on a plane tomorrow. It was warm and bright and still inside, the air spritzed with the fine smell of damp potting soil. I could have stayed there for hours, futzing over the hundreds of little baby bok choy seedlings that have popped up in the last week.
We planted the bok choy seeds with the grand scheme of getting an early crop into our south-facing bed along the outside of the hoop house. Roy has been prepping the bed and installing hoops and a plastic cover to warm the soil up for planting. Bok choy can go into 50° soil and by using transplants, you can have a harvest in about a month after transplanting.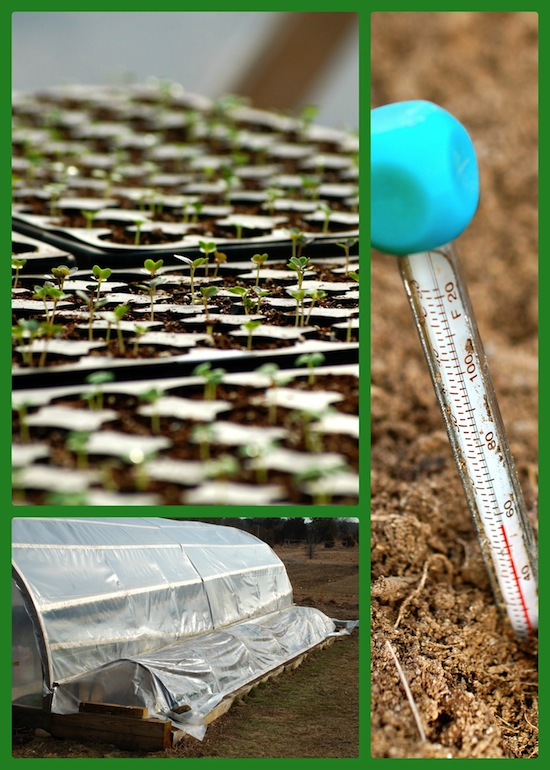 Even though we have the hoop house now, it isn't heated, so the nighttime temperatures are still pretty chilly in there. (The greens in the raised beds have covers over them.) So we had to germinate the bok choy seeds inside. First, I mixed up the seed starting soil (with water) and spread it in 72-hole flats in the hoop house. Then I carried the flats inside, planted the little tiny seeds, covered the flats with plastic tops, carried them upstairs, and arranged them over the floor of Libby's bedroom. Then I shut the door to keep the room cool and to keep Barney out.
So you can see, we still do not have a very sophisticated system of seed starting. And, by the way, though Libby's room was the perfect temperature, and the seeds germinated very evenly, Barney did get in there more than once and pounced on the plastic tops. I think he got in because Farmer nosed the bedroom door open, thinking Libby might be in there.
Still, we'll call that part successful. However, we've then had to carry the flats down to the hoop house every morning—and then back every night. The seedlings grow straight and sturdy in the gauzy overhead sunlight of the hoop house, so you want them there during the day. (Without adequate direct light, seedlings grow leggy and sideways, as most of you probably know. ) And very soon we'll be able to just pop the plastic tops back on at night and leave them in there. But right now, because of this ridiculous weather (50° yesterday, 25° and snowing today) the flats have to go back inside the house at night. Argh!!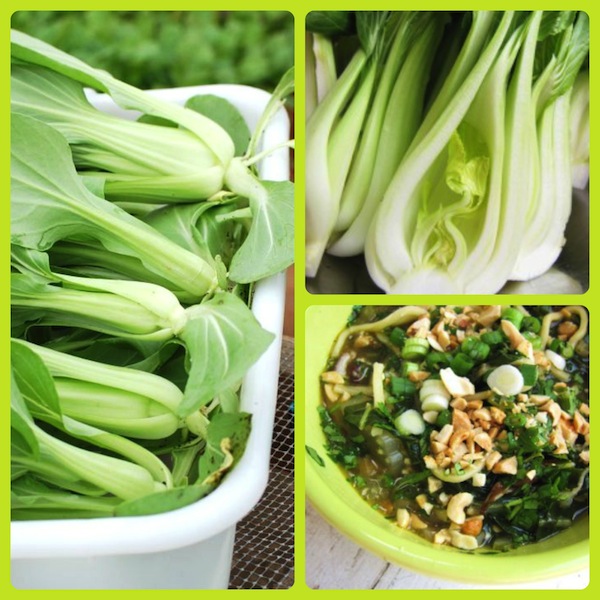 Anyway, this is certainly not a big problem to be complaining about, and I'm only really recounting this as my way of saying I am oh-so-very-excited about spring coming. (And for making delicious things with bok choy, of course!). When I get back from Chicago, I will plant more flats—of lettuce, spinach, kale, and chard. (That is—IF I get back! I'm supposed to get out of downtown Chicago and to the airport on Monday, and isn't that St. Patrick's Day? And isn't there, like, a fairly large parade in Chicago?! Oh well.)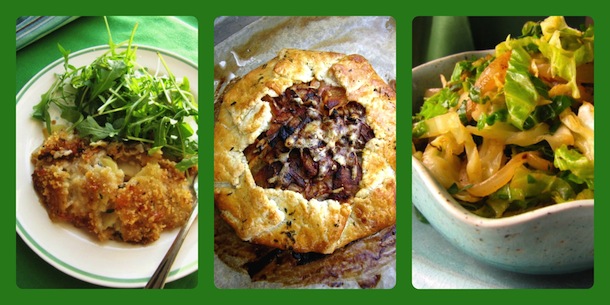 Since I won't be actually here on the Irish holiday, I thought I'd better share my favorite cabbage recipes from Sixburnersue with you today. I've never been one for boiled cabbage, so for a simple preparation, I go with something like this Quick-Sautéed Cabbage recipe. For something fancy, there's always the Savoy Cabbage, Apple, Onion & Gruyere Rustic Tart. But probably my favorite holiday cabbage side dish (with the same flavor profile as the tart, just with potatoes added) is this St. Patrick's Day Cabbage, Onion Apple & Gruyere Gratin.
I may not get to eat one of these dishes on St. Patrick's Day this year, but I do have some cabbage to look forward to—I planted some cabbage seeds directly into one of the hoop house beds last fall, and I now have a few tiny cabbage plants starting to form heads. With any luck, I'll have cabbage on say, May Day! And baby bok choy even sooner. Can't wait.