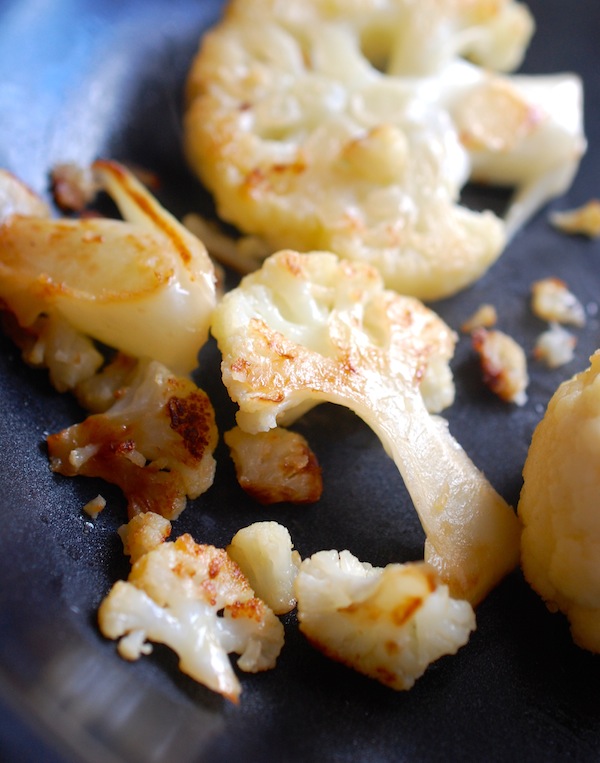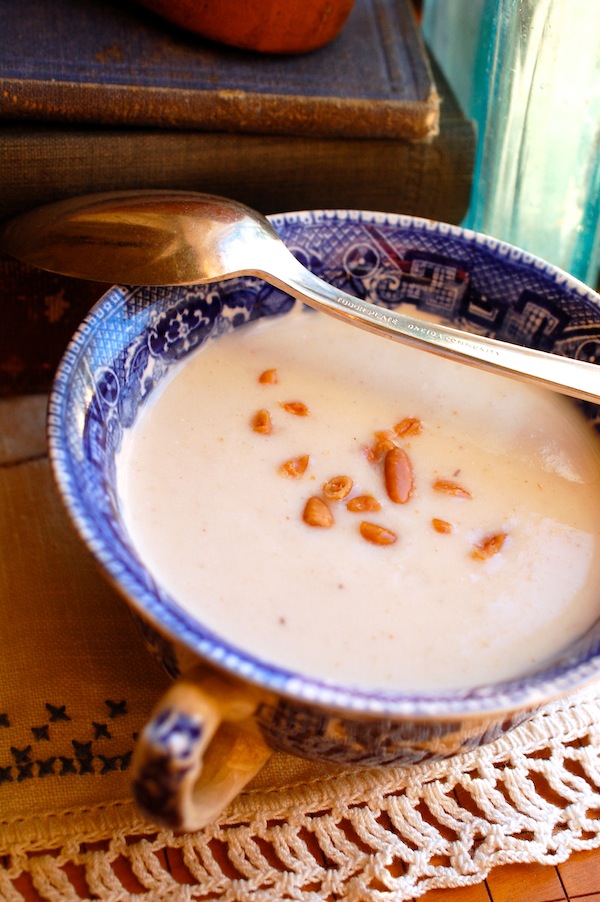 My dad gave me a copy of the cookbook Jerusalem for Christmas. Now I want to go to Jerusalem. Okay, so that's not happening any time soon. Anyway, the ingredients and recipes that arise out of such a fascinating mix of cultures are alluring. I'm at least going to buy a jar of za'atar spice mix and a bottle of pomegranate molasses, neither of which I've had in my pantry in years. (And I learned that fresh za'atar is actually hyssop, which technically, we could grow and dry here).
Coincidentally, I've had 2014's vegetable darling, cauliflower, on the brain. (For some reason, the endless lists generated by the food trend police all seem to mention cauliflower, as if it hadn't had a full and happy life before now.) For me, I just naturally think of cauliflower in winter, when it's snowy and 8 degrees outside. I guess it's the winter white thing. Hence, I can gladly offer you a collection of cauliflower recipes I've put forth in winters past (see links below).
But yesterday, I decided to make a slightly Jerusalem-esque cauliflower soup, since it occurred to me that if a touch of tahini and a smattering of pine nuts are good with a cauliflower sauté or salad, they might be nice with a creamy ("creamy," though no cream—only yogurt) soup. (And, I do still have a can of tahini and a bag of pine nuts in my larder!)
Once again, the winter darkness conspired against me to shoot a decent photo in natural light, but you'll have to trust me on this one. The soup is lovely—comforting and pleasing enough for most to enjoy (even Roy). I had it for dinner with an avocado and arugula salad. Yum.
Quick farm report: Chickens are hanging in there. Feral cat has baby kitten housed in former pig pen. Roy is leaving food for them. Farmer wants to adopt kitten. Will keep you posted. Let's all hope for warmer weather. Mice are in hiding.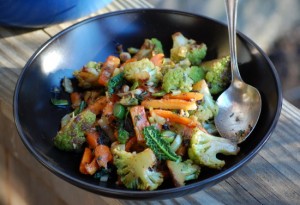 Oh, and here are the links, in addition to the soup below, for my other delicious cauliflower (and broccoflower—or green cauliflower—which I like even better!) recipes:
Broccoflower and Cremini Mushrooms with Garlic and Rosemary
Honeyed Cauliflower with Toasted Almonds
Roasted Cauliflower, Potato, Mushroom & Green Bean Gratin
Roasted Cauliflower with Double Lemon Ginger Dressing and a Spritz of Arugula
Lemony Green Cauliflower with Scallions and Parmigiano
Roasted Cauliflower with Garlic-Lime Cilantro Butter
Teeny Veggie Stir Fry with Thai Sauce
Broccoflower, Carrot & Leek Ragout with Thyme, Orange & Tapenade
Quick-Roasted Cauliflower with Zesty Orange-Olive Dressing
Roasted Cauliflower, Cremini, Gruyere and Rosemary Gratin
___________________________________________________________________________________________
Cauliflower Soup with a Touch of Tahini & Toasted Pine Nuts
I added a teaspoon each of ground cumin and ground coriander to this soup, but you could replace a little of the cumin with ground ginger or go with just garam masala. You could also add some heat anyway you like. Instead of the yogurt and lemon juice, you could finish this with coconut milk and lime juice.
Serves 4 to 6
2 tablespoons unsalted butter
1 tablespoon extra-virgin olive oil
1 large head cauliflower (about 2 ½ pounds), cored, trimmed, and very roughly cut into large florets or pieces (about 8 cups or 1 ½ pounds)
Kosher salt
1 generous tablespoon finely chopped fresh garlic
1 generous tablespoon finely chopped fresh ginger
1 scant teaspoon ground cumin
1 teaspoon ground coriander
4 cups low-sodium chicken broth
3 cups water
3 tablespoons Tahini (well-mixed first)
¼ cup thick plain Greek yogurt (I use nonfat)
1 to 2 teaspoons fresh lemon juice
1/3 cup toasted pine nuts
In a large (6-quart) Dutch oven, heat 1 tablespoon of the butter and the olive oil over medium heat. Add the cauliflower pieces and 1 teaspoon salt. Cook, stirring only occasionally (to let browning happen), until all the cauliflower pieces have got some bits of golden browning on all sides (they'll be less stiff, too), about 12 to 14 minutes.
Add the remaining tablespoon of butter, the fresh garlic and ginger, and stir until fragrant, about 1 minute. Add the cumin and coriander and stir well. Add the chicken broth and the water and stir well to scrape up the browned bits stuck to the bottom of the pan. Bring to a simmer, cover loosely, and cook for 15 minutes. Remove from the heat and let sit for 10 to 15 minutes.
Meanwhile, get out your blender and a dish towel and set a large heat-proof bowl by the blender. Put 1/3 of the soup plus 1 tablespoon tahini in the blender. (For safety reasons, you don't want to fill the blender too much.) Cover the lid with a dishtowel to prevent splattering, but keep a small vent hole open. Puree until smooth. Transfer to bowl. Repeat with two more bathes of soup, adding 1 tablespoon of tahini to each batch as you puree, and transferring each batch to the bowl.
Rinse the Dutch oven and add the pureed soup back to it. Put the pot over medium-low heat and whisk in the yogurt and 1 teaspoon lemon juice. Let the soup get a bit warm, then taste it for salt and lemon, adding more of either if necessary. Continue to heat, stirring frequently, until hot enough to serve.
Spoon the soup into bowls and garnish with a generous amount of toasted pine nuts (I like a lot in order to have crunch in every spoonful!)
______________________________________________________________________________________________
Note: In an effort to streamline this recipe, I didn't even start with sautéing onions (probably a first for me), nor did I roast the cauliflower first, which I really wanted to do. Instead I browned the cauliflower in the Dutch oven, added the fresh aromatics and spices, covered, and simmered. If you did want the added flavor that roasted cauliflower would bring, you could do that (and sauté some onions while the cauliflower cooks), but you will probably want to go with a little less liquid (maybe 5 1/2 cups instead of 7), since the cauliflower will be a smaller volume.