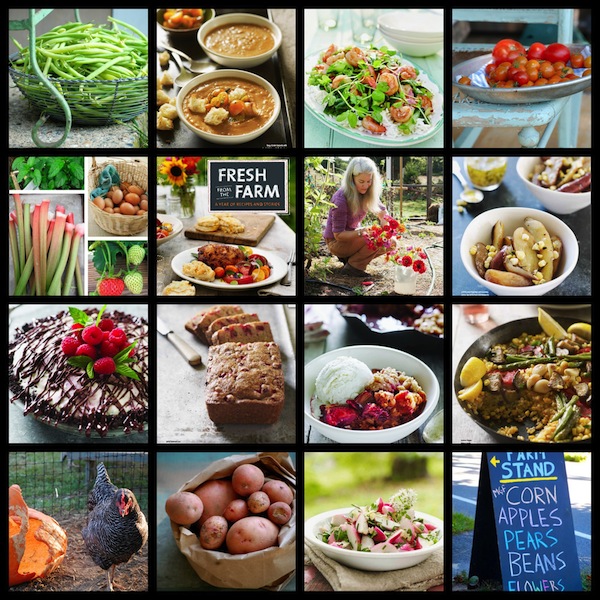 This is it—Fresh from the Farm: A Year of Recipes and Stories is now officially published, as of this morning. Yippee!
I have no idea what this actually means. But I just learned that pub dates are apparently always on Tuesdays. Who knew?
My secret source revealed that the "pub" date is a date set in order to back up and create a "release" date, when the books begin to ship from the distribution warehouse. The scheduling masters try to work everything out (considering distance-to-travel, etc.) so that most of the books are in most of the outlets they're supposed to be in by the "pub" date.
I like the idea of hundreds of boxes of Fresh from the Farms hopping on trucks and traveling far and wide to get to their destinations.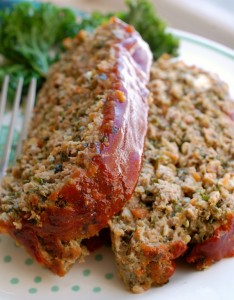 So to celebrate their safe arrival, I'm offering up what really and truly is one of my favorite recipes in the book—Winter Green Market Meatloaf. I named it that because I first made it with the goodies I got at our Winter Farmers' Market—including onions, carrots, kale (yes, kale), local feta cheese, and local ground pork and beef. The meatloaf is terrifically moist and tasty, and the sauce on the outside has a great zing to it.
I also chose this recipe, because of course, it's February, and meatloaf makes a little more sense than say, a corn sauté, or a strawberry crisp. But the cool thing about Fresh from the Farm, which is arranged seasonally in three sections, is that it spans almost the entire year, and the recipes in the fall section (like the meatloaf) are plenty appropriate for mid-winter, too.
I made the meatloaf yesterday so that I could take pictures of it (it's not photographed in the book), and wound up sending half of it off with a couple of newspaper reporters who were here visiting the farm and talking with me about the book. (We have our big author event at Bunch of Grapes bookstore this Saturday at 3 pm, which I'm really excited about. Libby will be here and able to come with us, and I'll be cooking up a storm this week to bring along plenty of recipe samples.)
For me, pub day is exciting, but considering the travel and the radio spots and all the other efforts coming up to promote the book, there's no easing back. I am just looking ahead with an eye towards keeping my energy level up—while Roy and I also seriously begin to prepare for the growing season. Yikes. And while at first I thought it was a little strange to bring a book like this out in February, now I am really thankful that it gives me the window of opportunity to promote it this spring by doing some traveling before the farm gets really busy. Next stop: Washington, D.C., my hometown: A great event at La Cuisine on March 1, and the Dupont Circle Farmers' Market on March 2. Maybe I'll see some of you there!
Enjoy the meatloaf, and by the way, if you really want to make somebody happy on Valentine's Day, this is a decidedly comforting way to do it. You could serve these mashed potatoes with it, or even the crispy smashed potatoes.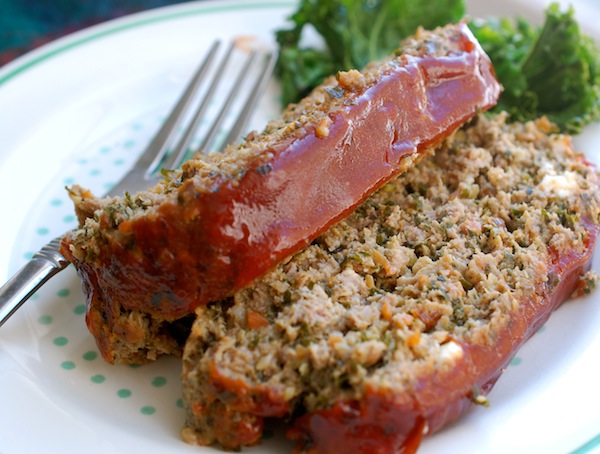 Winter Green Market Meatloaf Recipe
Yes, there's actually kale in this incredibly moist and flavorful meatloaf. (Feta cheese, too!) Tossing the veggies and plenty of garlic into the food processor makes a finely minced mixture perfect for lightening up meatloaf. I always eat at least a nibble of this warm out of the oven, but resting for a few minutes is a good idea; it will be easier to slice. It's also delicious leftover, reheated or even cold, pâté style. Recipe copyright Susie Middleton, 2014, from Fresh from the Farm: A Year of Recipes and Stories (The Taunton Press, 2014.)
Ingredients
¾ cup fresh breadcrumbs (about 1 English muffin)
3 tablespoons milk
½ cup ketchup
2 tablespoons Worcestershire sauce
2 tablespoons brown sugar
1 tablespoon reduced sodium soy sauce
1 tablespoon Dijon mustard
1 large carrot (about 3 ounces), coarsely chopped
1 small onion (about 4 ounces), coarsely chopped
4 large cloves garlic, peeled
1 small serrano pepper, cut into 3 or 4 pieces
2 cups (packed) coarsely chopped kale (about 2 ounces)
2 tablespoons unsalted butter
Kosher salt
1 pound 80 to 85% ground beef
½ pound ground pork
3 ounces crumbled good-quality feta cheese
1 large egg
Freshly ground black pepper
2 tablespoons (lightly packed) chopped fresh oregano
Directions
Heat the oven to 350°F. Line a large rimmed heavy-duty baking sheet with parchment paper.
Put the breadcrumbs and milk in a small bowl and mix. Let sit. In a small bowl, whisk together the ketchup, Worcestershire, brown sugar, soy sauce, and Dijon.
In the bowl of a food processor, combine the carrots, onions, garlic, serranos, and kale. Pulse until very finely chopped, scraping down the sides as necessary to incorporate the kale.
In a medium (10-inch) nonstick skillet, melt the butter over medium-low heat. Add the chopped veggies and ½ teaspoon salt. (The pan will be crowded.) Cook, stirring, until gently softened and very fragrant, about 5 minutes. Transfer to a plate and let cool (about 10 minutes).
In a large mixing bowl, combine the veggies, beef, pork, feta, egg, several grinds of pepper, the oregano, ½ teaspoon salt, the breadcrumb mixture, and 3 tablespoons of the ketchup mixture (reserve the rest for brushing on the loaf). Using your hands, mix all of the ingredients together thoroughly without mashing too much. Transfer the mixture to the baking sheet and shape into a long, narrow loaf about 9 inches long and 4 inches wide. Spoon the rest of the ketchup mixture down the length of the top of the loaf and gently spread or brush it over the sides.
Bake the meatloaf until an instant-read thermometer registers 160° to 165°F, 55 to 60 minutes. Let rest for 5 minutes before slicing and serving.
Please note: The terrific finished food photos in the collage at top were taken by Alexandra Grablewski for Fresh from the Farm: A Year of Recipes and Stories (The Taunton Press, 2014).