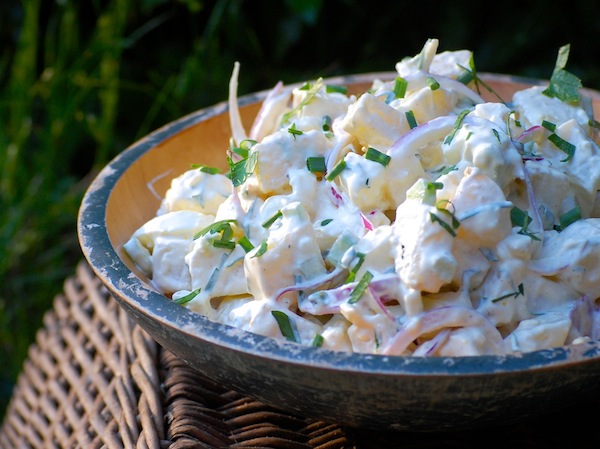 Our potatoes aren't quite ready to harvest yet (usually some are by the Fourth of July), but that hasn't stopped me from making potato salad. Yesterday I made one of our favorite recipes from Fresh From the Farm. Well, definitely one of Roy's favorites and I think it is pretty darn swell, too. It's called Roy's Almost-Classic Potato Salad with Farm Eggs, Celery & Crème Frâiche (photo above, recipe below). I like it because I've never really been a fan of mayonnaise-based potato salads, though I am well aware of how popular they are. Creating one of my own gave me a chance to freshen up the classic.
I start with Yukon Gold potatoes, and for the dressing, I cut the mayo with crème fraiche (sour cream is a fine sub), add plenty of lemon juice and lemon zest (plus the cider vinegar), a touch of ground coriander, and fresh parsley and chives. The hard-boiled eggs, celery, and onions are non-negotiable. The salad has a nice, light feel and a bright flavor.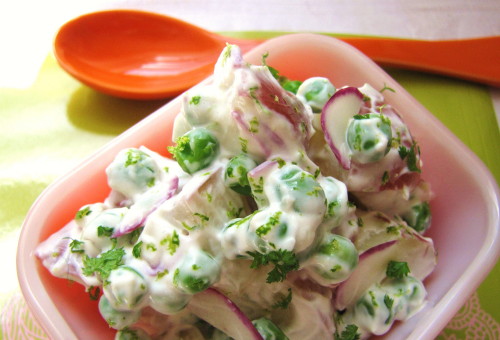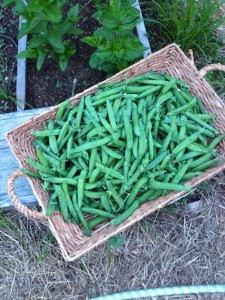 But in case you're not in the mood for the classic, I offer up another potato salad that I created for Fast, Fresh & Green. It's called New Potato Salad with Fresh Peas, Lime, and Yogurt (photo directly above). It also has some mayonnaise in the dressing, but cut with Greek-style yogurt. I've been thinking of that salad while harvesting peas in the near-dark (yes, there are so darn many of them this year that we can hardly keep up with them). Once we eat all of Roy's Classic, I think we'll make this one, too, as I just love it. We'll still have peas, and maybe our Red Gold taters will be ready to pull.
Hope you all have a wonderful Fourth of July holiday!
Roy's Almost-Classic Potato Salad with Farm Eggs, Celery & Crème Frâiche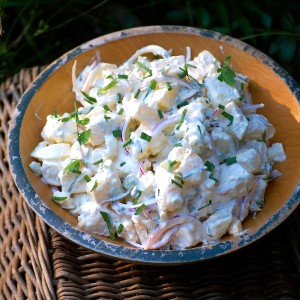 Recipe copyright Susie Middleton, 2014, Fresh From the Farm: A Year of Recipes and Stories
Roy gives this salad two thumbs up. He said he'd give it three if he had an extra hand. He also says he likes it even better the second day, so make this ahead if you like. Feel free to substitute sour cream for the crème fraiche. You can loosen the sour cream a bit with just a touch of half 'n half.
Serves 4 to 6
2 pounds Yukon Gold potatoes, peeled and cut into 3/4-inch pieces
Kosher salt
1/2 cup mayonnaise
1/2 cup crème frâiche or sour cream
1 tablespoon plus 1 teaspoon cider vinegar
1 tablespoon lemon juice

1 teaspoon freshly grated lemon zest
3/4 teaspoon ground coriander
3 hard-cooked eggs, peeled and sliced
2 long or 3 short stalks celery, halved lengthwise and thinly sliced (3/4 cup)
1/2 small red onion, thinly sliced (a scant 1/2 cup)
2 to 3 tablespoons chopped fresh flat-leaf parsley
2 tablespoons sliced fresh chives
Put the potatoes and 2 teaspoons of salt in a large saucepan and cover with plenty of water. Bring to a boil, reduce to a simmer, and cook until just tender, or about 10 to 12 minutes. Drain carefully in a colander, rinse briefly with cool water, and spread on a clean dishtowel to cool to room temperature.
In a large mixing bowl, whisk together the mayonnaise, crème frâiche, cider vinegar, lemon juice, lemon zest, ground coriander, a pinch of salt, and several grinds of fresh pepper. Add the cooled potatoes, eggs, celery, onion, most of the parsley, and most of the chives. Sprinkle 1/2 teaspoon salt over all. With a silicone spatula, mix everything together until well combined, breaking the eggs apart as you mix. Transfer to a serving bowl and garnish with remaining parsley and chives. Serve at room temperature or refrigerate for up to 24 hours.