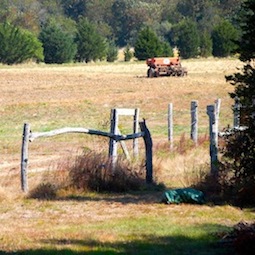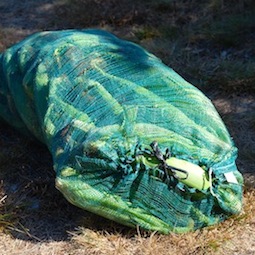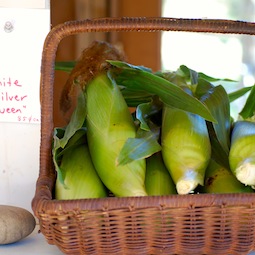 You can have your Santa with his big sack of toys, any old day. Our Santa leaves something much more delicious—bushel bags of sweet corn. Instead of showing up only one night a year, he drops by every other day. And he doesn't come down the chimney. At least I don't think he does, because the sack of corn is always down by the northernmost farm gate. (And we don't have a chimney). But I never see Santa. He and his elves alight in the cornfield and disappear among the tall rows of corn stalks. On my way down to do my chicken chores, I'll glance at the gate, but nothing's there. Half an hour later, about the time the sun is just high enough for me to peel off a layer, I circle around the pine grove and, look, there it is! A big bag of fresh-picked corn.
With Roy gone to work, I'm left to find something with wheels to haul the bag up to the farm stand. I don't mind the effort, because I always start smiling when I see that corn. What could be better than having oodles of fresh sweet corn around! This week we're getting a variety called Sparkle—last week one called Providence, and my favorite, old-fashioned all-white Silver Queen.
Okay, truth is, Santa is really Morning Glory Farm farmer Simon Athearn, and the elves are his corn-picking farm crew. (But I really don't see them.) We get to sell their delicious corn at the farm stand this time of year, as their late varieties are growing right next door to us.
Inevitably, an ear or two or three meanders off the farm stand and into our refrigerator. (You know, you can't sell an ear that someone's ripped the leaves off of, or that maybe fell on the um, ground, or something.) So we are having this totally lovely corn-every-night-in-October experience. (Try this.)
The corn is so good and there's so much of it right here, that we decided to "reappropriate" a dozen (or so) ears today and get them processed for the freezer.
Blanching and freezing corn is not rocket science. (See easy direx here.) But I remember doing it a few years back and not being so happy about the results after a few months in the freezer. So I took extra care today not to overcook or waterlog the corn and to spread it out on sheet pans to freeze before packing. (I wish you didn't have to blanch it at all, but you must or an enzyme will hasten the deterioration of the corn).
To my great relief, we now have sweet corn in the freezer for the cold months. We could even have it for Christmas, no Santa needed.