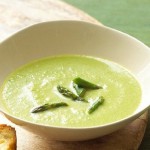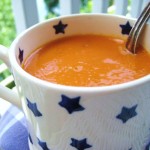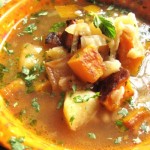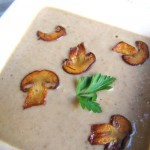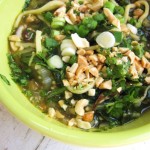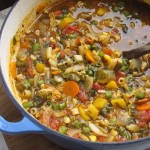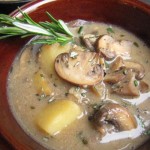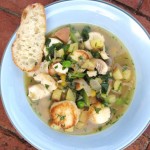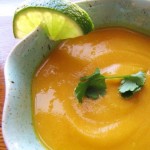 Apparently I jumped the gun a bit on posting about the weather last week, but it's just as well. You really don't want to hear about (or see) the nasty slush, mud, snow drifts, ice floes, and dangerous flying detritus (icicles, tree branches, etc.) we are dealing with here as we lug food and water to the chickens and cart their eggs back.
Fortunately, on a much more pleasant note, an artist friend of ours who has smartly vacated the Island for Santa Fe, New Mexico, is painting by day and cooking from Fast, Fresh & Green and The Fresh and Green Table by night. Don McKillop has been posting on my Facebook timeline about his favorite dishes, and the other day he mentioned the Zesty Tomato-Ginger Bisque. It seemed to provoke a lot of yums and mmmms from other Facebook friends, which just reminded me how much everybody (including me) loves soup. And that of course, tomato soup is a quintessential chill-chaser. (I've shared the bisque recipe below.)
Over the years I've developed a lot of soup recipes, and it's kind of fun to look back and see the variety. At Finecooking.com (where several of my soup recipes reside!) you can take advantage of a cool "Create your own recipe" format and make one of my creamy soups with your favorite vegetable and favorite pantry ingredients. (Or you can go straight to Carrot-Ginger Soup, Butternut Squash Soup with Garam Masala, Yogurt & Lime, or Broccoli Soup with Bacon.)
If you're in the mood for a hearty chowder but are cooking for a vegetarian crowd, visit Vegetariantimes.com for a story I did last year. Recipes include Roasted Butternut, Squash, Apple, and Farro Chowder; Many Mushroom Chowder with Yukon Gold Potatoes and Rosemary; Caramelized Onion and Savoy Cabbage Chowder with Thyme; and Root Veggie Chowder with Collard Ribbons. And right here on Sixburnersue.com, I've posted a few of my favorites from The Fresh & Green Table, including Asparagus & Leek Bisque, Spicy Noodle Hot Pot with Bok Choy, and a variation on my Farmers' Market Minestrone. I've been working on more soups over the winter, too, and I have to say, they're as satisfying to make as they are to eat.
A tasty soup builds layers of flavors by starting with lots of aromatic vegetables (onions, carrots, leeks, garlic, ginger, celery, fennel—sautéed until golden, of course) and finishing with a few bright herbs and a splash of acid (vinegar or citrus). In between, broths get savory flavor from bits of meat, earthy green veggies and roots, bright tomatoes, hearty beans and noodles, and even the occasional rogue ingredient like a Parmigiano rind or a whole star anise. Understand where the flavor comes from, and you're more than halfway to making a brilliant soup. And to forgetting about the damp and cold outside!
Zesty Tomato-Ginger Bisque
Recipe copyright Susie Middleton from The Fresh & Green Table (Chronicle Books, 2012)
I have made tomato soups every-which-way, and honestly, they're all pretty comforting. But this one has a special zing and warmth to it that I love. I start with leeks and fennel, add lots of ginger and a bit of garlic, and then season with a combination of orange, coriander, honey, and balsamic (just a small amount) to give those bright tomatoes a sturdy backbone. The magic of the blender produces a smooth, comforting puree, and just a little half-n-half gives the soup a silky finish. Garnish with crunchy rustic croutons or a dollop of crème frâiche.
Serves 4, Yields 8 cups 
___________________________
2 tablespoons orange juice
1 tablespoon honey
1 tablespoon tomato or sundried tomato paste
1/2 teaspoon balsamic vinegar
2 28-ounce cans whole, peeled tomatoes (I like Muir Glen)
1 cup water
2 tablespoons extra-virgin olive oil
2 tablespoons unsalted butter
1 1/2 cups (5 1/2 ounces) thinly sliced leeks (about 3 medium or 4 small leeks), well-washed
1 1/2 cups (5 1/2 ounces) thinly sliced quartered and cored fennel bulb (about 1 small fennel bulb)
Kosher salt
1/2 teaspoon ground coriander
2 teaspoons minced fresh garlic
2 tablespoons minced fresh ginger
Freshly ground pepper
1/2 cup half 'n half
__________________________________
In a small bowl, combine the orange juice, honey, tomato paste, and balsamic vinegar. Set aside.
Empty the contents of both tomato cans into a mixing bowl. Gently break up the tomatoes into smaller pieces with your hands (effective but messy!) or a pair of scissors. Add 1 cup water to the tomato mixture and set aside.
In a 4- to 5-quart Dutch oven or other wide saucepan, heat the olive oil and butter over medium-low heat. Add the leeks, fennel, and 1 tsp. salt. Cover and cook, stirring occasionally, until softened, about 8 to 10 minutes. Uncover, raise the heat to medium, and continue cooking, stirring frequently and scraping browned bits off bottom of pan, until the vegetables are all browned in spots and the bottom of the pan is browning a lot, another 8 to 10 minutes.
Add the ground coriander and stir well. Add the garlic and the ginger, and cook, stirring, until softened and fragrant, about 30 seconds. Add the orange juice/tomato paste mixture and the tomatoes and stir well to incorporate. Bring the soup to a boil and immediately reduce to a gentle simmer. Cook, uncovered, stirring occasionally, for 17 to 18 minutes. (You will notice on the inside of the pot that the soup has reduced a bit.)
Take the pan off the heat and let the soup cool for 15 to 20 minutes.
Puree the soup in three batches (fill the jar only about half way or just a little more) and cover the blender lid partially with a folded dishtowel (leave a vent opening uncovered to let steam out) to prevent hot soup from splashing on you. Combine the three batches in a mixing bowl, then return to the (rinsed) soup pot. Whisk in the half 'n half. Taste the soup for seasoning and add more salt or pepper if needed.
Reheat the soup very gently. Serve hot garnished with the Rustic Croutons.
All photos by Susie Middleton except asparagus soup, Annabelle Breakey; tomato soup, Jessica Bard