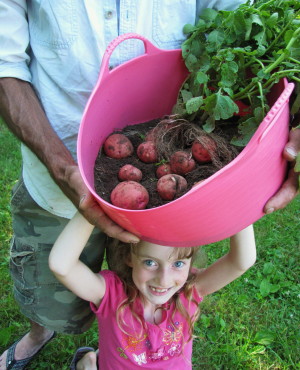 We cheated. It's not really time yet to harvest the potatoes, but we just had to check one plant. You know, to make sure there were tubers growing under all that foliage. Besides, it was Friday night and we were looking forward to an all-local dinner. We had just stopped to see Jeff Munroe, the Vineyard's chicken man, and picked up a freshly slaughtered chicken for the grill. A big salad with our arugula, mizuna, lettuce, and peas was on the menu. All we needed were potatoes, right?
While I butterflied the chicken and cleaned the greens, Roy and Libby ran over to the garden, pitchfork in hand. They came back toting a potato plant—and about a pound and a half of Red Gold potatoes—in the big pink harvest bucket.  I jumped up and down for joy. Everyone giggled. Our own potatoes—how very cool is that? (We are easily amused, I guess.)
I wanted to cook them simply to see what the taste and texture was like. We bought our Red Gold seed potatoes from FedCo's Moose Tubers catalogue, because they sounded like a fun and flavorful alternative to Yukon Golds, and because they were supposed to yield early and abundantly (we could already agree on that point). So I wound up boiling them until just tender and then frying them, cut-side down, until golden (directions below). I was surprised at how flaky the texture was for a red-skinned potato. It was almost as tender as a baking potato. And that rich yellow flesh was nutty and buttery tasting—perfectly delicious.
We're trying to restrain ourselves from digging up any more Red Golds right now. The catalogue says about 65 days,  and it's only been about 56.  The plant we did unearth clearly had a few more tubers forming, so we need to be patient. And then there's that row of French Fingerlings waiting for us…
In the meantime, I guess we can line up with the rest of the folks who've discovered how rewarding potatoes are to grow. Our biggest problem has been keeping up with the ravenous Colorado Potato Beetle, who arrived early and with all of his kinfolk. The best way to dispatch them (in an organic garden) is to simply squish them (or their orange eggs that cluster on the back of leaves) with your fingers. Amazingly, this is an activity that Libby actually enjoys. (How many 7-year-old girls do you know who are fascinated by bugs?) So I'm grateful for that. Not so grateful that nature-loving father and daughter brought me a Garter snake as a present yesterday (to live in the garden!?). But I can hardly complain.
Golden Fried Potatoes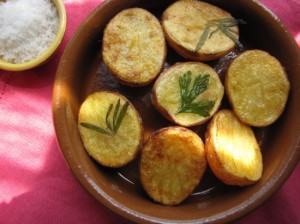 Choose small potatoes that are all about the same size and cut them in half lengthwise. Put them in a saucepan just big enough to hold them in one layer and cover them with cold water by at least an inch.  Add a good bit of kosher salt. (I use 1 ½ teaspoons for a pound of potatoes.)  Bring to a boil, lower to a gentle simmer, and cook until just tender, about 15 minutes for freshly dug potatoes, 20 to 25 for older potatoes.
Drain the potatoes well and let them cool for a bit on a dishcloth. Meanwhile, heat about a tablespoon of olive oil and about a tablespoon of butter in a large frying pan (nonstick works fine if it has a heavy bottom) over medium heat. When the butter is bubbling, sprinkle salt on the cut side of one potato (press an herb leaf on, too, if you like), and put the potato in the fat, cut side down. Repeat with the remaining potato halves. Cook, without turning the potatoes (but occasionally swirling the fat in the pan around them), until they are golden brown on the bottom (check carefully with a thin spatula), about 10 to 12 minutes. Transfer to a serving plate and serve warm, with or without a dollop of sour cream, a smattering of chives, and another sprinkle or two of salt.