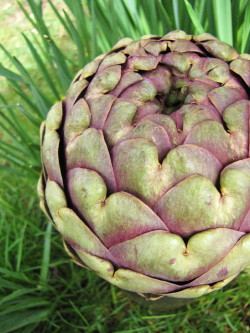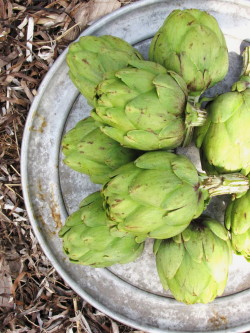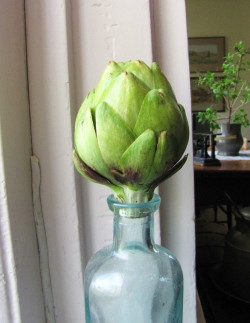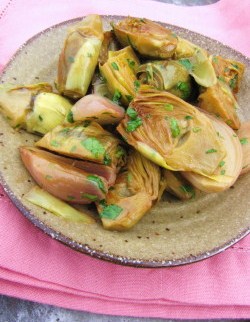 Well, I am embarrassed to admit that I got overwhelmed in Whole Foods the other day. Here I am a Food Professional (whatever that is), and the sheer abundance of goodies in the store was just too much for me. Granted, it was a quick stop—I only had 10 minutes to troll the store, as I was on my way to a book signing at Andover Bookstore in Andover, MA. Since we don't have a Whole Foods on the Island (nor a grocery store anywhere near the size and breadth of this kind), I try to stop in one of these stores when I'm off-Island, mostly to see what the produce selection is like, but sometimes to pick up a specialty ingredient.
So it's a little frustrating to be in a store with zillions of different products and not much time to peruse them. But honestly, even if I had hours on my hands, or a store like this nearby for regular shopping, I'd still probably be a bit blinded and a tad frazzled by all the colors and sounds and choices and crowds. It's just a personal preference for me these days—I like things simpler and quieter, and I don't mind a few less choices.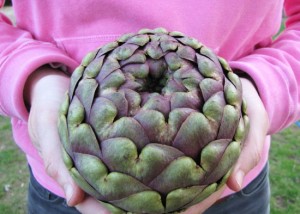 So as my little brain struggled to quiet down all the firing synapses while I whizzed around the produce section, I zeroed in on something visually arresting, something I could wrap my whole 5-minutes-are-left-for-you-to-shop self around – a gorgeous mound of purple-tinged globe artichokes, the biggest and prettiest I'd ever seen. One was literally aching to pop into my little basket and so it did. Next to the display was a stack of boxes filled with baby artichokes—my favorite for cooking. (And yes, we do get both kinds on the Island, just not as consistently or in such abundance.) I grabbed two boxes, thinking I hadn't yet blogged about the babies, and about how delicious they are braised.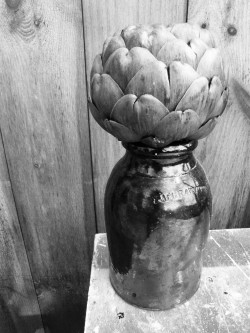 Back home, after a weekend of writing, planting onions, leeks, potatoes, and more greens in the garden, and transplanting tomato and basil seedlings to 4-inch pots inside, I finally got a chance yesterday to do this recipe (below) for you, a variation on one in Fast, Fresh & Green. But first I had all kinds of fun photographing the artichokes in various spots all over the house and yard. I simply couldn't take my eyes off that purple one.
I am convinced that most folks shy away from cooking baby artichokes because they are daunted by prepping them. Really and truly, I promise you that the trimming couldn't be easier, and that you can do one batch in less than 15 minutes, maybe 10. I did take some quick pictures (in recipe below) to try and illustrate the process for you, but for a better visual, you can also visit the Ocean Mist Farms website (the folks who package up the babies, which are most available in the month of May) to watch a video. Don't let prepping stop you from cooking and eating baby artichokes—they're fabulously delicious, and you get more bang for your buck out of them than with bigger artichokes.
By the way, baby artichokes are just immature artichokes picked lower down the stem before they get big. Because their chokes haven't developed, the whole thing (except for a few tough outer leaves you strip off) is edible.
Brown-Braised Baby Artichokes with Lemon Herb Pan Sauce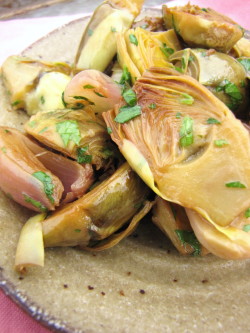 Serve these over creamy polenta or a small serving of fresh fettucine for a lovely veggie supper. For a variation, cook a little bacon, ham or pancetta in the pan before cooking the artichokes; remove and crumble on at the end. Toasted almonds or hazelnuts would be good with these too, and you could substitute a squeeze of orange instead of lemon at the end if you liked. Baby artichokes vary in size—I have seen the same size box packed with 9 artichokes sometimes, 12 another. This recipe will work for 9 medium-small baby artichokes (2 to 2 1/2 oz. each). If your artichokes are very small, you can use 10 or 11 of them, as long as they fit in one layer across the bottom of the pan with the shallots. Be generous with the fresh herbs here.
_____________________________
1 1/2 lemons
9 or 10 baby artichokes
1 1/2 tablespoons unsalted butter
1 tablespoon extra-virgin olive oil
4 small shallots, halved and peeled (or 2 medium or large, quartered)
Kosher salt
1 cup low-sodium chicken broth
1 to 2 tablespoons mixed fresh tender spring herbs such as chives, parsley, mint, tarragon and/or chervil
__________________________________



Cut the whole lemon in half. Squeeze and drop the two halves into a medium bowl filled half-way with water. Cut the stems off the artichokes at the base. Working with one artichoke at a time, peel away all of the outer leaves until you are left with a mostly lemon-limey colored artichoke (it will be somewhat cone-shaped) with the top third still being a light green. With a sharp knife, cut about 3/4 inch off of the top, and, with a paring knife, clean up the stem end just a bit (don't remove too much; that's the tasty heart). Cut the artichoke in half lengthwise. Rub the cut sides of each piece with the other lemon half and drop the artichoke halves into the lemon water.
In a 10-inch straight-sided sauté pan that has a lid, melt 1 tablespoon of the butter with the olive oil over medium heat. Arrange the artichoke halves (with whatever water still clings to them) and the shallot halves (both cut-side down) in one snug layer in the pan. Sprinkle with 1/2 teaspoon salt. Cook, without stirring, until the bottoms of the artichokes and the shallots are well browned, 7 to 8 minutes. (If the heat on your stovetop is uneven—or the burner isn't level, like mine—rotate the pan so that the bottoms get evenly browned.) Pour in the chicken broth and cover the pan, leaving the lid slightly askew so that some steam escapes. Simmer gently, turning down the heat if necessary, until the broth is reduced to a few tablespoons, 12 to 14 minutes. Uncover, add the remaining 1/2 tablespoon butter, and squeeze the other lemon half over all. Sprinkle most of the herbs over and stir gently until the butter has melted. Remove the pan from the heat, and stir again, scraping up any browned bits if possible. Taste for salt and immediately transfer the artichokes and the pan sauce to a serving platter. Sprinkle on any remaining herbs.
Serves 2 as a veggie main dish with polenta or noodles, or 3 as a side dish