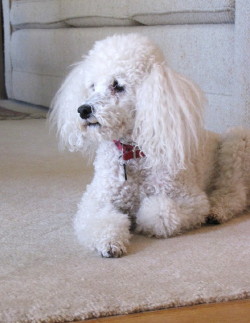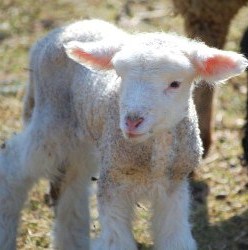 My Mom and Dad lost their little dog on Sunday. Tiger may have been a pint-sized poodle but he had the personality of a circus clown and the regal bearing of a prince. I've never seen a dog with eyes so black, or one with a step so lively. Tiger was a Type-A doggy, but underneath all that bravado was a heart of gold. And while he started out as Mom's puppy, in the end it was Dad he snuggled up with every morning on the couch. Dad gave Tiger his daily shot and helped Tiger bear the more unseemly aspects of old age with patience and understanding. And together Mom and Dad gave Tiger the best 15 years of life a doggy could ever hope to have.
I didn't get a chance to talk to my parents until yesterday, as my old-fashioned phone had swallowed up a text message my sister sent me with this news. Ironically, while Mom and Dad were mourning their loss, Libby and I were off welcoming newborns into the world. Newborn lambs. Our friend Liz Packer at Spring Moon Farm let us drop by and hang out with two ewes and their babies (each mom had given birth to twins—one black and one white lamb each), and Libby and I were in our element.
I was filling Roy in later about our visit with the lambs and describing Libby's interaction with them. Roy and I have been talking a lot about our future farming plans, and the subject of sheep keeps coming up. Roy keeps saying "No" to sheep (despite his beloved summer on his uncle's sheep farm), but I keep arguing their case. Finally I said to him in jest yesterday, "You know why we are eventually going to get sheep, don't you? Because Libby wants lambs." Roy conceded, "Yeah, I know." He realizes he's cooked on this one, because he watches his daughter with animals, and he knows what they mean to her. And Libby, to her credit, understands what happens to most farm lambs and agrees it would be okay as long as we get to name the mommy sheep and keep them around for a while.
It just reminded me what pure gifts animals are. When I called to talk to my parents, at first all I could think about is the giant hole they must be feeling in their lives. This kind of feeling is inevitable; there's nothing to do but get through it. But looking at the picture of Tiger today, now all I can think about (and I know Mom and Dad are thinking this too) is what joy Tiger brought them all these years—what a great dog he was. Mom and Dad gave him a good life, and in return he gave what the best dogs give—unconditional love—and a bit of entertainment, too.
I will always be grateful to my parents for letting us have a dog (and a cat) growing up—for learning to love and care for an animal that depends on you in many ways. (To be fair, Mom did most of the "caring for" part with our dog!) This weekend, I smiled from ear to ear when Libby asked if she could take Farmer for a walk by herself. I kept an eye on her in the yard, and again later when she asked to hold the leash while we went around the field on our long walk. She did a great job handling Farmer and coaching him, and I was so tickled watching her take on this responsibility voluntarily.
We learn many things by caring for animals—not the least of which is to express our emotions. It's a sad day when you lose an animal, but a happy one when you open your home to one and dedicate time and space in your life to care thoughtfully for it.