Once he got started, it only took Roy two Sunday afternoons to get the new chicken coop built. Just in time, too, as the girls (all 49 of them!) are getting big. Plus, as I wrote about last week, there is so much to do around here that lingering for too long on any one thing just isn't an option. So after choosing the perfect site for the new coop, Roy built the foundation and nailed the floor Sunday before last, then set to work on the walls and roof this weekend, using salvaged doors, windows, and boards.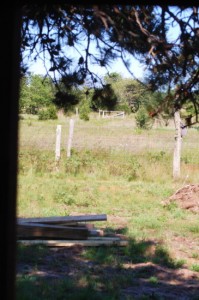 I got a kick out of watching the whole thing come together (see photos below) into what looks like a pretty iconic chicken coop to me. (It has a built-in storage area for food and tools, too, which will be particularly handy.) The girls have an excellent spot, under some shade trees and with a killer view of the fields behind us. They're still a little young to be out grazing, but next up is a big covered pen for them. In the mean time, they seem very happy with their new spacious indoor digs.
We used a plastic harvest basket to carry them, six or eight at a time, from the brooder in the barn to their new home.  All went smoothly, if a bit squawk-ily.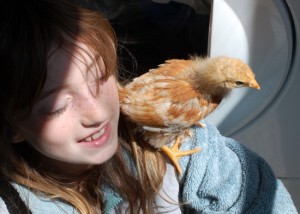 Even Bambi, who we successfully returned to the flock a couple weeks ago, seems happy, hopping up to greet us at the door from time to time when we go down to visit or refill the food and water. Farmer is anxious to see her, too, as he and she got to be pals. Fortunately, we can still identify her by her right foot, which is missing the middle toenail. Sorry for the graphic details, but this is how these things go! When we brought her inside on day two, she had an injured middle toe, which turned black and looked like it might be something fatal (with chickens, it's all about the feet), but it miraculously healed itself, as you can see in the photo of Bambi on Libby's shoulder taken a few weeks ago. (Or could see, if the photo were bigger!)
Below is a photo run-down of the coop-raising. Now, we have only three months to wait (and a lot of chicken food to feed) before our 49 new ladies are laying eggs. I can't wait to see how that is going to work—me collecting four dozen eggs every day is not going to help the attention deficit disorder I already have around this place!