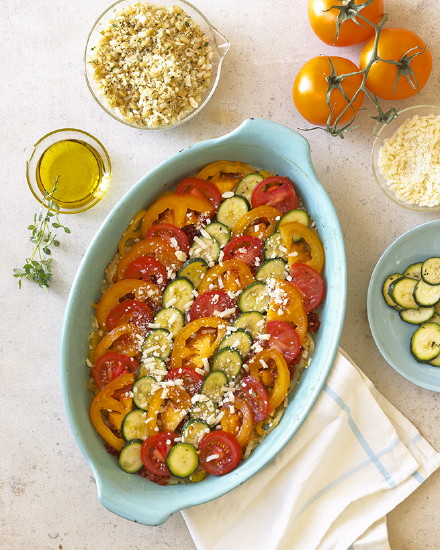 It's always a good sign when your mom tells you she's dog-eared the pages of your new cookbook. When I sent my mom, Pauletta, an early copy of The Fresh & Green Table, she sat down and went through every page, marking all kinds of recipes she wanted to try. Yay! I thought. I must have a hit on my hands if Mom likes it. First she made the Tuscan Kale and White Bean soup for my Dad, and then… well, I had to laugh at her next choice. It's a variation on something I've made and she's made many times over since I started creating veggie dishes after culinary school so many years ago. In fact, it's a dish that is unsurpassed in popularity among my friends. Even my cookbook editor, Bill LeBlond at Chronicle Books, who has edited hundreds of cookbooks over the years, makes my recipe from Fast, Fresh & Green frequently for parties.
What is it? It's basically a layered vegetable gratin, but in France it is called a tian for the type of shallow baking dish it is baked in. A tian often features zucchini and tomatoes in the summer, but I also make them with eggplant and tomatoes, with potatoes and tomatoes, and with lots of different herbs and a variety of cheeses and crumb toppings. I take special care with a bottom layer of sautéed onions, leeks, bell peppers, garlic, fennel or other aromatic vegetables so that when the tomato juices seep down to the bottom of the pan during cooking, they combine with those aromatic veggies and herbs to make delicious flavor. My other tip for the best tasting tian is not to undercook it! During the first half of cooking, the tomatoes shed a lot of liquid, but then the liquid begins to reduce and becomes incredibly flavorful, so the dish needs time in the oven for this to happen.
The variation I included in the new book is especially tasty (Mom and Dad loved it), so I'm offering it to you today in case you're in the throes of planning your fourth of July menu. Also, I am feeling kind of sentimental, wishing I could be with my family this holiday. Many years we gather in Delaware this time of year to celebrate all our family birthdays together, but this year, of course, Roy and I are too busy to go anywhere! I'm happy that my sister Eleanor will be with Mom and Dad on this holiday and I bet you I know one thing they'll be cooking!
P.S. The beautiful photo (top)—one of my favorite, in fact, of the many lovelies Annabelle Breakey took for The Fresh and Green Table—actually shows the tian being assembled a little differently than my directions call for. (There's a funny story there, but another time.) It really doesn't matter, but in case you're trying to compare the directions to the photo, know that I arrange the veggies in rows going across the pan, not up and down the pan. Either way you do it, it will be delicious.
Mediterranean Zucchini, Tomato, and Bell Pepper Tian with Pine Nut Crumb Topping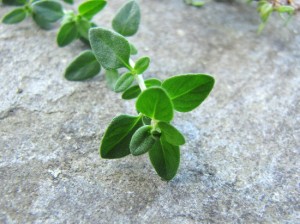 I love to cook this in my enameled cast-iron Le Creuset oval gratin dish, because I think the cast iron conducts heat so beautifully that the juices get extra caramelized. But other 2-quart shallow baking dishes, like a 9 x 7 Pyrex, will work fine, too. Take this dish to a potluck or picnic. It will be a hit, I promise. But if by chance you wind up with any leftovers, you'll love those too, as it tastes great the next day.
_________________________________________
5 tablespoons plus 2 teaspoons extra-virgin olive oil, more for the pan
3 tablespoons chopped toasted pine nuts
3/4 cup fresh breadcrumbs
3/4 cup coarsely chopped grated Parmigiano-Regianno
1 tablespoon chopped fresh thyme
2 teaspoons balsamic vinegar
2 teaspoons honey
3/4 pound zucchini (about 1 1/2 small zucchinis), sliced thinly on the diagonal (about 1/8- to 3/16- inch thick)
1 1/4  pounds small to medium red and orange ripe tomatoes (about 4 or 5), cored, sliced about 3/16-inch thick (cut medium tomatoes in half first, then slice)
kosher salt
2 small onions (about 8 ounces total), thinly sliced (about 1 3/4 cups)
1 small or 1/2 large red or yellow bell pepper (about 4 ounces), cored and very thinly sliced
2 teaspoons minced fresh garlic
3 tablespoons finely chopped oil-packed sundried tomatoes (drained)
___________________________________________
Preheat the oven to 375 degrees F. Rub a shallow 2-quart baking dish with a little olive oil. In a small bowl, combine the pine nuts, the bread crumbs, 2 tablespoons of the Parmigiano, 1/2 teaspoon of the thyme, and 2 teaspoons of the olive oil. Mix well.
Whisk together the balsamic vinegar, the honey, 2 tablespoons of olive oil, and 1/4 teaspoon salt. Put the zucchini slices in one bowl and the tomato slices in another. Add a pinch of salt and 1 teaspoon thyme to each bowl, and drizzle half of the balsamic mixture over each. Toss gently. Let sit while you prepare the rest of the recipe.
In a medium (10-inch) heavy nonstick skillet, heat 1 tablespoon of the olive oil over medium heat. Add the onions, the peppers, and 1/4 teaspoon salt. Cook, stirring frequently, until the onions and peppers are limp and the onions are golden brown, about 10 to 12 minutes. Stir in the minced garlic and cook until softened and fragrant, about 30 seconds. Transfer the onions and peppers to the baking dish and spread them evenly in one layer across the bottom. Let cool slightly. Sprinkle the sundried tomatoes and the remaining 1/2 teaspoon of the thyme over the veggies.
Starting at one narrow end of the baking dish, arrange a row of tomato slices across the dish, propping the slices up against the end of the dish at an angle as you go.  Sprinkle a little Parmigiano over the row of tomatoes, and then arrange a row of zucchini slices, slightly overlapping each other and slightly overlapping the row of tomatoes. Again sprinkle Parmigiano on that row, and continue to arrange rows of tomatoes and zucchini, each sprinkled with Parmigiano, until you get to the end of the dish. You should have just about the right amount of zucchini, but don't worry if you have extra slices. You will definitely have extra tomato slices (and ones that you've chosen not to use because they've fallen apart!) But as you are going along, if it looks like you will have a lot of extra, gently push the rows back up towards the end of the dish you started at to make room for a few more rows.
Scrape any remaining seasoning and juices from the bowl the zucchini was in over the veggies. (Leave the extra tomato juices behind or use them in a gazpacho!) Sprinkle any remaining Parmigiano over the veggies. Drizzle the remaining 2 tablespoons of olive oil over the veggies, and top with the bread crumb-pine nut mixture.
Bake until well browned all over and the juices have bubbled for a while and reduced considerably, about 65 minutes. Let cool at least 15 minutes before serving.
Serves 4