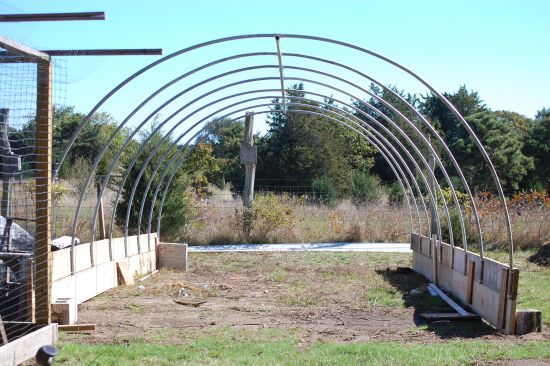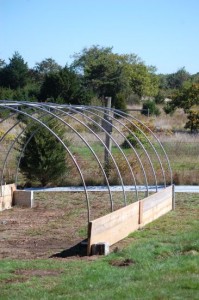 You know I have been talking about this hoop house for a long time, but I had no idea that Monday morning (Columbus Day), Roy would get up, head outside, and start building the thing. In fact, he got so much done that by the end of the day, all the hoops were up. I posted some pictures on Facebook and my friend Eliza said, "That's huge!"
It does look big, but that's what we planned—30 feet long. There will be a potting table running down the middle of it and two raised beds on either side. Roy is also planning some exterior raised beds on either side as part of the support structure. Staking is next; while it might look like this thing is ready for the cover film to go on, there's still much to do. That's no problem, I thought, we'll finish up in spring. No, says Roy, he'll have it all done by Thanksgiving!
In the meantime, just standing underneath the hoops feels special. They have a magical way of capturing the outdoor space without containing it. I really can't get over how cool it is.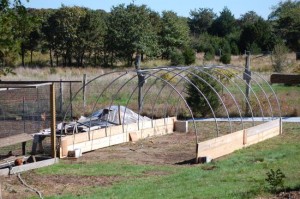 We picked this spot for the hoop house because it's a little microclimate—sunny, warm and less windy. Of course that might mean that it will be extra-hot in high summer, but our big hopes for the hoop house rest in the shoulder seasons—seed starting in the spring and season extending in the late fall. But we've heard that heat-loving veggies like cucumbers and basil do well in warm hoop houses, so you never know—we may try that, too.
It's safe to say now that we've had a good season on the farm (though it isn't over yet, we have already met our goal for the year), and with the addition of the new chickens (all laying consistently well) and now the hoop house, it feels really good. It's gratitude time, so I'm off to bake Roy (and Libby) a batch of sugar cookies!
And, oh, here are a few photos of how it came together. (Sorry, they're not in order–couldn't quite get that right!) One cool thing to note–the pole bender (also called a High Tunnel Bender, available from Johnny's Seeds). This great tool makes bending electrical conduit (available at home stores) into hoops a breeze (says she who watched and took pictures!!).