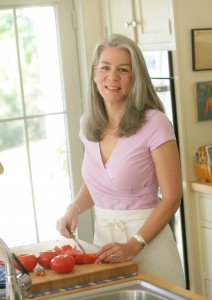 Well, that would be me,  Susie Middleton. Yeah, that's me in the goofy PR photo, too. (Okay, I admit, pink—radish pink, beet pink, watermelon pink, any pink—is my favorite color.) For years I was editor of Fine Cooking magazine, and I had to have a grown-up photo for times when I did grown-up things like TV and radio and event appearances to promote the magazine or one of our books. And now that I'm promoting my own books, I occasionally have to tie on the white apron once again. (Check out my first book, Fast, Fresh & Green .)
No chef's coat though. Despite my background (culinary school, restaurant work, recipe developing, food writing, and years of working for food magazines), I don't take this cooking thing too-too seriously. I simply love to cook; I'm crazy about it and I hope my enthusiasm is catching.
Most days, you'll find me in my jeans and clogs, scuffing the wooden floor of my kitchen while I concoct  new vegetable recipes (my second book, The Fresh & Green Table, came out in June of 2012 from Chronicle Books). When I'm not in the kitchen, the clogs come off and the boots go on for working on our farm here on Martha's Vineyard. My partner, Roy Riley, and I grow and sell greens, beans, potatoes, tomatoes, and more than 30 other kinds of vegetables at our farm stand. We also have 550 laying hens and sell the best eggs you'll ever taste! (And guess what, my THIRD book is coming out this February–check out Fresh from the Farm and preorder now!)
I guess by now you've noticed that Sixburnersue.com (don't ask about that nickname—it has something to do with hogging the kitchen) is (mostly) devoted to cooking fresh vegetables and fruits. That's not because I'm a vegetarian or a nutrition nut (left to my own devices, I could live for days on just chocolate and coffee).  It's just that growing, preparing, cooking, and serving really delicious vegetables is hugely satisfying to me.  And I know from my years of writing vegetable articles that most folks are like me—wanting to eat more vegetables, but wondering how best to cook them deliciously so that everyone at the table will love them. So that's my mission. I really just want to help you learn new ways to cook veggies (and fruits—I have a sweet tooth) and to give you a much bigger repertoire of vegetable recipes.
I am sneaky though. I will admit that I have another teeny, tiny mission:  I think it would be better for the planet  and our well-being if we ate a little less meat and a few more vegetables. (Specifically, a lot less factory-farmed meat, and a little more humanely-raised meat.) I realize I'm not the only one in this world who thinks this way (Hello, Susie!), it's just that I've spent the last five years trying to educate myself about sustainable eating, and so the subject feels personal. So there is another side to Sixburnersue—I call her SustainableSue.  I also do a little writing wearing her hat, and you're welcome to read my blogs on The Huffington Post . (At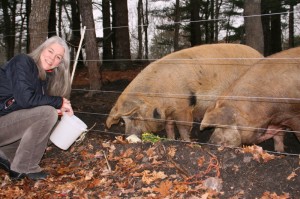 left, that's me "recycling"—feeding leftover recipe tests to two of my local hog friends, Sally and Happy.) I'm also a big supporter of the  fabulous local-eating magazines known as the Edibles, and you'll see my byline show up in them from time to time. (I still write for Fine Cooking, too, as well as Vegetarian Times magazine.)
At heart, I am a writer first, and consider myself very fortunate to be able to publish in a variety of forms, including essays and poems as well as books, magazine articles, and blogs. I spilled into this world with a high verbal aptitude (beware my "chirpling," Roy says) and I have worked on or written for publications continuously since I was in sixth grade! I am working on a memoir, and I am also very excited that Fresh from the Farm includes a narrative I've written–a series of stories about how our little farm came to be. So again, fair-warning in case I've exhausted you just reading this entry. (If you're not worn out yet, you can also listen to me giving recipe tips for Fine Cooking magazine on WGBH radio!)
In the meantime, I'm happy to share my recipes, photos, tips and experiences with you. In my blog, I try to focus on as many different vegetables as I can, so if celery root or purple-topped turnips aren't your thing, stand by for fingerling potatoes and  beefsteak tomatoes. And you'll have to forgive me when I wander off to talk about the chicken coops, the apple-picking, the farmers' market, the hoop house, or a killer potluck. I can't help myself–anything to do with food, cooking, or gardening (or my family, which includes 11-year old Libby Riley) makes me happy.
P.S. Most of the photos on the site are taken by yours truly, except for, of course, the two on this page. The groovy pink shirt photo was taken by Fine Cooking magazine's amazing photographer, Scott Phillips. My best friend Eliza Peter took the "happy susie, happy pigs" pic. Oh, and the fabulous Ben Fink took all of the photos in Fast, Fresh & Green. Annabelle Breakey's gorgeous photos star in The Fresh & Green Table. And stand by for Alexandra Grablewski's amazing photos in Fresh From the Farm. (And some photos from me, too!)