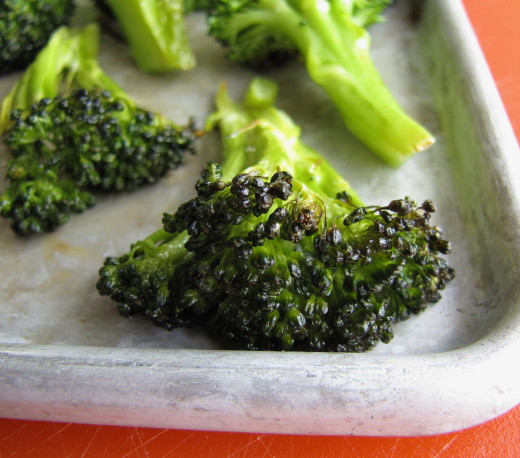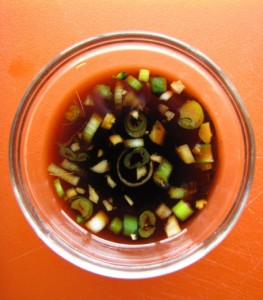 Wouldn't you know it, I went skipping off to the grocery store yesterday, smugly thinking I'd pick up some fiddlehead ferns and/or baby artichokes and blog about cooking one or both of them this week.  The grocery store had other plans. In other words, it had neither. I swear I saw fiddleheads somewhere recently, even though I know the wild ones aren't up yet around here. But I must have been imagining things (not surprising). I'm sure I didn't imagine the baby artichokes; they're at the other grocery store—the one I didn't plan to go to yesterday.  Oh well, soon enough for both.
Instead I bought broccoli. I know, broccoli. But it was, truthfully, the best looking thing at the store. And I think maybe I had a tiny cruciferous craving, as suddenly I had to have several of the perky purple-green crowns to roast for our dinner. (And a couple to put in a vase near the daffodils–weird but true.) I realized, too, that I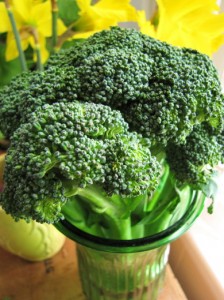 needed something I could throw together pretty quickly, with a minimum of hands-on time, as I was probably going to be unloading the rest of my groceries all night! (I'm working on three recipes for Fine Cooking magazine today.)
If you're a roasted broccoli convert already, you know what I'm talking about in terms of bang for your buck. With very little effort, you get a vegetable so tasty and crispy-toasty that even the pickiest veggie-disdainers will eat it straight off the sheet pan. That's why I usually make a dipping sauce for the florets—to encourage kids and adults alike to eat roasted broccoli just like any other finger food. Last night I made a quick soy-lime-honey-ginger sauce, but you'll find plenty more quick sauce and herb butter recipes for roasted veg in Fast, Fresh & Green, too. (Sorry to be a tease about the book–it really will be released from the warehouse in only three weeks!)
Whether or not you're a seasoned broccoli-roaster, you can follow some tips for the best results. First, I use a very hot oven (475°) and spread the florets out in one loose layer on a large sheet pan. The combination of high heat and good air circulation guarantees that the broccoli will roast, not steam. If you have a convection function on your oven, turn it on for roasting broccoli. When I cut up broccoli for roasting, I try to cut through whole florets to create flat sides. The flat sides have more surface area and will brown more against the pan. Lastly, I give the broccoli pieces a pretty generous coating of olive oil—again to draw the heat into the florets.
Roasted Broccoli with Soy-Lime-Honey-Ginger Dipping Sauce
You can easily double this recipe if you like, and the one-pound of florets will fit on a large (18×13) sheet pan. Any more than that should go on two sheet pans. I like to use parchment paper to line my sheet pans when roasting vegetables, but it's not necessary here, as the broccoli will not stick to the pan.
_________________________________________
½ pound broccoli florets (from about 2 small crowns), each about 2 inches long, with one flat side
1 ½ to 2 tablespoons extra virgin olive oil
½ teaspoon kosher salt
2 tablespoons low sodium soy sauce
2 tablespoons freshly squeezed lime juice
2 tablespoons honey
2 tablespoons chopped scallions
1 (generous) tablespoon chopped fresh ginger
_________________________________________
Heat the oven to 475°. In a large mixing bowl, toss the broccoli florets with enough olive oil to generously coat them. Add the kosher salt, toss, and spread the florets in one layer, cut sides down, on a heavy, rimmed sheet pan. (A small-to-medium sized pan is fine for this amount of florets.) Roast until the florets are browned and crispy at their outer edges, and the cut sides are lightly browned on the bottom, about 15 to 17 minutes. Transfer the broccoli to serving dishes or a platter if you like.
Meanwhile, combine the soy sauce, lime juice, honey, scallions and ginger and mix well. Transfer to one or more dipping bowls and serve with the broccoli.
Serves 2 to 3