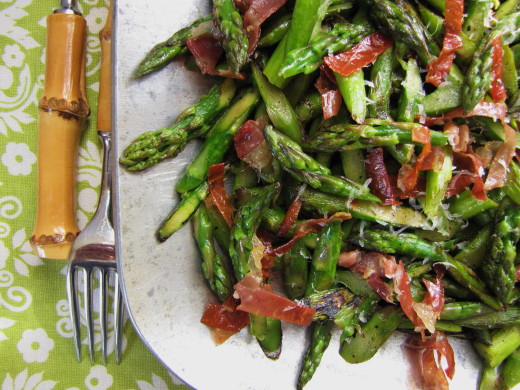 Sometimes it's all about the cut. Take asparagus. Everyone loves the long, lanky, sexy look of a whole asparagus spear. (Sorry—sounds like I'm describing a brand of Gap jeans). Why would you want to wreck that by cutting it up? Oh, yeah, there's that awkward moment when you're trying to cut those long spears with a fork on your holiday dinner plate. And the even more awkward moment when you push the woody bottom half of the spears over to the side of your plate because they're undercooked. Now consider this—with a few extra seconds of work upfront, you can have a beautiful, evenly cooked, easy-to-eat asparagus side dish that can take on a variety of flavors, too.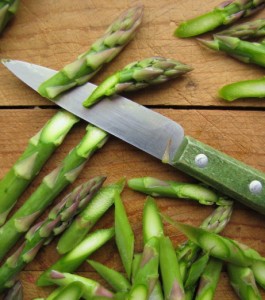 So I'm going to ignore my mother (who claims I tend to get a bit fussy about my vegetable cuts), and suggest that you try slicing your asparagus on the diagonal (sharply…at a sharp angle…on the bias…however you want to say it) for a change. Use a small knife and cut a few spears at a time. Position the knife at something like a 30-degree angle to your cutting board and slice the spears across at about 2-inch intervals. (See photo.) You'll usually get about 5 or 6 pieces out of a (trimmed) spear.
It doesn't matter whether your asparagus are thin, medium, or thick, because, by slicing, you'll be averaging out their thickness. I especially like to cut our big, thick, purple, local asparagus (below) this way, but we're still a month away from harvesting those beauties. (When the time comes, I'll give you another great method for cooking thick asparagus.) Right now, many of you will be stuck with what I think are overly-thin asparagus sold at the grocery store. No matter, they will still be delicious.
Once sliced, these evenly-sized asparagus pieces are perfect for stir-fries and sautés. The recipe I'm including here is a bit Italian-country-rustic but very flavorful. (It would be a nice side for roasted salmon.) If you wanted something different (and
vegetarian), you could sauté a few cremini mushrooms and/or sliced shallots in place of the prosciutto. Or you could keep things simple by seasoning the asparagus with just a bit of sautéed garlic and a finish of lemon.
You can also easily scale this kind of recipe up or down; just be sure to change the size of your skillet so that your asparagus fit comfortably in it.  Cooking times may also vary on different stovetops, so keep an eye on your asparagus when sautéing them. They'll first turn bright green and then begin to brown in spots. You'll want them to be glistening and toasty looking all over, but still a little bit firm to the bite. It's best to eat these right away, as they continue to cook off the heat and they cool down quickly. However, if you have leftovers, they make an excellent base for a frittata.
Sautéed Asparagus with Prosciutto Crisps & Parmigiano
Cutting thinly sliced prosciutto into strips can be tricky, as they tend to stick together. You can either cut each slice separately, or stack the slices and pull the strips apart after cutting. Either way, arrange the strips across your cutting board (rather than piling them), which will make them easier to transfer to the skillet in one layer.
_______________________________________________
1 ½ pounds (2 small bunches) medium asparagus spears, ends trimmed or snapped away (to yield about 1 pound)
1 tablespoon extra-virgin olive oil
1 ½ ounces thinly sliced prosciutto, sliced into strips about ¼-inch wide and 2-inches long
kosher salt
1 tablespoon unsalted butter
½ teaspoon white balsamic vinegar
2 to 3 tablespoons freshly grated Parmigiano-Regianno
_______________________________________________
Slice the asparagus on a very sharp angle (on the bias) into pieces that are about 2 inches long and about ¼-inch wide at their widest point. Include the ends, which will be shorter pieces.
In a large nonstick skillet, heat 2 teaspoons of the olive oil over medium-low heat. Add the prosciutto pieces and cook until crisp (they will turn a darker red color, too), about 5 minutes. Take the pan off the heat and transfer the prosciutto crisps to a plate. Add the remaining teaspoon olive oil and the asparagus to the pan. Season the asparagus with about a scant ½ teaspoon of salt. Return the pan to the heat, and turn the heat to medium-high. Cook, stirring, until all the asparagus pieces are glistening and browned in spots, about 5 to 7 minutes. They will still be firm, but not crunchy. Remove the pan from the heat and add the remaining tablespoon of butter and the balsamic vinegar (it will sizzle). Stir right away and keep stirring until the butter has melted. Stir in half of the prosciutto crisps and half of the Parmigiano, and transfer all to a serving dish. Garnish with the remaining prosciutto crisps and Parmigiano.
Serves 4