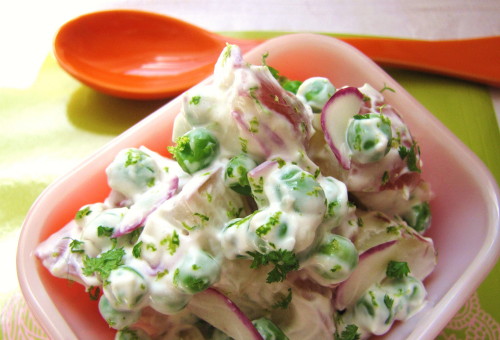 I realize that this is Memorial Day weekend, not Fourth of July, so I may be jumping the gun a little by posting a potato salad recipe. But it's been such a warm spring, and it's looking like it will be a hot weekend all over the country, so I figured folks might be thinking about potato salad for picnics and barbeques.
Truthfully, this thought got me a little worried, as visions of store-bought, factory-made, gloppy potato salad came to mind.  There is nothing I hate worse than bad potato salad.
But then I breathed a sigh of relief, knowing that many of you all will be making your own delicious potato salads. In fact, you might even be scanning the web, looking for a lighter, brighter take on the classic American-style recipe. So I thought I'd post a favorite from Fast, Fresh & Green that's got all the fresh flavors of spring, but that's also assertive enough to pair with the grilled fare of summer—a  perfect season-bridger.
I made some of this New Potato Salad with Fresh Peas, Lime & Mint this morning and added a few slivers of baby radishes we pulled up from the garden yesterday. The lime zest and juice are the ingredients that really make this salad feel fresh, but lightening the mayonnaise with Greek yogurt helps a lot, too. In fact, these are two good tricks to remember when making any kind of mayonnaise dressing for a salad: Lighten the mayo with yogurt or whisked cream for a silkier texture, and always add extra lemon or lime for bright flavor. And don't forget to salt the potatoes while you're cooking them!
This salad is great with grilled lamb and grilled shrimp, but it's also good as a main dish for lunch with some Bibb lettuce or as part of a vegetarian supper or picnic.
New Potato Salad with Fresh Peas, Lime & Mint
This recipe yields just enough to serve 4. You can easily double it, but you may find you want just slightly more dressing if you do. You can always whisk together just a bit more mayo, yogurt and lime and fold it in, or  you can start out by doubling all the ingredients, but only increasing the potatoes to 1 3/4 pounds instead of 2.
___________________________________________
1 pound baby Yukon gold or Red Bliss potatoes, quartered or cut into sixths for similar-sized pieces
2 ½ teaspoons kosher salt, more for seasoning
1 pound fresh peas in the pod, shelled to yield 1 cup peas (frozen peas are fine, too)
1/3 cup mayonnaise
¼ cup thick Greek yogurt (whole or 2%)
1 teaspoon (loosely packed) freshly grated lime zest (from about 1 lime)
½ teasoon fresh lime juice
¼ cup sliced scallions
2 to 3 tablespoons finely sliced fresh mint leaves
freshly ground black pepper
__________________________________________
Put the potatoes and 2 teaspoons of the salt in a large saucepan and cover with plenty of water. Bring to a boil, reduce to a simmer and cook until almost tender, about 10 minutes. Add the fresh peas (if using) and cook for 2 to 3 minutes more. (If using frozen peas, simply submerge them in a little tap water to defrost; then drain and dry.) Drain the potatoes and peas carefully in a colander and rinse them gently with cool water for a few minutes. Spread the potatoes and peas out on a small rimmed sheet pan and let cool. If you are in a hurry, you can refrigerate the potatoes like this and they will cool in about 20 minutes.
Meanwhile, whisk together the mayonnaise, the yogurt, the lime zest and the lime juice in a medium mixing bowl. Add the cooled potatoes and peas, the scallions, 2 tablespoons of the mint, ½ teaspoon kosher salt, and several grinds of fresh pepper. Mix gently but thoroughly with a silicone spatula. Taste and add a little more salt if desired. Garnish with the remaining mint .
Serves 4