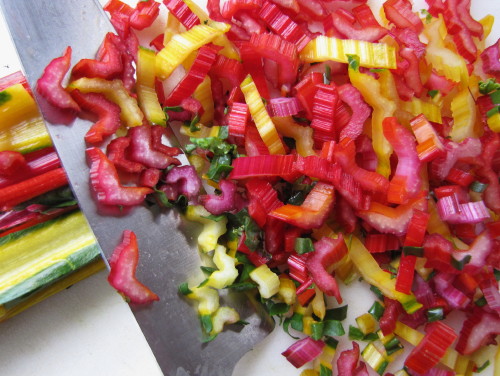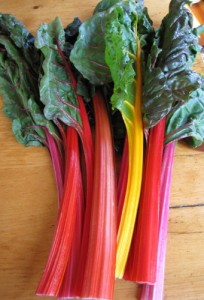 The second coolest thing about Swiss chard is that it cooks so darn fast. (The first coolest thing being its amazing neon color—especially the Bright Lights and Rainbow varieties.) So I hate to spoil the party, but I'm going to. My recipe takes a bit longer than the standard sauté.
That's because most recipes tell you to discard the chard stems and "use them for vegetable stock" or something else. (I know how many of you are busying yourselves making vegetable stock.) This is so you can then wilt the leaves like spinach and have a side dish in seconds. But if you have a few extra seconds (okay, minutes), you can simply slice up those stems and cook them until crisp-tender before adding the leaves to the pan. The stems add nice texture and make the side dish feel a little more substantial, too.
I'm a big fan of sweet and sour combinations with greens. Swiss chard has an especially mineral-y flavor, so I love to smooth out its rough spots with a flavor combo like maple and balsamic (in this recipe, along with ginger) or honey and sherry vinegar (or lemon). You can also use a caramelized aromatic (like sautéed shallots) to stand in for the sweetness and to add body. And garlic always plays well with greens. So fiddle around with flavors once you get your prep and technique down for this easy weeknight chard sauté.
(P.S. We just harvested our first Swiss chard, as well as Russian Kale, Lacinato, Tat Soi, Purple Pak Choi, Royal Oakleaf Lettuce, Tom Thumb Bibb Lettuce, and Lollo di Vino lettuce. We're stocking a cooler out at Native Earth Farm stand with goodies, so stop by if you're driving up-island. More details soon!)
Swiss Chard with Balsamic, Maple Syrup and Fresh Ginger
______________________________________
1 ½ teaspoons maple syrup
½ teaspoon balsamic vinegar
1 bunch (12 to 13 oz.) Swiss chard, unstemmed, rinsed and dried
1 tablespoon extra-virgin olive oil
kosher salt
1 ½ teaspoons minced, peeled fresh ginger
1 tablespoon unsalted butter
2 tablespoons chopped or sliced toasted almonds
______________________________________
In a small bowl, whisk together the maple syrup and the balsamic vinegar.
Pull or cut away the stems from the chard leaves.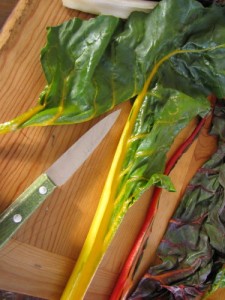 Cut or rip the leaves into large (2- to 3-inch pieces) and wash and dry them well. Rinse the stems and slice them crosswise into thin (1/4-inch) pieces.
Heat the olive oil in a large (11- to 12-inch) nonstick skillet over medium-high heat. Add the chard stems and a pinch of kosher salt, and cook, stirring occasionally, until shrunken and beginning to brown lightly, 7 to 8 minutes. (They will begin to crackle in the pan as moisture evaporates.) Add the fresh ginger, stir, and cook just until fragrant, a few seconds. Add all of the chard leaves and ¼ teaspoon kosher salt and toss until just wilted (45 seconds to 1 minute). Scrape the balsamic-maple mixture into the pan, stir, and remove from the heat. Add the butter and toss and stir until it is melted. Serve warm, garnished with toasted sliced or chopped almonds if desired.
Serves 2 to 3