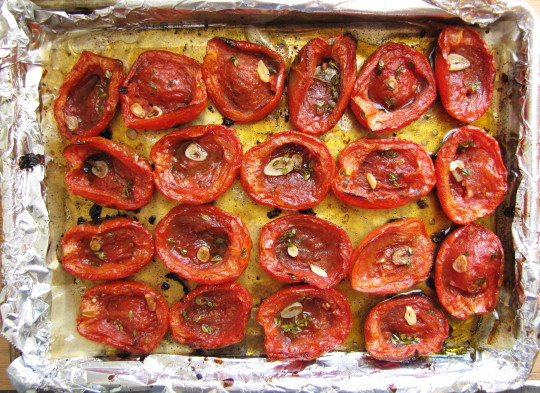 My friends will most definitely give me a hard time about this. Here I am, writing about roasted tomatoes—again. I love roasted tomatoes so much that I've written about them every chance I've gotten. If you want to slow-roast big, juicy beefsteaks or heirlooms, read how I do it over at Fine Cooking magazine's website. (I even include lots of suggestions for ways to use roasted tomatoes.) But if you want almost-instant gratification, read on.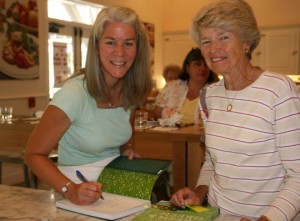 The recipe I'm posting here is a quicker version of roasted tomatoes, one I developed for Fast, Fresh & Green. It uses seeded plum tomatoes (which contain less moisture) and a high oven temp to get quicker caramelization. The reason I'm posting this recipe today is to thank all of the folks (like my best friend Eliza's Mom, Bran Johnston, with me at Stonewall Kitchens, right) who've showed up at all my book signings this summer and gobbled up hundreds and hundreds of these things.
Early on in the whole book-publicity strategy plan, I decided that making the same recipe for every signing would keep my life a little simpler. Plus, I don't have a lot of options for finger food in Fast, Fresh & Green, which is mostly side dishes. These roasted plum tomatoes conveniently fold up around a little piece of fresh mozzarella and a leaf of fresh basil to make "sandwiches" that I skewer with a toothpick (photo and recipe below). I can't say that they're the ideal finger food (caterer to the stars I am not), as they're a little unwieldy and a bit messy. But they taste so intense that I absolutely don't know anyone who hasn't liked them on first bite.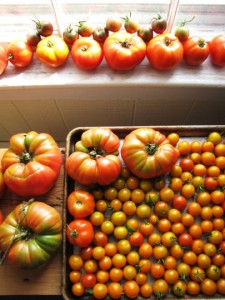 Fortunately, Roy likes them, too. (Actually he likes roasted tomatoes better than fresh tomatoes—that's a good thing, because judging by the burgeoning pile of tomatoes at our windowsill (left), I'm going to have to roast a lot of tomatoes pretty soon.) Roy has not only been a huge help with assembling the sandwiches at the last minute, but he has been lugging the cooler and several other heavy bags of tools and ingredients up and down the East Coast in an effort to make my life easier. For that he gets a lot of roasted tomatoes!
If you're not sure what all the fuss is about, take the 15 minutes to cut a few plum tomatoes in half, pull out the seeds, season them with salt, a little sugar, a few thyme leaves, a bit of garlic, and lots of olive oil and throw them in the hot oven, and enjoy the aroma while you wait to taste.
By the way, the Ag Fair (officially called the 149th Martha's Vineyard Agricultural Society Livestock Show & Fair) starts on Thursday here on the Island. (The Obama family arrives on Thursday, too, so yes, it's pretty much a circus around here.) We're entering our black cherry tomatoes and a few other veg and flowers, so we'll let you know if we win a ribbon!
Roasted Tomato, Basil, and Mozzarella "Sandwiches"
These make great hors d'oeuvres or antipasto, but they're also delicious on a dinner plate or tucked into a green salad, too.
_________________________________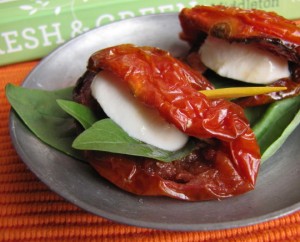 1 recipe Caramelized Plum Tomatoes in an Olive Oil Bath (recipe follows), any excess oil drained
20 fresh basil leaves
8 mini-mozzarella balls (1 inch in diameter), each sliced into 3 to 4 pieces
kosher salt
__________________________________
Have ready a serving platter or shallow dish and twenty toothpicks or cocktail skewers.
Lay the plum tomatoes, cut side up , on a cutting board. Place a basil leaf, shiny side down, on each tomato half. Put a piece of mozzarella on one end of the tomato and sprinkle a little salt over it. Fold the other half of the tomato over the cheese and put a skewer through the "sandwich" at an angle, so that about 3/4 in of the skewer comes out the other side . It's best to skewer through the folded-over ends of the tomato (and the cheese ), but not the middle , to prevent the "sandwich" from flopping open. Arrange the tomatoes on a serving pla tter in diagonal rows, tucking them close to one another.
Yields 20 sandwiches; serves 6 to 8
Caramelized Plum Tomatoes in An Olive Oil Bath
I'm always amazed at how a hot oven turns even the most pathetic, pale plum tomatoes into deeply flavored beauties. The generous amount of olive oil in this recipe has a purpose—as the water in the tomatoes evaporates, the oil replaces it and gently simmers and preserves the tomato flesh. When the tomatoes are finished cooking, you can lift one end and a good bit of the oil will spill out. Don't be alarmed if the edges of some of your tomatoes (or some of the juices in the pan) look a little black ened. They will still taste delicious.  These tomatoes aren't just a great side dish; they also make perfect crostini toppers, salad ingredients, or hors d'oeuvres (see page 42).
__________________________
10 plum tomatoes
½ cup extra-virgin olive oil
kosher salt
sugar
2 teaspoons fresh thyme leaves (4 to 6 sprigs)
balsamic vinegar
2 large garlic cloves, peeled and sliced crosswise into 10 to 12 slices each
_________________________
Preheat the oven to 425˚F. Line a large heavy-duty rimmed sheet pan with a piece of parchment paper. (I like to cover the sheet pan with aluminum foil, first, for easier clean up, but it's not necessary.) Cut each tomato in half length wise, and, leaving in the core, scrape out the seeds and ribs with a tomato shark or a serrated spoon. Brush 1 tablespoon of the olive oil over the parchment.
Arrange the tomato halves, cut side up, on the parchment.
Season the cavity of each tomato half with a pinch of salt, a good pinch of sugar, and some of the thyme leaves. Drizzle a few drops of balsamic vinegar inside each tomato half. (An easy way to do this is to pour some vinegar into a small bowl and use a 1/8 tsp. measure to distribute it. Or just hold your thumb over the vinegar bottle opening to dispense drops!) Drop a slice or two of garlic in each half , and pour 1 teaspoon of the olive oil into each half. It will look like a lot of olive oil; that's okay.
Roast the tomatoes until they collapse and are brown around the edges, the garlic is browned, and the juices are somewhat caramelized on the sheet pan, 30 to 40 minutes. (At this temperature, you can roast them up to about 55 minutes before the bottoms get too dark. Some of the really hefty—and underripe—plum tomatoes may want to go this long to be tastiest.)
Let the tomatoes cool for a few minutes on the sheet pan. Carefully transfer them to a serving plate. (If the juices are very caramelized, the tomatoes may stick a bit; take care not to rip the skin.) Serve warm or at room temperature. They will also keep in the fridge for about a week.
Yields 20 tomato halves; serves 6