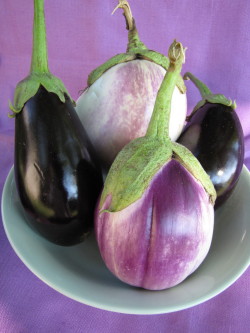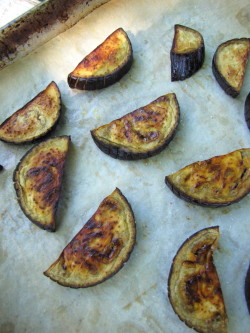 Lately, I seem to be getting the same question over and over, at book signings and on my blog: How do I cook eggplant? Friends are also telling me they're awash in late-season eggplants, and I've got four pretty purple orbs (orphans from the farm stand) staring at me right from my own countertop. Or at least I did, until this morning. I figured the universe was trying to tell me something, and I'd better start blogging about eggplant. So I turned the oven on.
It won't surprise you that my favorite way to cook eggplant is to roast it. (Grilling's right up there, too, but I am without grill today.) At its very simplest, roasting eggplant is as easy as slicing it up, spreading the slices on a lined sheet pan, brushing them with oil, seasoning them with salt, and putting them into a 450° oven for 20 or 25 minutes, until the slices are golden brown and cooked through.  The browning brings out the nutty flavor in eggplant, and the combination of a high oven temperature and a coating of olive oil draws enough heat and moisture through the eggplant slices to cook them all the way through. (Undercooked eggplant is not good.)
The roasted slices are really versatile, too. You'll want to nibble a few straight out of the oven, but you can also turn a couple slices into "sandwiches" with a bit of goat cheese and sundried tomatoes or fresh mozzarella and basil in between. Or you can make a roasted vegetable "stack" with roasted tomatoes and roasted zucchini and surround it with greens for an elegant salad. You can serve the roasted slices as a side dish with a topping of fresh salsa or with a warm tomato sauce and a little Parmigiano, too. Or you can use them in a casserole or gratin, like I did this morning. (See recipe below; if you just want to make the roasted slices, follow the directions in the first paragraph of the recipe, and cut round slices, rather than half-moons.)
Grilling eggplant slices will get you similar results, with one problem. Often the high, dry heat of the grill (drier than the oven) will sear the outsides of the eggplant slices before they are cooked all the way through. To solve this problem, I take the slices off the grill when they're browned and stack and wrap them in foil for a few minutes, where they'll finish cooking from the residual steam they give off. I don't normally like to "steam" veggies to finish cooking them, but since the eggplant slices are never really going to be crisp—and undercooked eggplant flesh is unappealing—I find this is a good idea, and that the eggplant flesh benefits, turning out to be especially creamy.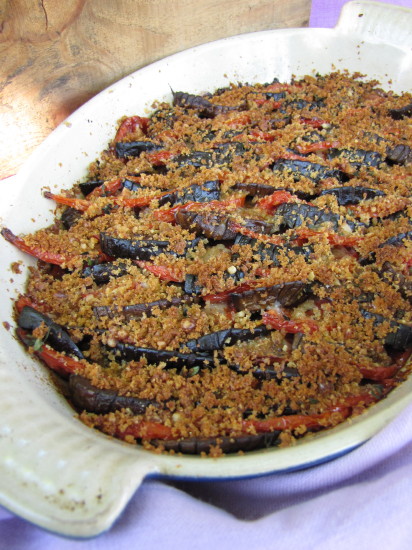 There are lots of other ways to cook eggplant. Roasting them whole is cool (the silky flesh makes great dips), and sautéing doesn't have to mean a lot of fat (a nonstick skillet solves that). But since this blog is long (and the Late Summer Gratin recipe–shown at left–even longer!), I'll have to hold those thoughts for another day. One last bit of eggplant advice: Many folks find the tough skin unpalatable. It doesn't particularly bother me, and I actually like to have a little bit of that texture. So I usually do what was recommended to me long ago—score the skin with a fork or partially peel it (every other half-inch or so) with a vegetable peeler. Either method breaks up the tough skin without entirely getting rid of it. So everyone will enjoy the eggplant—now that you've figured out how to cook it!
Late Summer Eggplant, Tomato & Parmigiano Gratin
I love summer veggie gratins because they reduce and mingle the essence of summer flavors into one dish. When I make one with eggplant, I sometimes use feta cheese or goat cheese instead of some or all of the parmesan. I also occasionally add chopped olives, a  little black olive tapenade, or some pesto. I use fresh thyme in this one (a variation on one in Fast, Fresh & Green), but mint's a natural with eggplant, too. This is also a great spot to use up excess garden tomatoes.  Just be sure to cook the gratin long enough to let the tomato juices mingle and reduce with the onions for the best flavor. You can use any kind of eggplant you like in this gratin, though I think Globe-type are a little more suitable for their heft. If you do use a skinny eggplant, like a Japanese or Italian style, you might not need to cut the veggies in half first before slicing (so you'll have round slices instead of half-moons.)
___________________________________________________
1 ¼ pounds globe-type eggplant (about 3 small or 1 large)
scant ½ cup extra-virgin olive oil
kosher salt
1 large onion (about 9 oz), thinly sliced
1 ¼ pound small or medium tomatoes (4 or 5)
2 tablespoons fresh thyme leaves or chopped fresh mint
1/2 cup plus 2 tablespoons  finely grated Parmigiano-Reggiano
½ cup fresh bread crumbs
____________________________________________________
Heat the oven to 450˚F . Line two heavy-duty sheet pans with parchment paper.  Trim the ends of the eggplant. Score the eggplant skin by dragging a fork down it lengthwise, repeating all over until the whole eggplant is scored. Cut the eggplant in half lengthwise; then cut each half crosswise into 1/2-in-thick half-moon slices. Arrange the slices in one layer on the sheet pans, and, using a pastry brush, brush both sides of each slice with some olive oil. Season the top sides with a little kosher salt. Roast until the eggplant is tender and lightly browned, 20 to 22 minutes. (The undersides will be slightly browner, and the slices will be somewhat shrunken.)
Reduce the oven temperature to 375˚F. Set the eggplant aside while you prepare the rest of the ingredients.
Grease a shallow 2-quart gratin dish with a little of the olive oil.
In a medium nonstick skillet over medium heat, heat 2 teaspoons of the olive oil. Add the onions and 1/4 tsp salt and cook, stirring frequently, until the onions are a light golden brown but still have some body, 8 to 12 minutes. Transfer the onions to the gratin dish and spread them out in one layer. Sprinkle them with one teaspoon of the thyme leaves. Let the onions cool.
Core the tomatoes, and cut them in half lengthwise (through the stem). Put each tomato half, cut side down, on the cutting board, and cut each half crosswise into 1/4-in- thick slices. Put the tomato slices on a shallow plate.
In a small bowl, combine  the bread crumbs with 2 teaspoons olive oil, a pinch of salt, and 2 tablespoons of the Parmigiano.
Starting at one end of the gratin dish, arrange a row of overlapping eggplant and tomato slices against the back of the pan (prop the veggies up a bit against the edge of the dish).  Alternate between one tomato slice and one eggplant slice, and after finishing each row, sprinkle it with some of the Parmigiano and a few thyme leaves. Continue arranging rows until you have filled the pan. If you come up short, you can always spread the rows out a bit by pressing down on them (or you can push them back to make more room). If you have extra Parmigiano and thyme, you can sprinkle it over the top of the finished rows.
Season the gratin with 1/4 tsp salt and drizzle 2 tablespoons of olive oil over the veggies.  Cover the veggies with the bread crumb mixture, letting the veggies peek out a bit.
Bake until the gratin is well-browned all over (the crumbs will be dark brown and the edges of the gratin will be browned), and the tomatoes are well-cooked and shrunken (if they were very juicy, the juices will be very reduced, as well), about 50 to 55 minutes. Let cool for at least 15 minutes before serving.
Serves 6 as a sidedish