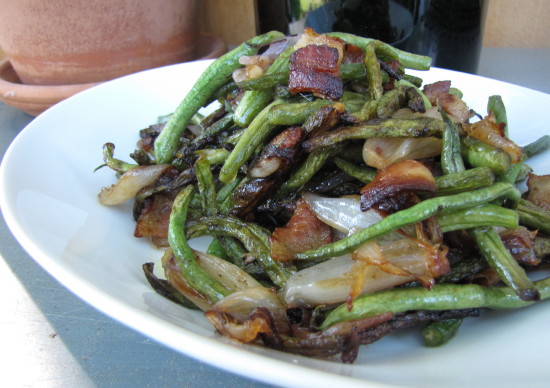 When the pole bean trellis blew down for the second time, we left it. Granted, we were a bit annoyed at the pole beans. They took a lifetime to germinate and what seemed like eternity to start yielding. Meanwhile the bush beans were churning out lovely filet beans by the pound every day.  We would have ignored the pole beans altogether except for this nagging voice I had in my head, "Pole beans are better than bush beans." I grew up with this voice. My father's.
My father and his mother (my grandmother Honey, who "put up" pole beans at the end of every summer) were always carrying on about the superiority of "pole beans" over bush beans. (Pole beans are green bean varieties like Kentucky Wonder that grow on vines as long as 12 feet, therefore needing support in the form of poles or some other trellising.)  I needed to find out the truth for myself, as it seemed to me that our bush beans (a variety from FedCo called Beananza) were pretty darn tasty—and oh-so-lovely to look at, too. The pole beans looked kind of gnarled up and blotchy the minute they appeared on the scene.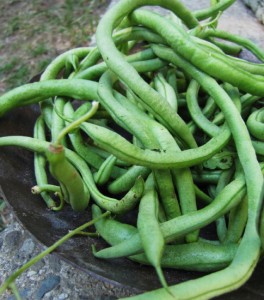 They didn't get any prettier—but they did keep growing, even under the weight of a collapsed trellis. After neglecting them for a while (figuring we'd eventually till them back into the soil, as nitrate-fixing beans make great soil enhancements), we came along one day, lifted up the vines, and discovered dozens of big funky beans growing under them.  We surely weren't going to sell these fallen beans, so I collected them that day—and every few days thereafter—and took them home for us. From the first time I picked them, I knew something was up. They just smelled "bean-y." I realize that doesn't sound too appealing, but I mean it in the best way—a really fresh, green, arresting aroma that followed through when I cooked them. It was green bean flavor times two! Really delicious. So now I have to tell my Dad he was right. Bummer.
The pole beans (at least the varieties we grew—Kentucky Wonder and Fortex) do present one cooking challenge:  their texture is a bit, well… I wouldn't say tougher exactly, just more substantial, I guess. Toothsome, in a good way. To me that texture is a clue to cook the beans a bit longer and with some heartier flavors. But by longer cooking, I don't mean boiling them to death. I mean something like slow-sautéing, where the beans get brown and tender and pick up the flavors of other ingredients in the pan, like the shallots and bacon in the recipe below. I made this recipe yesterday because it felt comforting and warm, and we've had a bit of a nip in the air up here. Plus, I had some particularly gnarly beans to deal with. So it may not look so pretty (though, yes, everything is supposed to be that brown—brown is where all the flavor is), but it did taste pretty delicious.
Slow-Sautéed Pole Beans with Shallots & Bacon
If you don't have pole green beans, don't worry. This recipe will work great with any mature green beans—just choose the largest beans you can find when you're shopping. This method of "slow-sautéing" involves a crowded pan (the opposite of what you would think of for a quick sauté), but I promise you it works great. Keep the pan at a gentle sizzle—you can always slow browning down by lowering the heat. The end goal is veggies that are cooked through and nicely browned, too.
__________________________________
2 teaspoons orange juice
1 teaspoon red wine vinegar
3 tablespoons extra-virgin olive oil
12 ounces pole green beans, trimmed and cut into 2- or 3-inch pieces
4 large shallots, peeled and cut lengthwise into ½-inch wedges (keep a little of the stem end intact if you can)
2 ounces bacon (about 2 pieces), cut into 1-inch pieces
kosher salt
½ tablespoon unsalted butter
__________________________________
In a small bowl, combine the orange juice and vinegar and set aside. In a 10-inch straight sided skillet, heat the olive oil over medium heat. Add the beans, shallots, bacon, and a scant teaspoon of salt. Using tongs, toss to break up the bacon and to coat everything with the oil and salt. Reduce the heat to medium-low. Cook, stirring occasionally at first and a little more frequently after browning begins, until the vegetables are all very-well browned and limp (the bacon will be cooked through and some pieces will be crisp), about 22 to 25 minutes. Remove the pan from the heat, add the butter and the orange juice mixture, and immediately stir to incorporate the liquids and melting butter into the beans. Transfer the vegetables to a serving dish or individual plates and serve hot or warm.
Serves 3 to 4 as a side dish