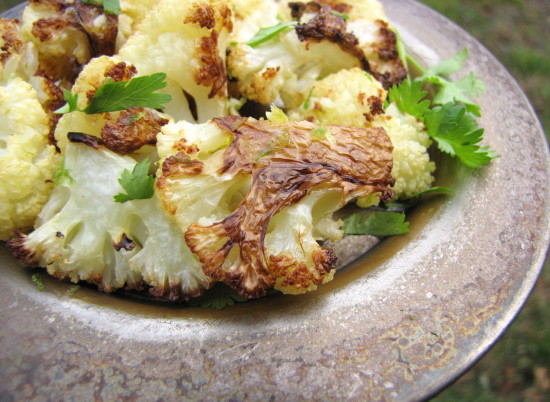 I started taking yoga again last week. Actually, "Yoga on the Ball." At first it made me giggle, bouncing around on this thing. The ball reminds me of the Hippity-Hop I had as a little girl. Back in those days, my parents would do anything to try to wear me out. I was Miss Energy. These days, not so much. But after I got over the giggles, I started to feel really good. What I need (or what my back, my hamstrings, and my tummy need) is stretching, and draping yourself over, under, and around this big round ball seems to make stretching easier and more effective. Very Cool.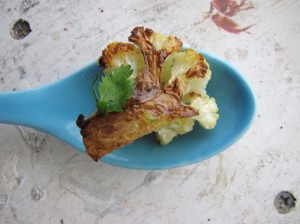 Plus, I love my yoga teacher, M.J. Bindu Delekta, and she makes everything soulful and relaxing, even if it does involve putting on unflattering clothes and contorting your body into embarrassing positions. And she's really into good food. Last week she announced to the yoga class that she highly recommended Susie's cookbook, especially the roasted cauliflower. She has mentioned this roasted cauliflower to me a few times, so I know she is serious.  It reminded me that it might be a good idea to spread the word about roasted cauliflower beyond my yoga class. Plus, I happened to roast some this weekend for a recipe I'm working on, and I thought to myself, "Oh, roasted cauliflower, what a hot ticket you are! So sweet, so delicious, and yet, still cauliflower." (Okay, I know I really am going nuts now, talking to cauliflower. I'm afraid I've been in the kitchen far too much lately.)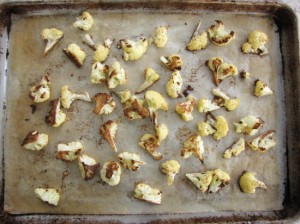 There is simply nothing difficult about roasting cauliflower. It's not even hard to cut up a cauliflower into florets. And with my quick-roasting method (yes, lifted right from Fast, Fresh & Green), you can be popping these yummy bites right off the sheet pan and into your mouth in less than 30 minutes. But in case you'd actually like to serve these as a side dish, I've included a little seasoning idea—a Garlic-Lime-Cilantro butter—with the method below. For more ideas, check out the Orange-Olive Dressing on the roasted cauliflower in FFG, or try one of the other herb butters in the roasting chapter.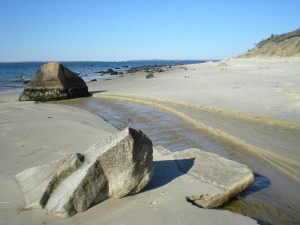 But I have to tell you just one last thing about M.J. and this whole yoga gig. The reason M.J. is so cool is not because she loves roasted cauliflower. It's because she gives the best homework assignments ever. Last week she reminded us that we live on an Island and that we should visit the ocean if we haven't lately. In fact she said, we should go to the beach, close our eyes, and practice pacing our breaths with the rhythm of the waves coming ashore. She even emailed us all this weekend to remind us of our homework. So today I got out of the kitchen and went to the beach. It just happened to be 70 degrees, and I got to dig my toes into surprisingly warm sand. I'm not sure I quite got my breathing in sync with the waves. But it was the best homework assignment I've ever had. So after you roast your cauliflower, go to the beach. Or walk in the woods. Check out the leaves. It's all delicious.
_______________________________________________________

Roasted Cauliflower (with optional Garlic-Lime-Cilantro Butter)
I love this high-heat, sheet-pan roasting method for cauliflower. But I recently roasted cauliflower in a Pyrex pan at 425 degrees, and it came out just fine, too. It does brown up and it's still tasty. But there's no doubt that the cauliflower (and most veg) gets crisper on an aluminum sheet pan at higher heat. Because of the material and depth of a Pyrex pan, vegetables roast a little more slowly and come out a bit moister (not always a bad thing) from the steam they pick up from neighboring veg. Since cauliflower has a fair amount of moisture to give off, it's one that I think really benefits from the open sheet pan.
1 pound cauliflower florets (from about 1 small head), each cut into pieces about 1 ½  inches long with one flat side (see photos)
3 tablespoons extra-virgin olive oil
¾ teaspoon kosher salt
Garlic-Lime-Cilantro Butter (optional, see below)
Heat the oven to 475 degrees F. Line a large baking sheet with parchment paper. In a mixing bowl, toss the florets gently but thoroughly with the olive oil and salt. Spread the florets out on the sheet pan in one layer, flat side down. (Scrape any remaining salt and oil out of the bowl onto the florets). Roast until the bottom of the florets are well-browned and the tops are starting to brown, 20 to 24 minutes. (You can turn them once with tongs about ¾ way through cooking, but do leave the flat side in contact with the sheet pan for at least the first 15 minutes so that it will get nicely caramelized.) Serve right away (they cool down quickly), or drizzle with the butter and transfer to a serving bowl.
To make Garlic-Lime-Cilantro Butter: In a small skillet, heat 1 tablespoon unsalted butter with 2 teaspoons extra-virgin olive oil and 1 teaspoon minced garlic over medium-low heat. When the butter has melted and the garlic has begun to smell fragrant, remove the skillet from the heat and mix in ½ tsp. freshly grated lime zest and ½ tsp. fresh lime juice. Stir in 1 tablespoon chopped fresh cilantro. Drizzle over cauliflower.
__________________________________________________________