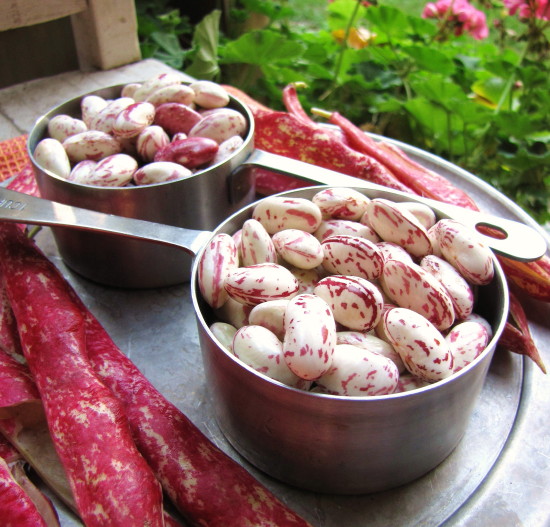 Halfway through the summer, I gave into temptation and bought a new packet of seeds for the vegetable garden. (Like I really needed more seeds—we had so many left over from our order last winter that I have enough to start the entire garden next year.) Right around the time our first carrot row emptied out, I happened to spot some Italian Borlotti beans at the garden center down the road. I had to have them.
I've always wanted to grow shell beans. I think it's the whole popping-them-out-of-the-pod thing. It seems so peaceful to me—an activity you definitely have to slow down to enjoy. But these particular shell beans are special. First off, they're pink. I'm not kidding—my favorite color. The crimson pods and the magenta-dappled beans are way too charming to pass up. Secondly (and yeah, a bit more importantly), Borlotti beans (usually called Cranberry beans in the States) are delicious. Cooked fresh, their creamy, meaty texture is like no dried or canned bean you've ever eaten. The only bummer thing is that they lose that beautiful color when cooked.
Because I planted my Borlotti beans late in the season, I didn't expect much. In fact, after a little initial weeding to help the baby plants along, I kind of ignored them as summer waned and fall got busy. But every once in a while I'd catch a glimpse of pink among the weeds, and I discovered that the plants were producing lots of pods. As soon as the pods started plumping up, I'd zipper one open every time I visited the garden. I was trying to figure out when to harvest them. Were the beans ripe? They seemed big enough, but many of them also had a pale greenish hue—hardly white with pink spots. I couldn't find any info on the internet, but I finally got my answer, almost by accident.
I took a few pods home one day to photograph, and as I was lining them up on the patio, I noticed that even though all the pods were predominantly pink, some of them were mottled with green, some with white. The pods that had the most white—almost the color of candy canes—had the nice white and magenta speckled ripe beans inside. The pods that had a mottled green background color still had the greenish beans inside. And there were gradations along the way; it seems the pods gradually change color as the beans ripen. At last, I'd finally figured out a way to tell if the beans were ripe without having to pick the pod and open it up first.
Saturday Roy and Libby and I pulled up most of the Borlotti bean plants. We were in a rush, trying to get some tidying done in the garden before heading to the Bronx Sunday morning for a book signing I'd been asked to do at The New York Botanical Garden's Edible Garden event. So I snipped the pods off the plants, stuffed them in a bucket, and crammed them into the fridge at home.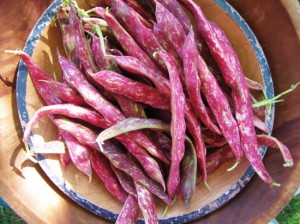 This afternoon I got a chance to (slow down and) sort through the pods, and happily, a majority of them were more pink than green. I shelled enough pods just to get two cups of beans, as I want to make them last. I almost hated to cook with them they were so pretty. But I wanted to prepare them the way I've had them in Italian restaurants—with lots of garlic and rosemary. I wasn't disappointed; they were as delicious as I remember—the perfect thing with a warm green salad and some crusty bread. And the bonus: Since they're fresh, they cooked in less than 30 minutes (no soaking). (And actually, despite turning grey, they were still quite pretty when I photographed them, too, though you will just have to believe me. Unfortunately, I accidentally erased and recycled those photos tonight. Glad I don't do that very often!)
Depending on where you live, you may still see the fresh beans at farmers' markets or natural food stores this fall. But even if you don't get a chance to cook them fresh this year, keep an eye out for dried Borlotti (or Cranberry) beans. They're a classic addition to all kinds of Italian soups and stews like Pasta Fagioli and Minestrone.
Fresh Cranberry Beans with Bacon, Rosemary & Garlic
For a light supper, serve these beans with a warm escarole, spinach, or arugula salad and some crusty bread. If you have pancetta (Italian bacon), it would be a more authentic substitute for bacon, so feel free to use it. And if you want to go meatless altogether, no worries. The beans are still full of flavor cooked with just the rosemary and garlic and without the meat.
2 cups (10 oz.) shelled fresh cranberry beans (from about 1 ¼ lbs. pods)
kosher salt
extra virgin olive oil
1 large clove garlic, smashed, plus 2 tsp. minced fresh garlic
2 smal sprigs fresh rosemary plus 1½ tsp. chopped fresh rosemary
2 slices bacon
1/2 tsp. sherry vinegar or white balsamic vinegar
In a medium saucepan, combine the cranberry beans, ½ tsp. kosher salt, the rosemary sprigs, the smashed garlic clove, and 3 cups water. Bring to a boil, reduce to a simmer, and cook gently until the beans are tender, about 20 to 25 minutes. (You should be able to mash them lightly with the back of a spoon.)
Transfer the beans with a slotted spoon to a bowl, and reserve the saucepan of cooking liquid. Remove the garlic and rosemary leaves from the beans.
In a medium heavy nonstick skillet, cook the bacon or pancetta over medium-low heat until the bacon is crisp, about 12 minutes. Transfer the bacon to paper towels to drain. Turn the heat to medium and add 1 Tbs. of extra-virgin olive oil to the skillet.
When the oil is hot, add the minced garlic, and cook, stirring, until the garlic is fragrant and softened, about 1 minute. Add the beans, ½ tsp. kosher salt, ½ tsp. of the chopped rosemary, and a small amount (about ¼ cup) of the cooking liquid. Turn the heat to medium-high and cook, stirring frequently, until most of the cooking liquid has simmered down or been absorbed, about 2 minutes. Add the sherry vinegar and another ½ tsp. chopped rosemary to the beans. Stir and transfer all the contents of the pan to a serving bowl and garnish with the bacon, crumbled, and the remaining ½ tsp. chopped rosemary. (If you don't plan to eat all the beans tonight, save a little more of the cooking liquid to reheat them in tomorrow.)
Serves 3 to 4 as a side dish.