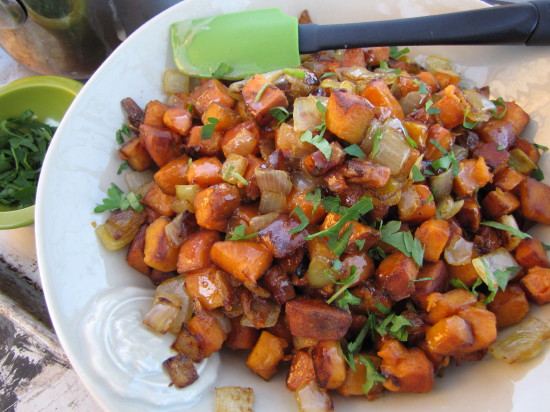 Sweet potatoes are having their moment—at least according to a recent article by my favorite New York Times reporter, Kim Severson. It seems their new fame is largely due to the popularity of sweet potato fries. These fries (mostly deep-fried like regular potato fries) have popped up on both upscale and chain restaurant menus all over the country in the past couple of years. I am one of those willing victims who eats these things; but more often I roast them at home in the oven using the recipe I created for Fast, Fresh & Green. (I posted that recipe here last spring when the book came out. It has a yummy limey dipping sauce that goes with it.)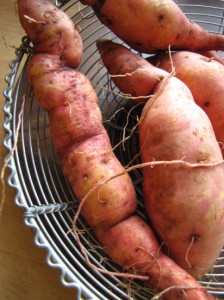 But I've long been a fan of sweet potatoes cooked many different ways—especially any method that allows them to caramelize a bit, like slow-sautéing. So I thought this week I'd make some slow-sautéed sweet potatoes and share that recipe here, in honor of the humble tuber's new (but hopefully not fleeting) fame.
All this attention has some real perks for cooks and eaters alike. For cooks, there are now more varieties of sweet potatoes available at groceries and farmers' markets. I love the Gem and Garnet sweet potatoes I find. Their flesh is moist and very tasty. But according to the North Carolina Sweet Potato commission's website, there are actually hundreds of varieties of sweet potatoes from white-fleshed to deep purple. (Visit their site to see cool photos of a dozen kinds.) The perk for eaters, which I didn't realize until reading Severson's article, is that sweet potatoes, sweet as they are, are actually full of complex carbohydrates (as opposed to simple sugars) which don't spike insulin, so they are recommended for diabetics and dieters alike. They're also very high in beta-carotene, Vitamin E, and fiber.
All that, plus sweet potatoes are easy to prep. There's very little waste, and most often I don't peel them. So whether you're looking for great flavor, fun cooking, or better health, sweet potatoes have something to offer.
Caramelized Sweet Potatoes & Onions with Cider Butter
Once you've gotten the hang of the slow-sauté, you can vary this recipe by adding some diced apple halfway through cooking, or by adding a bit of minced fresh ginger or garlic at the end of cooking (fold in and let soften for a minute or two). You can also add toasted chopped nuts at the end. However, the simple cider butter is really all you need for a delicious finish.
_______________________________________________________
4 tablespoons unsalted butter
2 tablespoons extra-virgin olive oil
1 1/2 pounds sweet potatoes (about 2 fairly big ones), unpeeled, cut into 1/2-inch dice (about 5 cups)
1 teaspoon kosher salt
2 small onions (about 8 ounces), cut into 1/2-inch dice, about 1 1/2 cups
1/2 cup apple cider
1/4 tsp. cider vinegar
2 teaspoons chopped parsley (optional)
_______________________________________________________
Cut 2 tablespoons of the butter into 8 pieces and refrigerate it to keep it cold.
In a large (12-inch) nonstick skillet, heat 1 tablespoon of the butter and the olive oil over medium-high heat. Add the sweet potatoes and 1 teaspoon kosher salt. (The pan will look crowded.) Stir well. (A silicone spoonula works great for this.) Reduce the heat to medium, cover loosely, and cook, stirring and flipping occasionally with a flat-edged spatula, for 15 minutes. The sweet potatoes will start browning after about 10 minutes, and you'll be scraping up some brown stuff off the bottom of the pan—no worries. Listen to the pan; you should hear a gentle sizzle, not a loud one, as the sweet potatoes cook. If the vegetables are browning too quickly, reduce the heat a bit to maintain that gentle sizzle. If you can barely hear the sizzle, turn the heat up a bit.
Uncover, add 1 more tablespoon butter, the onions and 1/4 tsp. salt, and continue to cook, stirring and flipping more frequently as browning goes faster. Adjust the heat down slightly if necessary (and add a little more oil to the pan if it seems dry). Cook until the vegetables are all tender and the onions are lightly browned, about another 10 to 12 minutes.  Remove the pan from the heat.
Meanwhile, in a small saucepan, bring the apple cider to a boil over medium-high heat. Reduce to a simmer and cook until it is reduced to about 3 tablespoons—it will be slightly more viscous. Add the cider vinegar and reduce the heat to the very lowest setting so that the liquid is hot but not simmering. Remove the cold butter pieces from the fridge and begin adding them to the hot liquid, a few pieces at a time. After each addition, whisk the butter until it dissolves and becomes creamy. Finish adding the butter and whisking until you have a creamy sauce. Do not turn the heat up or the butter will separate while melting. Keep the sauce warm over the very lowest heat if necessary.
Drizzle the sauce over the sweet potatoes, toss well and serve garnished with the chopped parsley (if using).
Serves 4