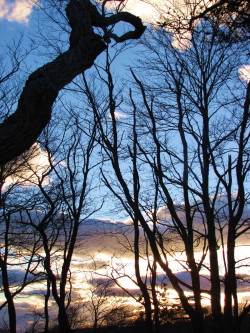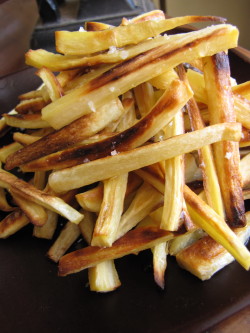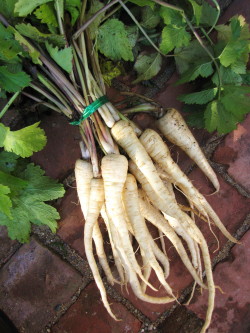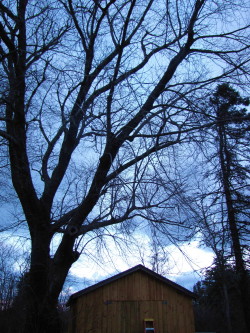 With the sudden cold this week came a change in the sky. I looked up at twilight and there were those magical trees, spindly and Fantasia-esque, their branches bare and brittle, silhouetted against the bluer-than-blue sky of a December afternoon on the Vineyard. This windblown tree-scape of the Island winter might seem austere to some, but it's comforting to me, and I'm glad it's arrived—if seemingly overnight. This is the very vista that enveloped me when I arrived here three winters ago, spent and unsure. It offered me a wide-open gift of calm and space. The gnarly trees led me into the woods, down paths to hidden coves and rocky beaches, through tufted fields, around lichen-licked stone walls, up bumpy hills to breathtaking views. I'd always been afraid of the woods, but here, with sparkly views peeking through the leafless Beetlebungs and stubborn scrub oaks, I forged ahead and gained courage and confidence.
Now my favorite season on the Vineyard brings another intangible perk—friends circle together and catch up after the busy season. There are potlucks and indoor markets and special events like the winter film festival. But as it happens, you most often run into your friends at the post office and the grocery store. Me, I am at the grocery store a lot. So I get to see lots of friends, and I also get a peek at what everyone's cooking.
The other day I ran into my hen-whisperer friend, Katherine Long. Not only does she have the most amazing chickens, chicken coops, and chicken eggs (of course), but she is a cook extraordinaire, so I love chatting with her. She was clutching a bag of parsnips. "Mom's coming," she said matter-of-factly. "And she wants veggies. I'm thinking maple-mustard parsnips." "Perfect!" I said to her, "And what a coincidence…" I instantly remembered that I'd developed a delicious recipe for maple-mustard glazed parsnips for Fast, Fresh & Green, but that it was one I had to excise from the book (I wrote too many recipes, naturally).
Suddenly I had parsnips on the brain. I started to feel bad that I'd mentioned sweet potato fries last week, and hadn't given poor parsnips their due. Parsnips, in fact, make excellent oven fries, though they are much drier than sweet potatoes. And they're delicious sautéed, though all that sugar makes them brown up fast.
The next day I went straight to the Winter Farmers' Market and bought the last bunch of freshly dug parsnips Morning Glory Farm had brought with them. (Copious greens still attached.) I'm sure there are more where those came from, as parsnips get sweeter when the ground freezes (the cold converts their starch to sugar), and they keep well in cold storage, too (kind of like the heartiest Islanders). Really, this pretty white root is the quintessential winter vegetable. So this week I'm offering up the recipe for the mustard-maple glazed parsnips and the directions for making the fries—to assuage my guilt for not having blogged about parsnips sooner. But also, to celebrate the arrival of winter—even if there is very little insulation in our charming little house and, it is, well, cold. I did say I loved winter on the Vineyard, didn't I?
How to Cut Parsnips
I think parsnips look lovely and cook best when cut into long, thin pieces. I call these pieces "sticks," and that's a fine goal to aim for, but in reality many pieces will have tapered edges and some will be thicker than others. For small or medium sized parsnips, I don't bother to cut the woody core out—it cooks up just fine. First I cut the long parsnip in half, crosswise, right about where it goes from fat to skinny. I quarter the skinny end lengthwise and usually wind up with 4 pieces between 1/4 and 3/8 inch thick. (Pieces on the skinnier side are a bit better for the sauté; you can cut the fries a bit fatter.) With the fat end of the parsnip, I cut a very thin sliver off of one side so that I can roll it over and stabilize it. Then I cut it lengthwise into planks (see top left in photo). Then I lay the planks down and cut them into sticks.
Maple-Mustard Glazed Parsnips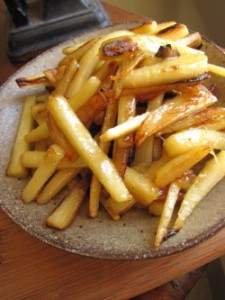 The trick to sautéing the parsnips in this recipe is to moderate the heat so that the veggies are cooking through and browning at the same time. On my stove, the ideal heat is around medium, but sometimes I wind up turning the heat down to medium-low to slow down the browning while the steaming catches up. But everyone's stove is different, so keep an eye on the veggies. If they are browning too quickly (before they begin to lose their opacity), turn the heat down a bit. Lower and slower is better than higher and faster in this case. The easy maple-mustard glaze gives these a depth and richness that could stand up well to a hearty braise like a pot roast.
______________________________
2 tablespoons maple syrup
2 teaspoons Dijon mustard
2 tablespoons extra-virgin olive oil
1 tablespoon unsalted butter
1 pound parsnips, trimmed, peeled and sliced into sticks 2 to 4 inches long and between 1/4- and 3/8-inch wide
kosher salt
_______________________________
In a small bowl, whisk together the maple syrup and the mustard and set near the stove. Arrange a serving dish near the stove as well.
In a large (12-inch) nonstick skillet, heat the olive oil and butter over medium heat. Add the parsnips and 1/2 teaspoon salt, and cook, stirring gently and frequently (a silicone spatula works well), until the parsnips lose their opacity, become golden brown all over, and are tender, 15 to 17 minutes. (The parsnips will begin browning after 6 to 8 minutes. If they are browning too quickly—before they lose their opacity—turn the heat to medium-low. After stirring each time, spread the parsnips out in the pan so that they have maximum contact with the heat.)
Remove the pan from the heat and immediately add the maple-mustard mixture. Stir right away as the mixture reduces and coats the vegetables. Immediately transfer the parsnips and any sauce in the pan to a serving bowl. Let cool for a minute or two, taste and season with more salt if desired. Serve right away.
Serves 3 as a side dish
Roasted Parsnip Fries
When you buy a 1-lb. package of parsnips at the grocery, it will often contain more like 1 1/4 lb. Weigh your roots at home if you can, as 1 lb. is about the maximum for roasting on a large sheet pan. (The parsnips will steam rather than roast if they are too crowded. Use two pans if necessary.) The lime-maple drizzle here is very tasty, but optional. You could season the fries with spiced salt or serve with some other kind of dipping sauce, like honey-mustard.
______________________________
1 pound parsnips, trimmed, peeled, and cut into sticks 2 to 3 inches long and 3/8-inch/1-cm wide
2 tablespoons extra-virgin olive oil
kosher salt
1 teaspoon fresh lime juice (optional)
2 teaspoon maple syrup (optional)
sea salt for sprinkling (optional)
_______________________________
Preheat the oven to 450 degrees F. Line a large rimmed heavy-duty baking sheet with parchment paper. In a mixing bowl, combine the parsnip sticks with the olive oil and 1/2 tsp. kosher salt. Toss well and spread in one layer on the baking sheet. Roast until the "fries" are nicely browned (mostly on the bottoms) and tender, about 20 minutes. (If the pan is crowded, they can take 30 to 35 minutes. Check frequently as browning goes fast.) Let cool for a couple minutes on the sheet pans and then sprinkle with a bit more salt. Or combine the lime juice and maple syrup (if you like), drizzle over the fries, and season with coarse salt. Eat right away.
Serves 3 as a side dish