It's kind of sad. Now that recipe development for the new book is coming to an end, I won't get to have my daily email and phone conversations with my two cross-testers, Jessica and Eliza. I mentioned a few weeks ago that Eliza, my best friend from childhood, is my chief "citizen" tester. (And that her family and friends are enthusiastic tasters. Right about now, though, I bet they're happy they're not eating quite as many vegetables!).
But before the recipes get to Eliza (and after I've created, tested, and retested them), they go to Jessica Bard. Jessica is a professional chef, food stylist, cooking teacher and recipe tester. She's a graduate of the Culinary Institute of America in Hyde Park, NY; worked on the CIA's cookbooks for five years, and also is a former member of my staff at Fine Cooking magazine. So you could say that I have confidence in Jessica because of her professionalism and experience, and that would be so true. But it would only be a small part of the story.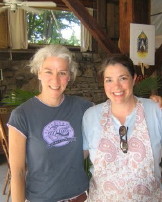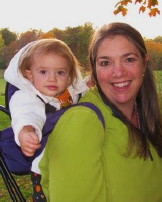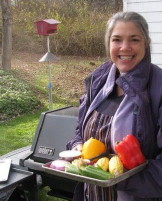 Anybody who knows the effervescent (and always busy) Jessica Bard enjoys being around her. Her cheery, upbeat attitude and great sense of humor got me (and many of the rest of the Fine Cooking staff) through some pretty stressful times back in the day. When Fast, Fresh & Green came along, I knew I wanted her (and her positive energy) to be part of the experience of creating my first cookbook. (And then, of course, my second!)
The thing I admire most about Jessica is that she lives in the world, if you know what I mean. She embraces it all. Jessica and her husband Callum Benepe live in a cool barn they restored on her family's property in Milan, N.Y. Jessica's Dad lives next door. There is a constant stream of people coming and going, always enjoying Jessica's food. Jessica created and tends an amazing vegetable garden, a space that inspired me, more than any other, to do my own big garden. One summer I went up to her place for a day just to imbibe what she knows about growing things. (That's us back inside, above left, after some gardening–getting ready to cook together.)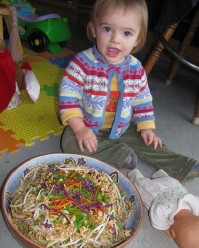 There's a whole list of other amazing creations spawned by Jessica's never-resting imagination—including beautiful cakes and regular contributions to the Halloween parade in Greenwich Village—not to mention her own recipes. But probably my favorite creation is her recent collaboration with Callum—baby Grace! That's Grace with a bowl of peanut noodles from the new book in the photo at left. When she's not at day care, she's an excellent taster!
I bring all this up because someone who's going to cross-test recipes for a cookbook needs more than just excellent cooking and communication skills. It can't be a person whose realm is the rarefied restaurant kitchen. It has to be someone who can know intuitively, when making a recipe, whether this is something a home cook would enjoy doing (or would even begin to tackle), whether the results are rewarding for the effort put in, and whether or not it's the kind of thing a cook would want to serve to his or her friends and family. Jessica can tell me if I need to reduce the heat, add more acid, or use a different pan to fix a problem in a recipe (and she will!)—but she can also tell me if a recipe feels like it fits with the rest of the book or whether her husband or mother-in-law enjoyed eating it. (This is something Eliza brings to the table, too—she cooks for a big family daily, entertains at the drop of a pin, and gets lots of feedback.)
Lastly, Jessica is super-organized. Since I am ridiculously organized and a chronic list maker, it takes a lot to stay one step ahead of me–but Jessica does. I wouldn't even know how to create the kind of recipe spreadsheets she keeps!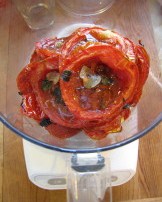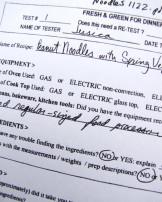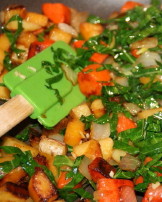 One particularly valuable thing she developed for us is the Recipe Test Evaluation Sheet (snapshot in the middle above). She created this for Fast, Fresh & Green and she and Eliza both have used it for Fresh & Green for Dinner. I thought blog readers might be interested in this, as I know from the frequent questions I get that recipe development is a mystery to most folks (more on that another time!). Here are some of the questions we have on the form:
Name of tester, Date of Test, Name of recipe,
Equipment—Type of oven or cooktop used (gas, electric, induction, convection)
Equipment—Pots, pan, utensils used (did you have the equipment recommended in this recipe?)
Ingredients—Did you have trouble finding any in this recipe? Any issues with measurements?
Method—How long did it take you to both prep and cook this recipe?
Method—Were the directions clear? (Consider timing, temperatures and doneness descriptions.) If not, please specify how they could be clearer and mark up the recipe.
Results—Was the serving size accurate? Did you like the results? Taste? Aroma? Appearance? Presentation?
1-5 Taste Score 1 (bad) 2 (not to my taste) 3 (decent) 4 (good) 5 (excellent)
Any other comments?
So it's not hard to see why I am so appreciative of the time, energy, and attitude commitment that both Jessica and Eliza have provided for me this time around. (I can't tell you how many trips to the grocery store these guys have made, since the law of recipe testing is that you will never find all the ingredients in just one place. And then there's that grilling in the snow…) I only hope we can all work together on another book very soon. That sounds crazy, I know, after the pace we've been working. But it's been a lot of fun, too.
By the way, both Jessica and Eliza were kind enough to take test photos of recipes along the way. Along with my photos (one from all three of us at the top of this blog), they'll go in the package with the manuscript to my publisher, Chronicle Books, to help jumpstart the planning process for the real photo shoot.