I really don't think I'm rushing things. I mean the seed catalogues arrived over a month ago. And so I've started to pester Roy about building our seed-starting shelves. I know we really don't need to start the tomatoes for two months, but, you know, I like to be ready. Yes, it's hard to think green when the garden looks like it does right now—all shades of grey and white. But I can't help it if I'm kinda prone to over-excitement. (I got into a lot of trouble as a small child with this—I almost got kicked off a week-long stint on the Romper Room TV show in 1966 because I wouldn't sit still. Apparently an ice cream bribe calmed me down. No surprise—that still works.)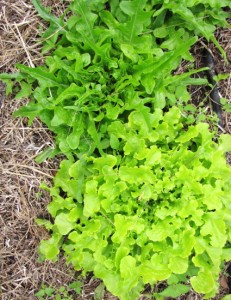 Anyway, we are living in a new place this year, and we'll be able to have our garden right out back. It was a lot of fun being at Native Earth Teaching Farm last year (and being near our neighbors, the baby goats), but it was a strain to shuttle back and forth every day. This year, it could be a blessing or a curse, but all we'll have to do is tumble out of bed, pull on our boots, set the coffee off and head outside. There's a lot of work ahead for us in preparing the garden here (see above!), but it's an ample space that's been gardened in the not-too-distant past. It sits up high and has plenty of sunlight. I can't wait to work in it—of course after Roy builds the fence! I know, I'm bad—I will help him, I promise.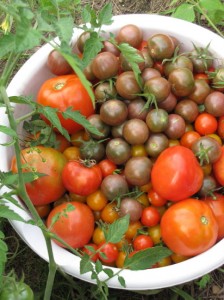 This year, we're going to narrow our market crops to just a few things: greens, beans, potatoes, and tomatoes. And I'm going to use the rest of the garden in two specific ways for us. In part, it will be a kitchen garden, with plenty of greens and herbs for our everyday summer eating. (I can't wait to get Ellen Ogden's new book, The Complete Kitchen Garden.) And it will also function as a storage/winter-eating garden, with carrots, onions, potatoes, beets and turnips for the cold months. I'm not going to grow much in the way of squashes, eggplants, and peppers. They take up a lot of room and we don't seem to eat as many of these as we do tomatoes and greens. When we need them, it'll give us a good excuse to go to the farmers' market and to barter with friends, too.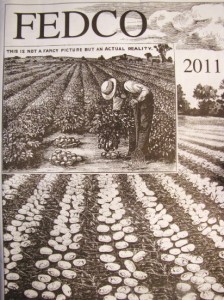 For the market garden, I've already ordered our tomato seeds and our potato and onion sets. (I told you I couldn't wait.) I ordered mostly organic from the fabulous Fedco company in Waterville, Maine. They have incredible products at great prices. I'm trying out a couple new cherry tomatoes with great names and descriptions (love those seed catalogues!): Honeydrop Cherry Tomato and Be My Baby Gene Pool Cherry Tomato. We joined with our local Homegrown folks (a group of avid vegetable gardeners who meet once a month here on the Island to swap tips) for the potato (also from Fedco's Moose Tubers division) and onion orders (from Dixondale Farms), so we'll be saving a little money there. I'm trying to do the garden on a much smaller budget this year, so I didn't splurge too much; I still have lots of viable seeds from last year, too. (At least I hope they're viable). But since I'm such a nut about greens (both cooking greens and lettuces) and Fedco will hook you up with a small packet of lettuce seeds for less than $1.50, I went ahead and ordered some new lettuce varieties to try, including Flashy Green Butter Oak Lettuce and Speckled Amish Lettuce.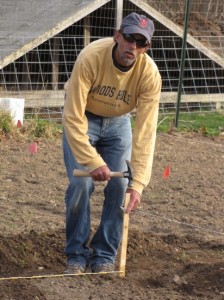 Oh, am I ever excited. I'll let you know when we start the real work. And I'll also let you know about the other big excitement coming around here—baby chicks! Future laying hens—at last, we'll have our own eggs by fall if all goes well. (Of course, Roy is going to have to build a chicken coop, too—but he's already designed it!)
P.S. Recipe blogs will return soon. I am strapped to the computer putting the final touches on my book manuscript, which will (please cross your fingers) be delivered to the post office next Monday…