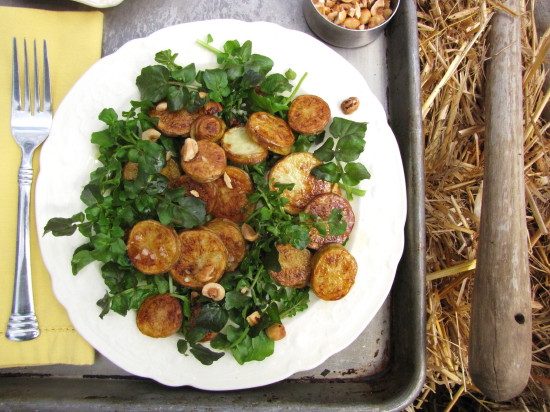 It's funny how things come together in the kitchen. This week I've had lots of fingerling potatoes lying around, as I've been developing recipes with them for Vegetarian Times magazine. As it happens, I also treated myself yesterday to a watercress gathering excursion. Nice to be out in the quiet of the early morning under clearing skies, walking along a damp compost-y path beneath a gradually thickening canopy of budding branches. (Buds—finally.) I had my little scissors, a bag, and my camera. Sadly, I couldn't linger long—lots of recipe testing scheduled for the day. But I crouched low in the black mud, hung over the stream, and snipped enough crisp clusters of Leprechaun-green watercress to fill my bag. And then reluctantly carried on my way. Retreating out of the cool forest, I heard the buzz of cars on the roadway calling me out of my reverie.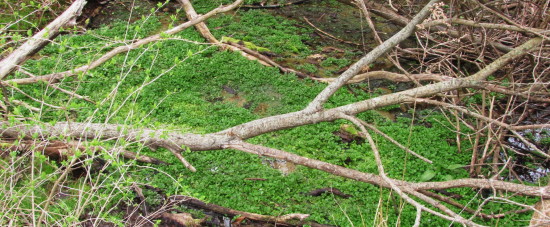 Back home at lunch time (after another recipe test—Asian slaw), I looked at the fingerlings and the watercress and thought: Warm salad. It's no secret that my favorite way to cook fingerlings is brown-braising. But right then, I wanted instant gratification, and I looked at the little knobby potatoes and thought slicing them into coins and quick-roasting them would get me my hit.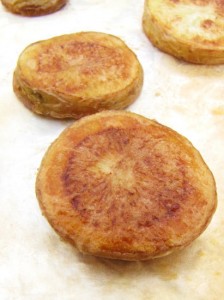 Sure enough, the little coins were golden on the outside, moist on the inside after 20 minutes at 450 degrees. I scrunched up some handfuls of washed watercress and scattered them on white plates. On went the roasted potatoes and a super-quick warm dressing I made in the skillet with sautéed garlic, olive oil, and red wine vinegar. I happened to have some toasted hazelnuts around, so I scattered a few of those on, too. Simple and lovely. Nothing I like better than a warm salad, especially with something so crazy delightful as freshly picked watercress. Now, I can't wait 'til I can harvest our own greens. (Just a few weeks away, maybe—the first arugula seeds I sowed in the garden last week sprouted today—yippee!)
One little suggestion: If you decide to whip yourself up a warm fingerling salad like this (which you could certainly do with arugula or any other assertive green), the dressing would be even better if you cooked a slice of bacon in the skillet first! Course you could skip the greens altogether, too, if you liked. Those little roasted fingerling coins tasted pretty yummy straight off the sheet pan.
Roasted Fingerling Potato & Watercress Salad
All the amounts in this recipe are flexible, and you could vary the dressing or add garnishes as you like. This is really more like a serving suggestion, simply meant to inspire you to pair warm vegetables with cool greens. Just be sure your potato pieces are well-coated in oil for the best roasting. I find slicing the potatoes a little thicker than 1/4-inch, but not quite 1/2-inch (voila, 3/8-inch!) is just about right for cooking through and browning up at the same time in a hot oven.
___________________________________
12 oz. fingerling potatoes, unpeeled, sliced crosswise into "coins" about 3/8-inch thick
2 1/2 to 3 tablespoons extra-virgin olive oil
kosher salt
4 to 5 ounces stemmed watercress, washed (or other assertive greens in small pieces)
1/2 teaspoon minced fresh garlic
1 teaspoon red wine vinegar
1/4 teaspoon maple syrup
2 tablespoons finely chopped toasted hazelnuts or almonds (optional)
1 tablespoon crumbled good-quality blue cheese (optional)
__________________________________________
Heat the oven to 450 degrees F. Cover a large sheet pan with parchment paper. Toss the fingerling pieces with 1 1/2 to 2 tablespoons of the olive oil and 1/4 teaspoon kosher salt. Spread them out in one layer on the parchment paper. Roast under tender all the way through and golden brown on the bottom, about 20 minutes. (Don't worry if the coins aren't very brown on the tops—they will be quite golden on the bottom, so just flip them.)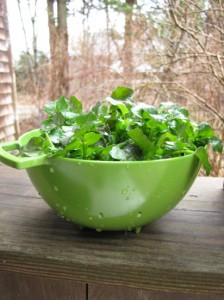 Meanwhile, distribute the watercress on three salad plates (or two for bigger salads). In a small skillet, heat the remaining 1 tablespoon olive oil and the minced garlic over medium-low heat. Stir gently and cook until the garlic begins to sizzle, about 3 to 5 minutes (don't let the garlic brown.) Add the red wine vinegar, the maple syrup, and a pinch of salt and stir. Remove the skillet from the heat.
Arrange the warm potatoes amongst the watercress and drizzle or spoon the warm dressing over the salads. Sprinkle a tiny bit more salt on each salad, and garnish with the nuts and/or cheese if desired. Serve right away.
Serves 2 or 3