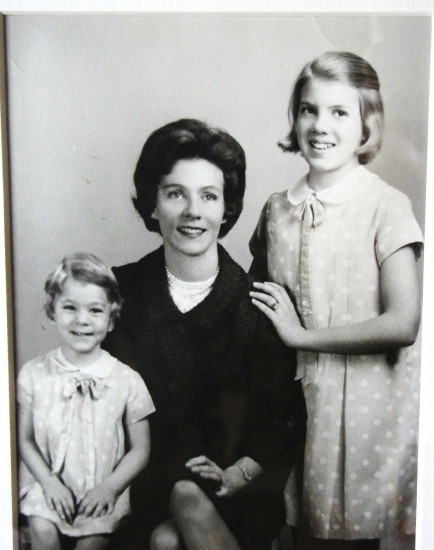 My mom is a great cook. No, really, I'm not kidding. I know everyone says that about their moms, but my mom is the real deal. I don't think she'd mind me telling you, though, that this wasn't always so. In fact, the family joke is that she didn't know how to boil water when she got married. Worse, she married a guy from a big family. My Dad and his five brothers all pitched in to help their mother cook, so they knew their way around a stove—and had opinions about everything food-ish. My mom grew up in a more formal household; there was a cook, and I don't think little Pauletta was allowed in the kitchen too much. So when my parents were newlyweds, the first time they went to the grocery store my Mom started to cry because Dad clearly knew what he was doing, and she didn't.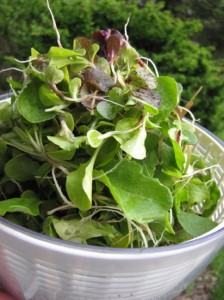 Well, that all changed. Not only did Mom learn to cook, but she fell in love with cooking, sautéing her way through Julia Child, learning to bake great yeast bread and homemade rolls, picking up on the new craze for stir-frying in the '70s, and mastering pie crust like nobody's business. Her spaghetti sauce (which I cooked for Roy this week—it's his favorite) and her pumpkin bread are now legendary. Plus, she was the Mom who had warm chocolate-chip cookies waiting every day after school. (Pretty sweet, huh?)
Fifty-seven years of marriage later, and, yep, my Dad is the most well-fed guy on the block. Not that Dad doesn't pitch in, too—he's still happy to do a little cooking when Mom needs a rest. And actually, I blame him for my obsession with food. He passed on the Evans family super-sniffer gene to me. Nobody on that side of the family sees or hears too well, but we all got a sensory bonus when the genes for smelling and tasting were handed out. That, combined with all the good food Mom cooked at home, and, well, you can see why both my sister and I love to cook. (That's Eleanor on the right in the photo at the top of the blog. I, of course, am out of focus, because I could never sit still for longer than a second. Unfortunately, I don't have a scanner so I had to photograph this framed photo for the post. But you get the idea!)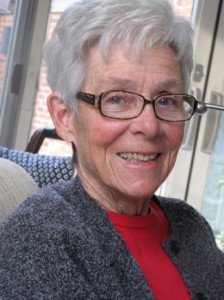 Everyone who knows my Mom marvels at how skinny she is. (A more recent photo of her, at left.) She's always had a lot of energy, but I swear I think it may have something to do with all the salad she eats. She's simply crazy about salad. (And chicken. She'll order a grilled chicken Caesar salad 99 times out of 100 off a restaurant lunch menu!) In fact, along with home-made iced tea (this was Washington, D.C., after all), we had a fresh green salad with dinner every night when I was growing up. And this was before the salad craze or bagged lettuce. Usually the salad had sliced avocado in it, and later some of my Mom's terrific home-made croutons. The lettuce was, and usually still is, green leaf and Bibb; these days she'll put a little crumbled blue cheese and a few toasted walnuts on top. (These ingredients, along with a little bottle of her delicious home-made vinaigrette, are always prepped and at-the-ready in the fridge. My mom is the kind of person who makes dinner before breakfast.)
Today I love salad as much as Mom does (though unfortunately, I'm nowhere near as skinny as she is—it has something to do with chocolate!), and it is probably thanks to her that I grow so many salad greens. And wouldn't you know it, yesterday I picked the first salad greens of the season from the garden. And I thought of Mom. Actually, I was just thinning the seedlings, but after I took all the roots off the little sprouts, they made a stunning "micro-greens" mix (in photo above).
So in honor of my Mom (and all Moms who cook every day for their families), I pass along a favorite salad dressing recipe to you. Maybe you're making a meal for your Mom this weekend and will include a nice green salad. Me, I'll have to wait. My Mom's in Washington and I'm on Martha's Vineyard (where, as everyone knows, I'm so firmly planted now that it is hard to drag me away!). But in a month or so, Mom and Dad are coming up to see the chicks (including Mom's namesake, Perky), the garden, and the whole deal. We'll have a nice salad—and maybe some grilled chicken. And we'll think of Eleanor, who'll be running in her third marathon that weekend. Later on in the summer we'll all get together in Lewes, Delaware, my Dad's home town. There will be the usual (loud) discussions between my sister, my father, and I about the best peaches, the best tomatoes, the best crab cakes, etc. And my mom will quietly go about turning out the best meals, three times a day.
House Vinaigrette
7 Tbsp. extra-virgin olive oil
2 Tbsp. white balsamic vinegar
1 tsp. orange juice
1 tsp. maple syrup
1/2 tsp. finely grated lemon zest
1/2 tsp. Dijon mustard
big pinch kosher salt
6 to 7 grinds fresh pepper
Combine all the ingredients in a glass measure or in a jar with a lid. Whisk or shake well. Keep refrigerated for up to 3 weeks. Bring to room temperature before using.