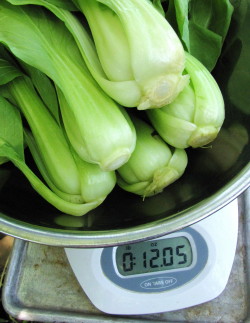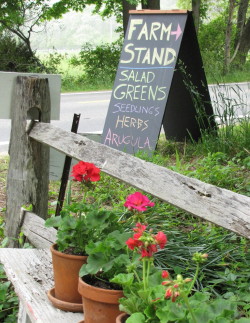 Guess I can safely say that our "soft" opening of the farm stand this weekend was more successful than the Spider Man Broadway previews. You might even cast it more in the vein of Field of Dreams, because, it seems, if you build a farm stand, they will come. At least if you put a big blackboard sign out by the side of the road, and that road happens to be one of the main routes Up-Island. And also, it doesn't hurt if it's a holiday weekend. And the sun is shining.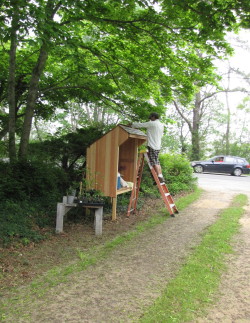 Yikes. Most people would be overjoyed at selling out on the first weekend. But I felt bad that we had run out of salad greens by Saturday afternoon. I just couldn't harvest any more from my baby plants without endangering a steady  harvest in the weeks to come. So we took the sign off the road, and just left the tomato plants and seedlings out for anyone who happened to notice while driving by. Even without the sign, people spotted the farm stand and turned down the driveway.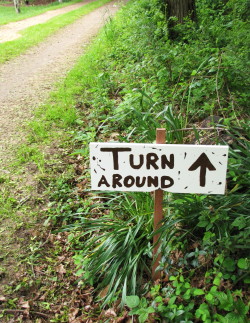 So now I am of course ruminating on how we can expand the garden right away. This summer, not next summer. (Roy is rolling his eyes…but smiling, too.) It seems we have lucked into a great location. (Actually, it wasn't luck. It was a gift from our dear friend Joannie Jenkinson, who actually spent part of her childhood in this house and introduced us to the owners. She got it in her head that we should live here, and I have to say she was on to something. Joannie, who is the animal control officer for West Tisbury and is out and about a lot, was, appropriately, our first customer Friday morning.)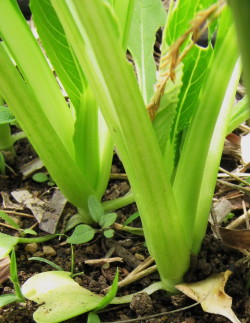 I think I may also have to learn vegetable-growing magic tricks to hurry some things along. Take my baby bok choy. I am crossing my fingers that it might be ready for the farm stand this coming weekend. (Judging by the photo at left you can see that this is probably wishful thinking.) So while I wait, I figured I'd work up a baby bok choy recipe to give away at the farm stand. (I'm hoping to have different appropriate recipes available every week. This week I put out the "pink and green" arugula and radish salad here.)
Fortunately, there is a wonderful farmer on the Island, Krishana Collins of Bluebird Farm, who specializes in baby bok choy. So if you live on the Vineyard, you will have much better luck finding hers (at Down Island Cronig's before the farmers' market opens in a few weeks) than mine (which is a tiny planting any way!). Her baby bok choy (top photo, in the scale) is gorgeous and delicious.  Yesterday, I picked up a half-dozen little heads (about 6 inches long and less than 2 inches wide) and stir-fried some for lunch. I did a variation on a recipe from Fast, Fresh & Green, and it couldn't be simpler or more delicious. The complex nutty flavor of baby bok choy really deepens with browning (no surprise there) and pairs well with Asian seasonings. (I also like to brown-braise baby bok-choy, but I am still working on the perfect way to use it in a gratin. It's also lovely raw in salads and slivered into noodle soups.) Unfortunately, when stir-fried, baby bok choy loses its beauty-queen looks and becomes more like the charming bad boy–appealing in a rustic kind of way, but definitely delicious.
Stir-Fried Baby Bok Choy
For a printable recipe, click here.
Try to choose baby bok choy that are all about the same size for this recipe. Depending on how little they are, you'll need between four and six to get 3/4 pound.
_______________________________
4 to 6 baby bok choy (6 to 7 inches long, 1 1/2 to 2 inches wide), 12 ounces total
1 tablespoon soy sauce
1 tablespoon orange juice
1 teaspoon brown sugar
1/2 teaspoon sesame oil
1/8 teaspoon chili-garlic sauce
1/2 teaspoon cornstarch
2 tablespoons peanut oil
2 large garlic cloves, very thinly sliced crosswise
kosher salt
1 to 2 teaspoons chopped fresh cilantro (optional)
________________________________________
Cut the bok choy lengthwise into quarters if very small (2 ounces), and into six pieces if larger (3 ounces). (There's no need to trim any of the stems.) Wash them well by swishing them in a bowl of tepid water, and spin them dry.
Set a serving dish on your counter. I like a white oval for this.
In a small bowl, combine the soy sauce, orange juice, brown sugar, sesame oil, chili-garlic sauce and whisk well. Add the cornstarch and whisk until dissolved.
In a large (12-inch) nonstick stir-fry pan, heat the peanut oil over medium heat. When the oil is hot (it will loosen up), add the garlic slices and the bok choy. Season with 1/4 teaspoon salt and turn the heat to high. Using tongs, toss the bok choy with the oil to coat and to distribute the garlic slices.
Cook, flipping the bok choy with tongs and spreading it out occasionally so that all the stems have some contact with the pan as they cook, and so that the garlic does not all gather on the bottom of the pan, until all of the bok choy stems are browned in parts (the leaves will be well-wilted and browned), 5 to 7 minutes. (If your stove runs very hot or the garlic is burning after the first few minutes, turn the heat down to medium-high.) Take the pan off the heat, pour the sauce into the pan, and stir immediately as it thickens up. Toss well and quickly transfer the vegetables, sauce and garlic to the serving platter. (The garlic will be very brown—some folks like it, some don't, so push aside if you like!) Garnish with chopped fresh cilantro if desired.
Serves 2 to 3 as a side dish.