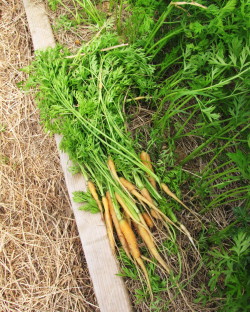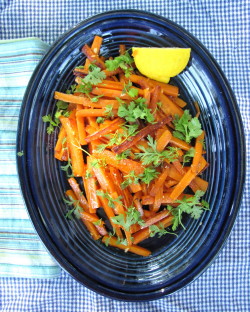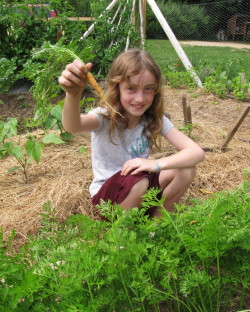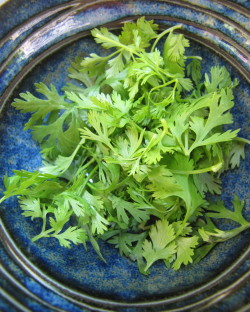 I'm always in a bit of a funk after Libby leaves. There's a palpable void that I can't quite describe, except that suddenly everything is much too quiet without her giggles and shrieks and pattering all around. After a few days we adjust and look forward to her next visit. But this time, after a particularly fun four-day holiday weekend, I'm missing her even more.
We did all the usual stuff you'd dream up for a swath of hot July days on Martha's Vineyard—swimming at State Beach, heading up to Menemsha at sunset time for an instantly dripping chocolate-dipped soft-serve ice cream cone, hitting the arcade in Oak Bluffs for a round of games and prize-winning tickets. (I could have done without the giant inflatable Red Sox hammer, I'll admit.)
But mostly we puttered around the farmette, where there's no shortage of distractions for a girl with Libby's expansive curiosity: Crickets, fireflies, chickens, bunnies, turkeys. Wild berries and wild flowers. Rope swing, sand pile, garden, farm stand. And the nice part is that the three of us can be outside within view of each other (I don't have to worry about Libby) and working on different things. While I'm weeding in the garden and Roy's cutting wood outside the shop, Libby will skip from spot to spot, stopping with news of the chickens or the discovery of a particularly interesting bug.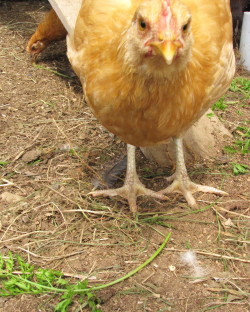 Occasionally, I'll get lucky and Libby will help me in the garden. She's particularly fascinated with the carrots, so thinning them was the perfect job for her this weekend. Together we held back the fronds and found the carrots that were too close together and held our breath to see what would come up when we tugged. Some were tiny, some were finger-sized, and some were just big enough for me to sauté up for dinner. The tops went to Cocoa and the chickens. (The not-quite-ready-for-prime-time carrots are just one of the many frustrations in my I-don't-have-enough-stuff-to sell-at-the-farm stand-yet saga. I am tired of listening to myself complain about it, so I will leave that alone and just say that the baby squash and the baby carrots and the little bean plants had better be harvest-ready by next week!)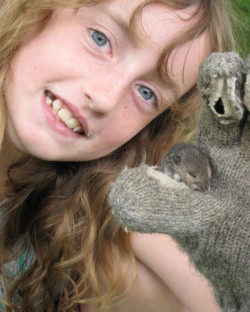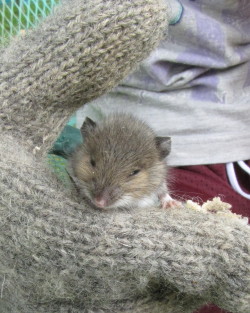 It's a good thing I got Libby to help me with the carrots on Saturday, because on Sunday, along came Mousey. Roy and I have never seen Libby fall so hard for an animal. We thought she'd like the bunny, and we knew she'd love the chicks, but her heart now belongs to Mousey (for as long as Mousey remains breathing). Libby and I first saw Mousey scamper across the front step in the early morning. Later Mousey (not newborn, but probably only a few weeks old) stood frozen near the basement bulkhead doors. Dad found some old gloves and let Libby hold Mousey and feed her a bit of cheese. Several times we tried to return Mousey to wherever she came from, but she kept coming back to us. The discovery of Mousey's expired brother, and the suspicion that a hawk or something else had gotten Mommy, confirmed that Mousey was an orphan. Soon Mousey had a comfy tissue-lined box to snuggle in and a saucer of local grass-fed cow's milk to drink (only the best for Mousey). But mostly Mousey spent the day napping in Libby's glove-lined hands, and I'm not sure who was happier—Libby or Mousey. Actually Mousey's full name, according to Libby, is Lucky Mousey Joy. (Joy is Libby's middle name.)
Libby's mom Kelly is a really great sport about all this farm activity (and I so appreciate her sharing Libby with me), but I can only imagine what she was thinking when Roy and Libby got off the ferry with Mousey in a shopping bag. We could have kept Mousey here, of course, but she wanted to go with Libby, I'm quite sure.
Roy and I thought of Libby and Mousey as we ate our sautéed carrots last night (recipe follows). Hoping the days will fly by (and the carrots will grow big) until we see them both again. Well, Libby at least.
Every Night Sautéed Carrots
For a printable recipe, click here.
This is our house go-to method for weeknight carrots. Cooked over moderate heat in a covered skillet, the carrots get tender and lightly browned at the same time. I am picky about the way I cut carrots, as I think sticks hold together and brown up better than coins. Cutting sticks isn't as hard as you'd think (see photo for progression) and they don't need to be perfect. In this version, I use lemon, garlic, and cilantro (because I've tons of it in the garden) to season the carrots; but you could substitute lime, orange, ginger, mint or basil to customize these any night. Be sure to zest your lemon before juicing it.
_____________________________________________________
1 teaspoon fresh lemon juice, plus a couple lemon wedges for serving
1 teaspoon red wine vinegar
1/2 teaspoon honey
1 tablespoon unsalted butter, 1 teaspoon separated and chilled
2 teaspoons extra-virgin olive oil
1 pound carrots, peeled and cut into sticks 1/4 to 3/8 inch thick and 2 to 3 inches long
1/2 teaspoon kosher salt
1 teaspoon minced fresh garlic
1/4 teaspoon (packed) freshly grated lemon zest
2 tablespoons loosely packed fine cilantro leaves or 2 teaspoons chopped cilantro
________________________________________________________________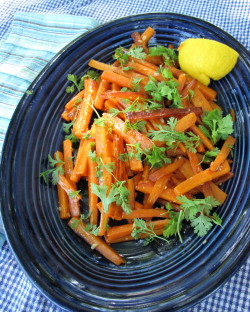 Put a serving dish near your stove. In a small bowl, combine the lemon juice, vinegar, and honey. Set aside.
In a large (12-inch) nonstick skillet, heat 2 teaspoons of the butter with the olive oil over medium heat. Add the carrots and salt and stir to coat. Cover the pan. (I use a sheet pan because my large skillet does not have a lid! It does not have to be a tight fit—letting a little air escape is good.) Cook, stirring occasionally at first and more frequently as the carrots begin to brown, until the carrots have shrunken, are just tender, and nicely browned on some sides, about 13 to 15 minutes. Uncover, reduce the heat to low, and add the garlic and lemon zest. Stir until fragrant, about 30 seconds. Drizzle the lemon juice mixture overall, toss, and remove the pan from the heat. Immediately transfer the carrots to the serving dish and garnish with the cilantro and the lemon wedges.