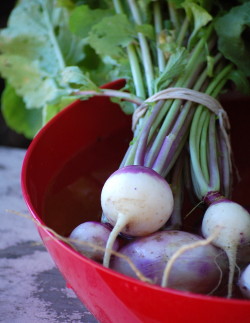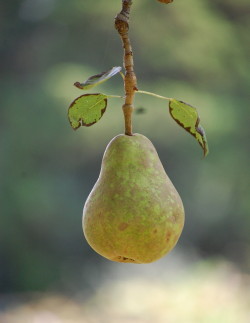 Sorry, but if I told you what I'd been doing for the past week or so, I'd have to kill you. Only kidding. It's not top-secret. Just complicated in the way that only multiple Island-to-mainland round-trip ferry rides can be. Complicated in the wearing-lots-of-hats kind of way. You know, as much as I like being farmette girl, this week I had to wear some of my other hats (as we all do from time to time). I had to be cookbook author/cooking teacher girl and photo shoot girl, and more importantly, family girl and friend girl. Dr. Seuss would be proud, as I did manage to stack all my hats on my one head all at one time.
Anyway, the point is that you would die of boredom if I transcribed my diary, so instead, I'm offering you a timely recipe suggestion today. We have been gleaning pears from our neighbor's pear trees, which were a bit rattled by Irene and are letting loose their fruit like a wet dog shaking off water. (I said gleaning, not stealing—the neighbors invited us to pick.) I've also been harvesting the purple-topped turnips I planted in July. I am in love with these darn things because they are so pretty and sturdy and useful and delicious all at once.
And, as it happens, for some reason (maybe I really was channeling the seasons), when I was writing Fast, Fresh & Green three years ago (that long now!), I developed a recipe that uses both turnips and pears. It also happens to be drop-dead easy and delicious. It was one of the recipes I demonstrated on Martha Stewart Television last Thanksgiving, and it was also featured in Martha's Vineyard Magazine (see photo of finished dish). The recipe—for Roasted Turnips & Pears with a Rosemary-Honey Drizzle—came to mind last week not just because of the pear-picking, but because I wanted to give farm stand customers a turnip recipe that might encourage them to experiment. (And I admit, that might get them to buy turnips!) I know people often disdain turnips for their bitter edge, but I find they are delicious roasted, especially when combined with something a little sweet. (They are also really yummy in a slow-sauté, like the Caramelized Turnips, Potatoes & Carrots with Onion & Thyme I posted last year.) If you're turnip-averse, please give this a try.
Roasted Turnips & Pears with a Rosemary-Honey Drizzle
For a printable version of this recipe, click here.
There's a lovely balance in this autumn side dish between the sweet pears and the, well, not-so-sweet, turnips – and between the floral honey and the piney rosemary. All the flavors come together in a way that just might be palatable for people who normally wouldn't eat turnips. These would be delicious nestled next to a braised lamb shank or some short ribs. Purple-topped turnips don't need peeling; nor do I peel pears when I'm roasting them, so this is an easy dish to put together.
___________________________________________
3 medium purple-topped turnips (14 to 15 ounces total), unpeeled, cut into large (1/2- to 3/4-inch) dice
1 firm but ripe Bosc or Bartlett pear (about 7 ounces), unpeeled, cored, cut into 1/2-inch dice
2 tablespoons vegetable oil
1 teaspoon kosher salt
1 tablespoons unsalted butter
1 tablespoon honey
2 teaspoons chopped fresh rosemary
___________________________________
Preheat the oven to 475 degrees F. Line a large (18- x 13- x 1-inch) heavy-duty rimmed sheet pan with a piece of parchment paper. In a mixing bowl, toss the turnips and pears with the vegetable oil and the salt. Spread the turnips and pears in one layer on the sheet pan and roast, flipping with a spatula once or twice during cooking if you like, until the turnips are tender when pierced with a paring knife or spatula, 25 to 30 minutes (the turnips will be brown on some sides, the pears will be a bit darker).
Meanwhile, melt the butter in a small saucepan and add the honey and the rosemary. Simmer for a few seconds and remove from the heat.
Transfer the cooked turnips and pears to a mixing bowl and drizzle the butter mixture over all, scraping all of the mixture out of the saucepan. Toss well and transfer to a serving dish.
Serves 3