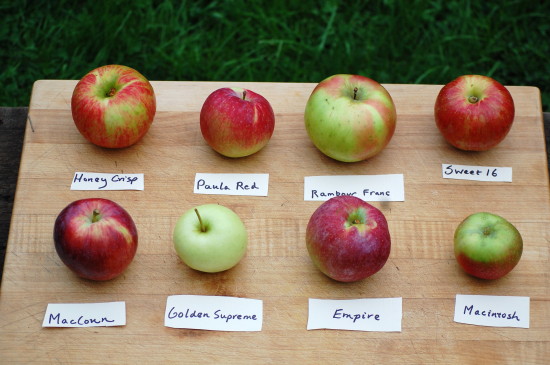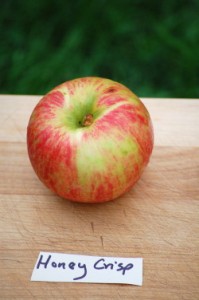 Libby loves apples. Roy does not. Nevertheless, I subjected them both to an apple taste-test last Saturday. They were good sports, even when I suggested they use words like "tangy" and "tart" to describe an apple's flavor rather than "sour" and "yucky." Actually, Libby was right there with me through the whole thing, but we noticed Roy was standing next to the compost bucket for most of the time, and I'm not entirely sure he really ate all of his apple portions. (Libby, on the other hand, called for a time-out half way through; I'd forgotten to tell her just to take a bite, not eat the whole wedge.) It didn't matter that we all gradually lost steam, because the last apple was so crisp and juicy and flavorful and WOW! that it woke us all up and easily claimed it's spot as number one. It was a Honey Crisp, which probably won't surprise many of you. This one happened to be Island grown, too, and it was a doozy.

We picked up all the apples at Morning Glory Farm's farm stand that afternoon, where we'd gone to get a big pumpkin for Libby and some vegetable treats for me. One thing I couldn't resist tucking into my shopping bag was the biggest leek I'd ever seen—so big that I had to measure it when I got home! So much nicer than the average stubby leek you get at the grocery store…Anyway, while we were browsing, I noticed all the apples and remembered that I wanted to do a taste test again this year. There are so many different varieties of apples that you could never stop discovering delicious new ones.
The selection we brought home this year didn't include some favorites like Fuji or Gala or Pink Lady. But we did find two new ones we liked a lot in addition to the Honey Crisp (double accent on the crisp). The first was Golden Supreme, a tastier relative of Golden Delicious. It was crisp, juicy and closer to the sweet end of the scale than the "sour" end. (Perhaps that's why we three immediately liked it.) Supposedly a good cider apple, the Golden Supreme would be great in pies and tarts, too. Our third favorite, Paula Red, had a nice balance of acidity and sugar, but its texture and flavor make it a better destination for applesauce than pies.
In the end, we (at least Libby and I) enjoyed most of the apples. Except the Rambour Franc (also known as the Summer Rambo), which was quite mealy. I thought I remembered loving this apple, and it turns out I'm not crazy. (Well at least not on this issue.)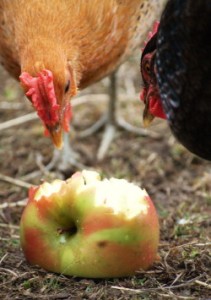 I just read that it's a summer apple—not a keeper—and best eaten shortly after picking. I must have had one earlier in the season last year. No matter—the texture didn't bother the hens, who were only too happy to dispense with it.
But that still left me with pieces of apples, one giant leek, and one lovely Morning Glory Farm butternut squash to do something with this morning. So I made soup. But instead of loading the soup up with spices, I let the main ingredients star—and just gave them a hefty punch of fresh ginger. Often I make more complex squash soups, but I wasn't in the mood today, and I liked what I wound up with—a very silky texture and pleasant flavor. If I had all the time in the world, I'd make a different soup every day. Well, actually, I did made soup every day in one job long ago. Come to think of it, maybe soup once a week is fine. After all, it's hard to feed leftover soup to a chicken.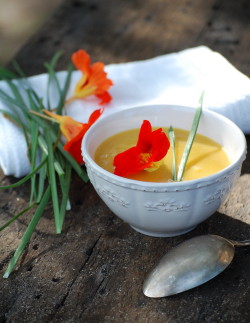 Butternut Squash, Apple, Leek & Ginger Soup
Choose apples with assertive flavor for this soup. I wound up using the Honey Crisp (better known as an eating apple) and the Golden Supreme and I think they worked nicely with the fresh ginger. As always, be very careful when pureeing hot soup. In fact, let the soup cool down a bit before blending (in batches) and keep a dish towel over the lid with just a small opening to vent steam. I used my garden Serrano peppers (which are very mild) in this soup. If yours are hot, pare out the veins and seeds before chopping and use less.
________________________________
2 tablespoons unsalted butter
1 tablespoon extra-virgin olive oil
2 cups sliced leeks (white and light green parts only, from about 3 medium leeks), well washed
kosher salt
1 tablespoon plus 1 teaspoon finely chopped fresh ginger
2 teaspoons minced fresh garlic
1 to 2 small Serrano peppers, finely sliced (less if peppers are very hot)
4 cups medium-diced peeled butternut squash (about 1 pound 3 ounces, or the neck of a medium squash, peeled)
2 cups medium-diced peeled apples (about 12 ounces or 2 apples)
5 cups low-sodium chicken broth
a few drops balsamic vinegar
garlic chives or chives for garnish
___________________________________________
In a 4- to 5-quart Dutch oven, heat the olive oil and butter over medium heat. When the butter has melted, add the leeks (with any water clinging to them) and 1/2 teaspoon kosher salt, and stir well. Cover and cook, stirring occasionally, until the leeks are well-softened, about 10 minutes. Uncover and continue to cook, stirring frequently, until the leeks are lightly browned, 6 to 8 minutes more. Add the ginger, garlic, and Serranos and cook, stirring, until fragrant, about 30 seconds. Add the butternut squash, the apples, 1 teaspoon kosher salt, and the chicken broth and stir well. (Scrape the bottom of the pan as well to bring up any flavorful browned bits.) Bring to a boil, reduce to a simmer and cook, covered, until the squash and apples are very tender, about 20 minutes. Take the pot off the heat, uncover, and let cool for 10 to 15 minutes.
Puree the soup in three batches (fill the jar only about half way or just a little more) and cover the blender lid partially with a folded dishtowel (leave a vent opening uncovered to let steam out) to prevent hot soup from splashing on you. Combine the batches in a mixing bowl. Taste. Add a few drops of balsamic vinegar to pick up all the flavors and stir well. Taste again. Add salt only if necessary. Return the soup to the (rinsed) soup pot and gently reheat. Serve hot, garnished with the chives.
Serves 4