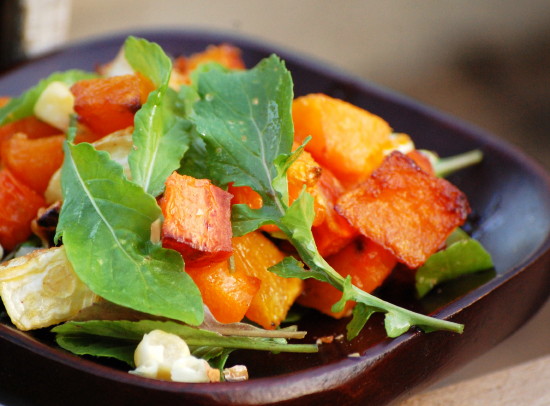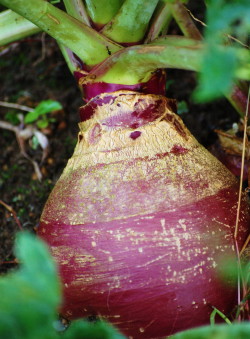 Me and my big ideas. Take rutabagas. I thought it would be just nifty to plant a row of these, late in the season, to use in our winter kitchen. (You can keep them right in the soil—how handy!) They'd be exclusively for us, not for the farm stand. Like the onions. Yes, but onions are a tad more versatile than rutabagas, you might point out. Duh. There are only so many rutabagas one can eat. It's not even November and Roy is already looking a little rutabaga-weary. And this despite the fact that miraculously, Roy, who is not a huge veggie lover, is not turnip-averse. (Rutabagas are basically big, purple-skinned, yellow-fleshed turnips.)
I guess I got all rutabaga-smug because I figured I knew a bunch of tasty ways to cook them. This week, in fact, I slipped some into a potato gratin, and that was a definite hit. (Couldn't have had anything to do with the cream and cheese.) And one of my favorite techniques—slowly caramelizing root vegetables in a crowded pan—works wonders on rutabagas, so I've been using this trick frequently. And Fall Veggie Minestrone is another great destination for rutabagas. (Soup recipe coming in new book—sorry! …for gratin, click here; for slow sauté, click here. In the gratin, use half rutabaga/half potato in place of the celery root.)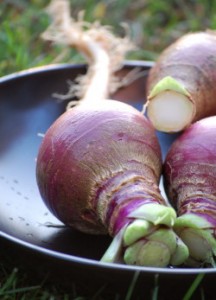 But no matter what I do with my rutabagas, I always treat these assertive roots to a few soothing flavor pairings. They like something a little sweet (anything from caramelized onions to apples to maple syrup), something a little fresh (arugula, fall lettuces, fresh herbs), and something a little earthy (like gruyere cheese or sauteed mushrooms.) But what they really like is—something else altogether. By that I mean they are better as part of a mix-and-match kind of dish, rather than as a stand-alone. Which is why I am eating a lot of warm salads.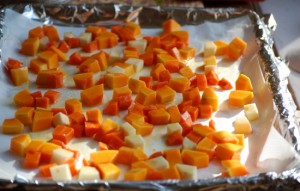 I don't mind, really. Actually I love warm salads with roasted veggies, and this time of year, I could eat one every night for dinner if it weren't for Protein Man. (We do actually wind up eating them for dinner "garnished" with a few roasted sausages or grilled chicken thighs. But I love them for lunch, too.) Happily, these warm salads give me a regular destination for the bits and pieces of rutabaga that seem to accumulate in my veggie bin. (They're so huge that I never use a whole one.) I dice them up and roast them along with a mix of other diced fall veggies, like butternut squash, carrots, parsnips, all kinds of potatoes, and sweet potatoes, too. And, uh, honestly, sometimes I just go with the other veggies and leave the rutabagas out altogether.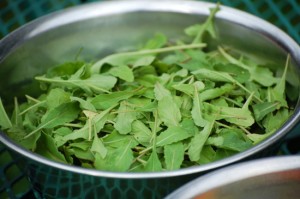 I serve the roasted veggies warm over a mix of hearty, sturdy lettuces (always with a bit of arugula for flavor) dressed with a simple vinaigrette which I warm in a sauté pan. Depending on my mood, I embellish the salad with toasted nuts, dried cranberries or cherries, and/or a little creamy goat cheese or blue cheese. It's a versatile, variable kind of thing, so in case you're interested, here's a basic recipe to follow for four substantial salad servings. (The photo at the top of the blog, was, of course, not a "substantial" serving of warm salad, but me playing around with roasted veggies and some arugula I had just picked from the garden. The photo below is the unfortunate flash-photography view of the salad I made tonight with no natural light in sight.)
Roasted Fall Veggie Warm Salad Master Recipe
For a printable version of this recipe, click here.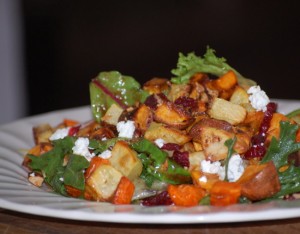 Since there's so much room to customize in this recipe, it's a great place to try out new vinaigrettes. My friend Joannie Jenkinson, a great cook and our town's Animal Control Officer, stopped by in her bright green Honda Element the other day with a goodie bag for me—a Spanish olive oil from Fiddlehead Farm's end of season sale and a Black Cherry-Balsamic Vinegar from Le Roux kitchen store. I made a delicious warm vinaigrette with these two, but you can use your imagination and your favorite pantry staples.
________________________________
For the veggies:
2 pounds winter root veggies (carrots, parsnips, potatoes, rutabagas, turnips, sweet potatoes) and/or fall squash (such as butternut) weighed after peeling (no need to peel sweet potatoes or turnips), cut into 1/2-inch dice, about 7 cups
5 tablespoons extra-virgin olive oil
kosher salt
For the greens and vinaigrette:
8 cups mix of hearty lettuces (such as frisée or inner leaves of escarole, radicchio, endive, baby kale or Swiss chard, along with some romaine or other crisp lettuce), torn into bite-size pieces (5 to 6 oz.)
3 tablespoons extra-virgin olive oil
1/2 teaspoon minced fresh garlic
1 tablespoon flavorful vinegar
1 1/2 teaspoons maple syrup
1/2 teaspoon Dijon mustard
freshly ground pepper
2 tablespoons dried cranberries or cherries, coarsely chopped (optional)
2 tablespoons chopped toasted pecans, almonds or walnuts (optional)
2 to 3 tablespoons crumbled goat cheese or blue cheese (optional)
__________________________________________________
Preheat the oven to 450 degrees F. Line two large heavy-duty rimmed sheet pans with parchment paper. In a large mixing bowl, toss the diced vegetables with the 5 tablespoons olive oil and 1 1/4 teaspoons salt to thoroughly coat. Spread the vegetables in one layer on both sheet pans. Roast for 18 minutes; rotate the sheet pans onto opposite racks and use a flat spatula to flip some of the veggies over for more even browning if you like. Roast for about 15 to 17 minutes more, or until all the veggies are tender and nicely browned in places, a total of 33 to 35 minutes.
Meanwhile, set four dinner plates on your counter. Put the greens in a large heat-proof shallow bowl and sprinkle with a big pinch of kosher salt.
When the veggies are almost finished cooking, heat the 3 tablespoons olive oil in a small nonstick skillet over medium-low heat. Add the garlic and cook until fragrant and sizzling (but not brown), about 1 to 2 minutes. Remove from heat. Add the vinegar, maple syrup, mustard, 1/4 teaspoon kosher salt, and several grinds of fresh pepper to the pan. Whisk well to combine.
Drizzle half of the dressing over the greens and toss well with tongs to combine. Arrange the greens in equal portions over each plate. Arrange equal amounts of the roasted veggies over and around the greens and garnish with dried fruit and nuts if using. Drizzle a little of the remaining dressing over the vegetables and finish the salads with a sprinkle of cheese, if using. Serve warm.
Alternatively, you can add the warm vegetables, the fruit, and the nuts to the bowl of greens. Dress, toss gently, and serve. Garnish with the cheese.
Serves 4