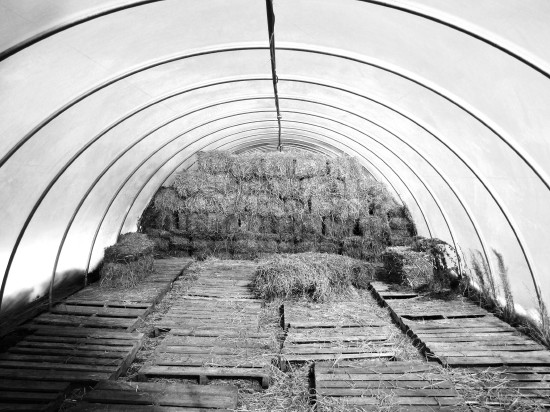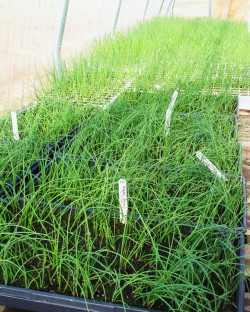 All I want for Christmas is a hoop house. I'm not expecting Santa to fit one of these in my stocking or anything. I'm not even really thinking the UPS truck is going to trundle down the driveway with a big box from the Farm Tek catalogue. Mostly because we try very hard not to buy much that's brand new. We do a lot of salvaging and recycling to save money and materials. This isn't unusual on the Island—it's amazing what gets traded around. Our next door neighbors just gave us a small fridge for our mudroom (what a boon!), and while they've been using it for years in their garage, someone else owned it before them and passed it along.
So I've put out the word that we're looking for a hoop house. Hoop houses (sometimes called tunnels) are greenhouse-y kind of things—simple structures really, made by erecting a series of metal or plastic hoops, stretching a plastic film over them, and anchoring the whole thing with baseboards. Doors, ventilation, and sometimes fans are added at the ends, and the whole thing is a brilliant season-extender for vegetable and flower growers. Hoop houses come in all sizes; you could design your own and make it as small as you like, or buy a kit that can be anywhere from 14 to 30 feet wide and 24 to 96 feet long. (The big ones are big bucks, obviously.)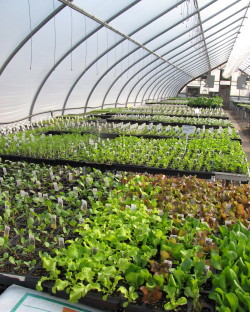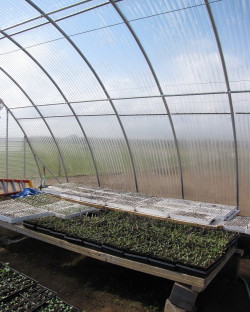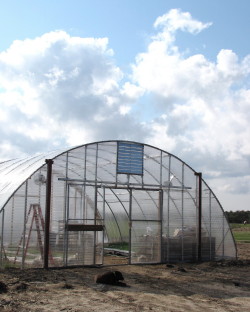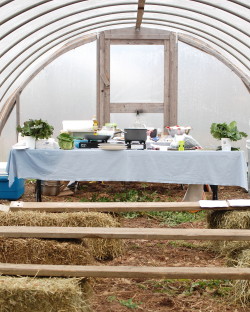 I'm not looking for anything monstrous like I see at Morning Glory Farm (photo at top of blog and above, top left) or the FARM Institute (photos above, top right and lower left), but I kind of fell in love with a slightly smaller hoop house that I happened to be in last weekend. Our local Slow Food chapter teamed up with farmers Caitlin Jones and Allen Healey at Mermaid Farm (just a skip up the road from me) to stage a Kale Festival on Sunday, and I was tagged to demo a few kale recipes—in a hoop house, no less. Very cool. I only got a pic (above, lower right) before the demo started, but you can see that the board-and-hay-bale benches fit nicely, and it was a perfect setting for the demo, considering the hoop house was nestled right next to the kale fields.
But while staging cooking demos in a hoop house would certainly be an added benefit, obviously that's not the reason I want one. What we need is a place to start our vegetable seedlings. Doing it indoors again is not going to cut it; there's not enough surface area—nor do we have enough growing lights—to handle the hundreds of plants we must start. Buying more growing lights isn't practical either with the amount of energy they use. A hoop house would give us plenty of room to start everything we need—plus some to sell. We'd get our lettuce going earlier, too (last year I direct-seeded it all), so we'd be able to harvest for the farm stand much sooner. With a hoop house, we could even experiment with ripening tomatoes earlier or growing hotter peppers.
Practical reasons aside, I also just plain like the sensual pleasures of a hoop house. The quality of the diffused light is dreamy; the soaring, sweeping curves uplifting. For me, working in a hoop house is one step closer to the outdoors—a place I need to be at least part of every day. (Granted I have toiled in an under-ventilated hoop house in August, and it is not pleasant. But the extra warmth one provides in spring and late fall more than makes up for this.)
I have to be patient though, as this hoop house thing, I've come to realize, involves Builder Boy in a big way. (A hoop house is just not going to erect itself in our back yard.) And he happens to be very busy right now putting an addition on a house. And it's not like we really need the hoop house for a couple of months. So I am occupying myself otherwise (both indoors and out) to keep my mind off the hoop house. Reading seed catalogues and farm memoirs (my favorite so far is The Seasons on Henry's Farm), plotting out the new garden on poster board, sending in our soil test, turning over the remaining empty beds (arugula, kale, and lettuce still thriving, some in the cold frame), adding composted manure, planting the last of the winter rye.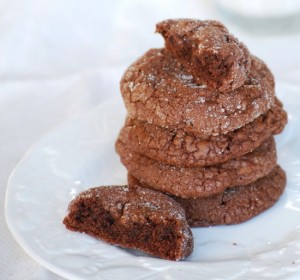 Oh yeah, I've been in the kitchen, too, but not cooking nearly as many vegetables as I have been baking cookies. I'm on a tear this year since the universe has been handing me little windows of between-deadline free time. So I am indulging myself (and Builder Boy…and Farmer, who inevitably gets a nibble of everything Roy eats, except chocolate) and making a different cookie nearly every day. (Freezing for Christmas gifts, too.) The best so far is one from my very favorite baker, Abby Dodge. I couldn't begin to count the recipes she's created that have become a part of my regular repertoire. But I can tell you that if you love chocolate, you will absolutely not be sorry if you make these Dark Chocolate Crackles. I swear on my future hoop house.