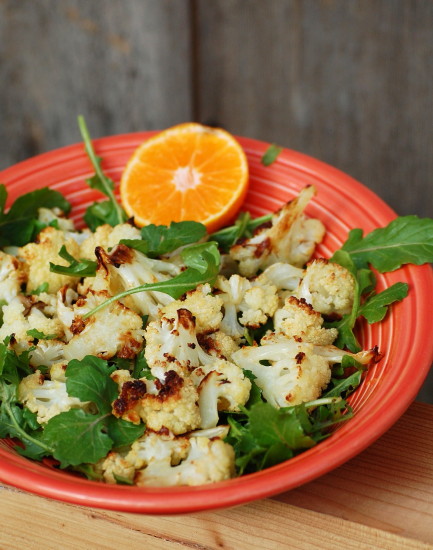 Guess I am a little late to the party. Here I have been thinking I have some extra-special arugula-growing talent, because mine is still alive in the garden in late January. (Yes, and I've reminded everyone of this in nearly every recent blog.) And never mind that it's been incredibly mild this year—we  had 8 inches of snow on Saturday, so now we can officially call it winter. (Though it's already back up to 45 degrees!) I got a huge kick out of digging under the snow (and the row cover) on Sunday to find the arugula still percolating  away underneath.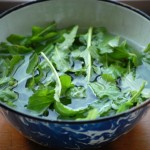 But it turns out that I don't have a special talent—apparently arugula is about the heartiest green you can grow. And with just a little protection, you can keep it going through the coldest months around here if you give it a good head start in the fall. It will do most of its growing before December, but if you've planted enough, you can just keep harvesting it all winter. This is a very exciting concept for me—having salad greens all year 'round. The arugula was more or less an accident this winter, but come this fall, I'll deliberately plant mâche (also called lamb's lettuce—mild, nutty, and delicious) and spinach, too, for winter harvesting.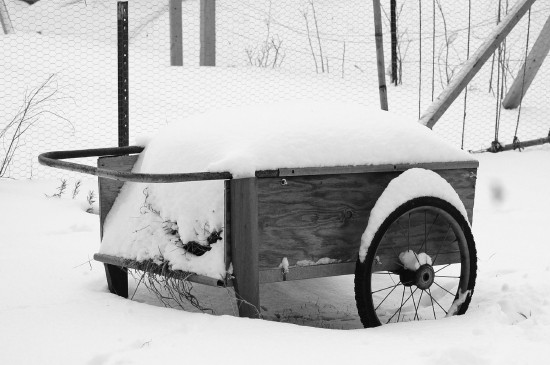 Right now, though, I am eating arugula with everything that will stand still long enough. Today that meant roasted cauliflower, which I've been craving something bad. I'm not sure why, though I do have a thing about winter whites. I love the color white (I collect Ironstone dishes) and when the snow started falling, cauliflower and endive and baby turnips and pearl onions began floating through my mind. I finally bought a head of cauliflower today, and decided to pair it with something bright and zingy. I love citrus with veggies this time of year, and I remembered a great dressing I put together for a carrot salad (of all things!) in Fast, Fresh & Green. It stars one of my favorite ingredients—crystallized ginger—along with lemon zest, lemon juice, and orange juice. Just the combo to counter the intensely sweet, nutty flavors of roasted cauliflower. So I gave it a go. Turns out the dressing is terrific with cauliflower—but even better with arugula. (I used the greens as a bed for the roasted veggies). So I will use the dressing again with hearty winter green salads. But the cauliflower combo was just right today—a bright spot on a cool (not exactly cold) winter day.
Roasted Cauliflower with Double-Lemon Ginger Dressing and a Spritz of Arugula
For a printable version of this recipe, click here.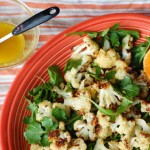 For another way to dress up roasted cauliflower, see the compound butter idea in this post. You will probably not use all of the ginger dressing—save any extra for a green salad. In summertime, the dressing would also be a great marinade for shrimp before they hit the grill.  A few toasted chopped almonds would make a nice addition to this dish. You could also pair the whole thing with some cooked whole grains, such as wheatberries, farro, or brown rice, to make a delicious vegetarian main dish salad.
1 pound cauliflower florets (from about 1 small head), each cut into pieces about 1 ½  inches long with one flat side (see photos)
3 tablespoons extra-virgin olive oil
3/4 teaspoon kosher salt
Double-Lemon Ginger Dresssing
2 cups (more or less) arugula leaves, washed and dried
Heat the oven to 475 degrees F. Line a large baking sheet with parchment paper. In a mixing bowl, toss the florets gently but thoroughly with the olive oil and salt. Spread the florets out on the sheet pan in one layer, flat side down. (Scrape any remaining salt and oil out of the bowl onto the florets). Roast until the bottom of the florets are well-browned and the tops are starting to brown, 20 to 24 minutes. (You can turn them once with tongs about ¾ way through cooking, but do leave the flat side in contact with the sheet pan for about the first 12 to15 minutes so that it will get nicely caramelized.)
Gently transfer the warm florets to a mixing bowl and drizzle with as much dressing as you like (start with about half; you will not use it all). Toss the arugula leaves with a teaspoon or two of the dressing and arrange the leaves on a platter or plates. Top with the dressed, roasted cauliflower and serve right away (the cauliflower cools quickly.)
Serves 3 to 4 as a side dish.
Double-Lemon Ginger Dressing
1 tablespoon olive oil
1 tablespoon finely minced crystallized ginger
2 teaspoons fresh lemon juice
2 teaspoons orange juice
1/2 teaspoon freshly grated lemon zest
pinch of kosher salt
Combine the olive oil, the ginger, the lemon juice, the orange juice, the lemon zest and the salt in a small bowl and whisk well. Re-whisk before dressing. Store any leftover dressing covered in the fridge.