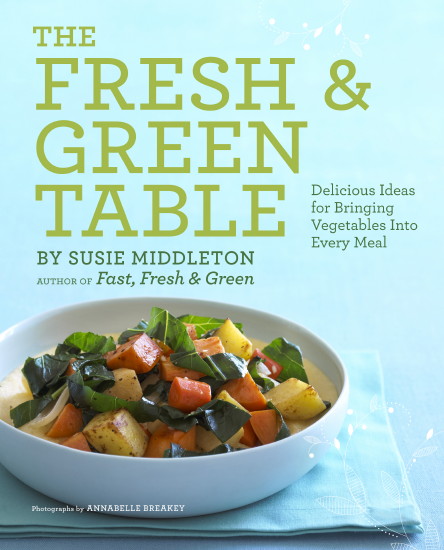 "Never look a gift horse in the mouth." A goofy saying maybe (definitely something I could hear coming out of my mother's mouth), but who can argue with the message: When good stuff comes your way, be grateful, and don't question it.
Something good came my way at the end of the summer of 2010. Fast, Fresh & Green, my first cookbook, had hit a high note, fresh off the presses earlier that spring. It found an enthusiastic audience (that's all of you—talk about gratitude!), prompting my editor at Chronicle Books to call me up one day in August. We had a nice chat while I sat in the parking lot of Alley's General Store, watching the President's motorcade go by, on his way to the "summer" White House.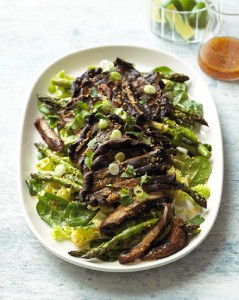 My editor asked me if I thought I might have a "main-dish" Fast, Fresh & Green up my sleeve. I told him I'd definitely been thinking about all the ways to move veggies to the center of the plate, and that I could work up a proposal for him. "You do that," he said. Alrighty then. Yeah, just in case I was wondering what I was going to be doing with myself for the next several months (!)…the upshot of that conversation, and several that followed, was that I signed a contract to write a "sequel"—due in February (2011). It was October by the time we actually signed on the dotted line, but fortunately I was well underway with recipe testing, since I had gotten a hint that the deadline would be short and I knew that completing a cookbook in that window of time would mean an all-out sprint.
But just because you turn in a book manuscript in February doesn't mean you get to hold a finished book in your hands by spring time! Doing a book right—great photography, solid copy editing, careful and creative design, and lots of proofing and fitting—takes time, and then the book has to go to the printer. In the meantime, a particular seasonal "release" date is chosen for the book, a date when the bulk of the first printing will have arrived in the warehouse and will be ready to ship out. At several points during this whole process, the author gets to see (and make edits to) the updated manuscript. And at each stage, the author gets a stronger and stronger sense of what the finished book will look like, which is very exciting. (Especially for me this time around, as The Fresh & Green Table is stuffed with beautiful photographs by San Francisco photographer Annabelle Breakey, like the couple I've included here.)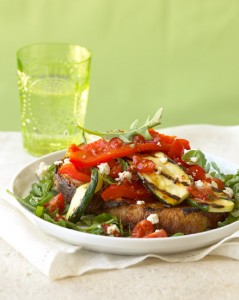 But while I've had a good idea about how my book is shaping up at every step of the way, the process has been puzzling to other people (like my mother, sister, best friend, and oh, a few others) who are anxious to see the book. So I am very happy to now say that though The Fresh & Green Table is still months away from its official pub date (June 20, 2012), it has, in fact, gone to the printer, and is therefore available for preorder on Amazon, Barnes and Noble, and Indie Bound (please support independent bookstores whenever possible!). And likely there will be some sneaky early copies let loose, perhaps like the copies of Fast, Fresh & Green that Anthropologie displayed last time around. And just yesterday, my favorite PR and marketing guru guys at Chronicle Books gave me the thumbs up to start promoting The Fresh & Green Table (see beautiful cover above). Yay! So, first, please do me a favor and hop on to Facebook and "like" my new page "Susie Middleton Cooks." I'm going to phase out the Fast, Fresh & Green Facebook page now that there will be two books! You can also follow me on Twitter @sixburnersue.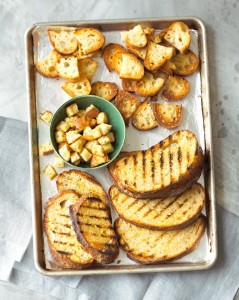 Okay, now for the good stuff—what's in the book? The short answer is this: Main-Dish Salads, Hearty Soups, Veggie Pastas, Frittatas & Savory Bread Puddings, Gratins & Galettes, Rustic Tarts, Sautés, Ragouts, Pizzas (Baked & Grilled), Main-Dish Grains, and even a chapter on sides for veggie main-dishes, like polenta, popovers, and pilafs. Every chapter focuses on two or three types of dishes (that feature veggies in a big way) that I think you can easily add to your repertoire—by following the detailed recipes I've given you until you begin to improvise on your own. I chose each of these kinds of dishes to showcase veggies because they are broadly appealing (especially to non-vegetarians, though most of the recipes are meatless) and because they are the kinds of things I've learned to cook over the years that make me giddy with joy. (Grilled Pizza—my number one favorite!) To me, cooking from scratch has to be fun and full of "a ha! moments." I think this—the fun and delicious factor—is the secret to convincing folks that vegetables can star at the center of the plate.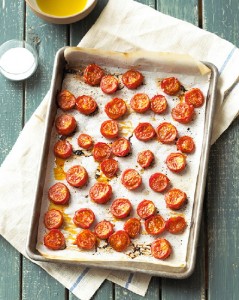 I also had a blast pairing vegetables with "bridge" flavors and other main-dish ingredients to help bring veggies into focus in important ways without turning folks off. Dishes like "Warm Wheatberries with Roasted Brussels Sprouts, Toasted Walnuts & Dried Cranberries" and "Chile Rice with Green Beans & Toasted Pecans" as well as "Seven Treasure Roasted Winter Veggie Tart" and "Spaghetti with Roasted Cherry Tomatoes & Spicy Garlic Oil" do this particularly well. (I promise everything in the book is not roasted!) But my very favorite chapter (softie as I am when it comes to all things leafy) is the Main-Dish Salads. For winter, I pair roasted veggies (yes!) with hearty greens; for summer I pair grilled veggies with lighter greens. And always with interesting vinaigrettes and fun extras like grilled bread. The result? Recipes like "Warm Winter Salad of Roasted Root "Fries" with Shallot & Sherry-Maple Vinaigrette" and "Grilled Zucchini, Bell Peppers, Goat Cheese & Grilled Bread with Double-Tomato Dressing." Yum.
I need to stop there as I am getting hungry, but there is so much more to tell you about The Fresh & Green Table, and I promise I will post about it (and preview a recipe or two) in the coming months. In the meantime, yes, preordering is something to be grateful for!