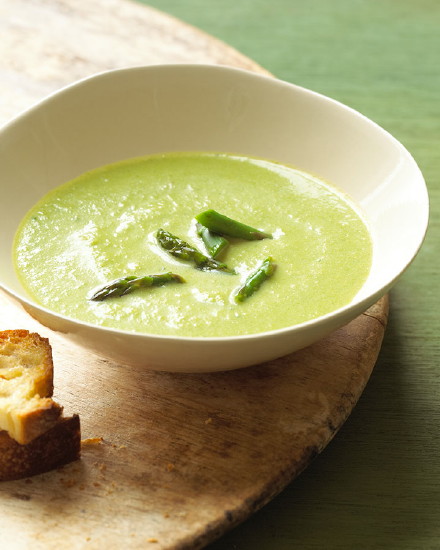 If my mom were here on Martha's Vineyard with us this Sunday, this is what I would cook for her: Asparagus & Leek Bisque with Crème Fraiche & Tarragon and Classic Maryland Crab Cakes.
The silky soup (photo at right, recipe below and coming in The Fresh & Green Table) is delicious, easy to make, and would take advantage of the fabulous asparagus we're now getting at Morning Glory Farm.
The crab cakes, well, they're a family thing. When I developed that recipe for Fine Cooking magazine several years ago, I had to consult each of my family members to make sure I did not adulterate any nostalgic memories.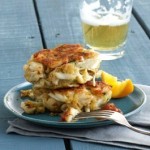 The recipe really should be called Evans Family Classic Delaware Crab Cakes, because we spent a lot of time crabbing, picking crabs, making crab cakes, and eating crab every summer in Lewes Beach, Delaware. And for us, a crab cake is all about the crab (the blue crab!).
But my mom's not visiting this weekend (she's in Delaware), and since I picked on her last mother's day by writing about her, I'm letting her off the hook this year. (Besides, she just got a brand new teeny tiny poodle puppy named Shortie to play with.)
Instead, I have to share this strange feeling I now get on Mother's Day. I'm not a mother—well, at least, not an actual, bona fide legal full-time one. I always wanted to have kids, but it wasn't to be. After I safely navigated my midlife crisis, I did briefly think about how I might still pull it off, but I never pursued any of the options. But God was looking out for me, I know now. Because into my life skipped Libby. She was seven, almost eight when I met her for the first time (all maybe 40 pounds of her—hence her father's nicknames for her – "Noodle" and "Peanut").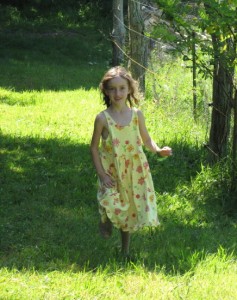 I spent just a few hours with her, but the next time she came out from Falmouth to visit her father, she said, "Daddy, can we go over to Susie's house?" That was the start of a very good thing. For both of us (actually, all three of us), I do believe.
Libby is blessed with an awesome family life in Falmouth—her mom Kelly totally understands her daughter's personality and I admire how she nurtures it and encourages Libby's unique strengths. (And I am especially grateful to Kelly for her generosity in welcoming me into Libby's life.) Libby has two loving grandparents who live right next door to her—and a protective older brother to watch out for her, too. And when she comes out to the Island, she gets special time with the Dad who not only looks so much like her, but shares her love of nature and animals and everything outdoorsy. (And, oh, just happens to adore her, too.) And then there is Susie Time—in the kitchen cooking, over a board game, out for a walk with the dog, futzing around in the garden, or shopping at the farmers' market. (That's our feet in our farm boots, below.)
Last year, Roy bought me a plant (a beautiful lupine) on Mother's Day and Libby brought me a necklace she'd made. I was so surprised and blown away, really. Kelly told me this week that Libby had something for me this Mother's Day, but since Libby's got an "away" soccer game, we won't see her until next week. Honestly, it is hard to describe how I feel about the fact that Roy and Libby honor me as the Mom in our little family unit, even though we are only all together for part of every month. We do make the most of our time together, though, and I guess that's what counts. But having the gift of Libby in my life is not something I will ever fully grasp in a tangible way. It's not to be analyzed, just appreciated. Nothing short of a miracle—and a real privilege to watch this amazing girl grow up.
I will miss Libby this weekend. If she were here, we just might make that Asparagus Bisque and the Crab Cakes (she loves both). And I have something to give her, too—her very own copy of The Fresh & Green Table (I just got my early author copies). After all, it is dedicated to her and her Dad. And that's pretty cool—how many nine-year-olds can walk into just about any bookstore and see their name in print? Well, this may be the first time for Libby, but I'm guessing it won't be the last.
Photographs in this post: soup, Annabelle Breakey, from The Fresh and Green Table; crab cakes, Scott Phillips from finecooking.com. Boots by Roy Riley.
Asparagus & Leek Bisque with Crème Fraiche & Tarragon
This is a lovely, satisfying soup with the light flavors of spring, but the hearty back-up of earthy sautéed leeks. I love how well the crème fraiche, tarragon, and lemon work with the asparagus at the end. When you're shopping for asparagus, you'll probably want to go ahead and buy 4 bunches (of medium-thin stalks; bunches are about 1 lb. each) to be on the safe side (unless you find much bigger bunches!). You'll be trimming all the tough ends to wind up with 1 1/2 pounds for the soup; plus you'll be cutting up a few stalks to blanch and use as garnish. This soup would be lovely with a few crostini on the side, topped with warm goat cheese and maybe a little smoked salmon. This recipe is from The Fresh and Green Table (Chronicle Books, June 2012, Susie Middleton).
_________________________________
2 tablespoons unsalted butter
1 tablespoon extra-virgin olive oil
1 1/2 cups thinly sliced leeks (about 5 ounces, from about 2 large leeks)
1/2 cup thinly sliced celery
kosher salt
2 teaspoons minced fresh ginger
1/4 cup dry white wine (such as a Sauvignon Blanc)
1 1/2  pound trimmed asparagus (from about 3 bunches of medium-thin asparagus) cut into 1/2-inch pieces; plus 3 trimmed stalks, sliced on the diagonal, about 1-inch long
1/4 cup crème fraiche
1/2 teaspoon freshly grated lemon zest
1 1/2 to 2 teaspoons chopped fresh tarragon
_______________________________________
In a 4- to 5-quart Dutch oven or other large sauce pot, heat the butter and the olive oil over medium heat. Add the leeks, the celery, and 1/2 teaspoon kosher salt. Stir, cover, and cook, stirring once or twice, until the vegetables are mostly softened, about 5 minutes. Uncover and continue to cook, stirring frequently, until the vegetables are shrunken and the leeks have taken on some golden color, about 7 to 8 minutes more.
Add the ginger and stir until fragrant, about 30 seconds. Add the white wine and cook until mostly reduced (this will happen quickly). Add the (1 1/2 lb.) asparagus, 1 teaspoon kosher salt, and 5 1/2 cups water. Bring to a boil, reduce to a simmer and cook, uncovered, until the asparagus are just tender, about 7 minutes.
Take the pan off the heat and let the soup cool for 15 minutes.
Meanwhile, bring a small saucepan of water to a boil with 1/4 teaspoon salt. Drop in the extra asparagus pieces and cook until firm-tender but still bright green, 2 to 3 minutes. Drain and reserve.
Puree the soup in three batches (fill the jar only about half way or just a little more) and cover the blender lid partially with a folded dishtowel (leave a vent opening uncovered to let steam out) to prevent hot soup from splashing on you. Combine the batches in a mixing bowl, then return to the (rinsed) soup pot. Whisk in the crème fraiche, 1 1/2 teaspoons of the tarragon, and the lemon zest. Taste the soup for seasoning and add more salt or the remaining 1/2 teaspoon tarragon. (If you plan to eat the soup right away, you will most likely want to add the last 1/2 teaspoon tarragon. If you plan to eat it later, hold back, as the tarragon intensifies just slightly over time.)
Reheat the soup very gently. Serve hot garnished with the reserved asparagus pieces.
Serves 4, Yields 8 cups