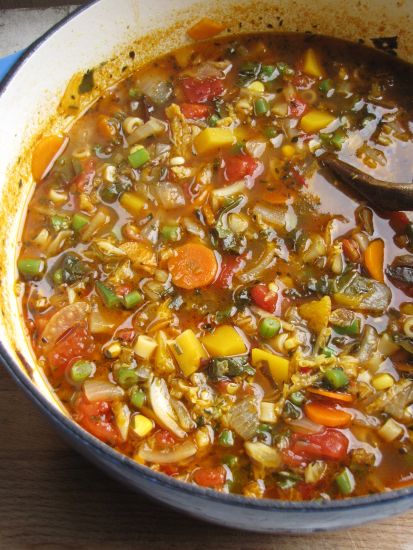 All I can think about today is soup. This may be because I have too many vegetables crowding up the fridge. After another round of recipe development and a pre-hurricane sweep of the garden, I am left with the clear makings of minestrone—everything from a five-pound bag of carrots to three awkwardly space-hogging baby fennel bulbs. I have a big basket of winter squash I keep stumbling over in the pantry, and I have a little handful of green beans I just plucked off the dying vines this morning. I even have a few cranberry beans that are finally ready to harvest, from plants that miraculously show very little storm damage.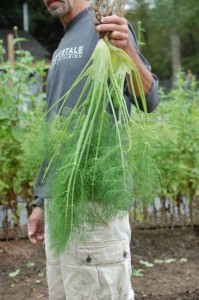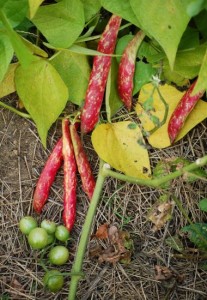 Our storm damage, in fact, was minimal. Had circumstances been different—if Sandy hadn't taken a left turn when she did—we would likely be facing a very different winter here on the farm. Instead the hoop house is still standing, the animals are all fine, and in fact, we have another flock of laying hens due to arrive here this week (more on that soon). So thankfully, Roy is building—rather than rebuilding. Now, of course, I hear that a big Nor 'Easter is coming up the coast this week. So maybe we are not out of the woods yet. But still. I can't stop thinking about Staten Island and the Rockaways and Seaside Heights. All those folks still without power and nights getting really chilly. And lots of friends on the coast of Connecticut with serious flood damage. We did have plenty of coastal erosion up here on the Island and flooding in the lowest harbor areas in the towns, but most homes were safe and dry (and warm).
Everyone knows it could have been different, though. One Island friend posted an idea on Facebook a couple days ago for a coats-and-warm-blankets drive, and seemingly overnight, boxes outside of Island businesses filled up with donations, and volunteers have come forward to drive the items down to a particularly hard-hit neighborhood in Queens.
I will be here, making hot and comforting soup, sort of a crazy response to feeling for other people who are cold. It's like I have a sympathetic and not entirely imaginary chill that must be chased away. We human beings have strange responses to things—I know I can't share my soup with those folks, but I'm hoping someone else will share their hot food with someone cold and hungry, and in the meantime I'm sending comfort-soup-karma out as best I can.
Here's my Fall Farmers' Market Minestrone recipe from The Fresh & Green Table. Deeply flavored without any meat at all, it's a good starting point for comfort soup, but feel free to vary the veggies as you please.
Fall Farmers' Market Minestrone  
Recipe copyright Susie Middleton, from The Fresh & Green Table (Chronicle Books, 2012).
The secrets to this meatless minestrone include lots of aromatic veggies and a Parmigiano rind. I usually finish the soup with grated Parmigiano and/or a bit of gremolata (a mix of freshly chopped parsley, lemon zest, and garlic). But if you don't want to bother with the gremolata , it's perfectly delicious without it.
______________________________
1/4 cup extra-virgin olive oil
2 cups medium-diced onions (about 1 large or 2 medium)
2 cups thinly sliced Savoy cabbage (about 1/4 small head)
1 cup thinly sliced fennel bulb (quartered and cored first, about 1/2 small bulb)
1 cup thinly sliced carrots (about 2 carrots)
Kosher salt
1 cup peeled, medium-diced butternut squash (about 4 to 5 oz.)
1 cup large-diced stemmed Swiss chard leaves (thinly slice stems separately and include them, too)
1 Tbsp. minced fresh garlic (plus 1/2 tsp. if making gremolata)
1 Tbsp. chopped fresh thyme
2 tsp. chopped fresh rosemary
1 tsp. ground coriander
1 Tbsp. tomato paste
1 14 1/2-oz. can diced tomatoes (I like Muir Glen), well drained
1 2-inch Parmigiano-Reggiano rind
½ cup ditalini pasta or other very small pasta
1 cup thinly sliced green beans (about 4 oz.)
½ to 1 cup fresh corn kernels (optional)
1 to 2 tsp. lemon juice
½ tsp. lemon zest (if making gremolata)
2 Tbs. chopped fresh parsley
1/3 cup coarsely grated Parmigiano Regianno
______________________________
a 5- to 6-quart Dutch oven or other large soup pot, heat the olive oil over medium heat. Add the onion, fennel, cabbage, carrots and 1 tsp. salt. Cover and cook, stirring occasionally, until the onions are softened and mostly translucent and the cabbage is limp, about 6 to 8 minutes. Uncover and continue cooking, stirring occasionally, until much of the cabbage is browning and the bottom of the pan is browning as well, about another 8 to 9 minutes.
Add the 1 Tbsp. garlic, the thyme, the rosemary, the coriander, and the tomato paste. Stir until fragrant, about 30 seconds. Add the butternut squash, the chard, the diced tomatoes, and 1 ½ tsp. salt and stir well until incorporated. Add the Parmigiano rind and 8 cups water.
Bring to a boil, reduce to a simmer, and cook, stirring occasionally, for 10 minutes. Add the ditalini and cook another 8 minutes. Add the green beans and the fresh corn (if using) and cook for 4 to 5 more minutes. Remove the pot from the heat, remove the Parmigiano rind, and stir in 1 tsp. of the lemon juice. Let cool for a few minutes; taste and adjust for salt, pepper, and lemon juice.
For the gremolata (optional), combine the 1 tsp. garlic, the lemon zest, and the fresh parsley in a small bowl.
Garnish each portion of hot soup with some of the gremolata or chopped parsely and some of the Parmigiano.
Yields 8 cups, Serves 6