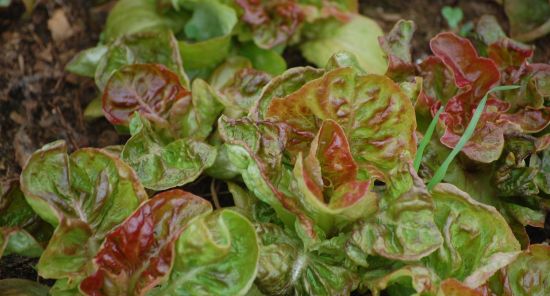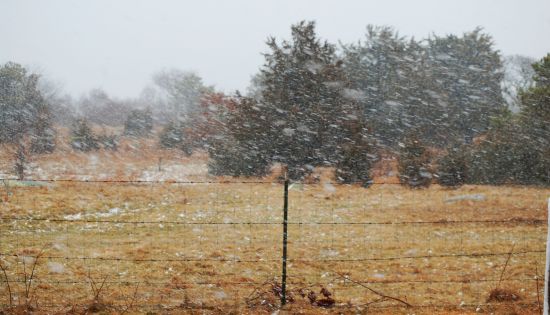 Believe me, I did not want to write about the weather again. I know, if you're like me, you could really care less about what the weather is in, say, Charleston or San Francisco or Denver, if you're not there. And don't plan to be there any time soon. And I'm pretty sure you're not coming to Martha's Vineyard, what with the ferries docked and the planes grounded. Yes, we're pretty much marooned. This time, a storm off the New England coast has been spinning around in a circle for three days. THREE DAYS of nonstop wind, and over the last day or so, spitting sideways icy icky precipitation. Every time we walk out the door, which we do, uh, a lot, what with 250 chickens to feed, water, let out, let in, etc., we get pummeled. What a winter.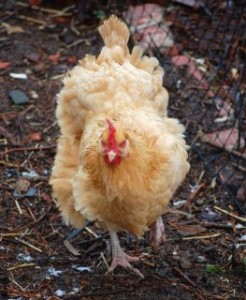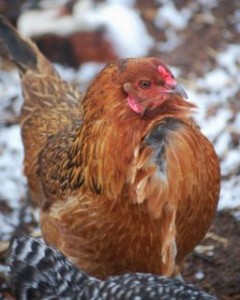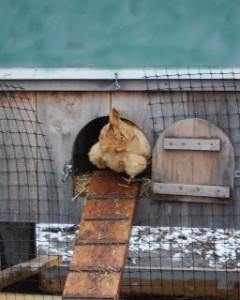 There's a lot to be grateful for, I know. We do not have 34 inches of snow on the ground. Our house is not falling into the sea (unlike some on the New England coast this week). We have heat. And food (of course). And power. So I have no business being so cranky. (The hens, on the other hand, have every right to complain, which they don't, even when they venture out of their coops to try and scratch around in the mud, which is pretty futile. Their feathers flip up and around and backwards, making it impossible for them to puff up and keep warm. Ruffled feathers indeed. They march back inside pretty quickly.)
Instead of the weather, I'd wanted to tell you about all the lovely seedlings we've got going in the hoop house. But I've sat frozen at the computer, thinking if I do that, the one big mega-gust is going to come along and finally blow the hoop house down. (As it is right now, when you're inside the hoop house it's as loud as a helicopter landing pad. We open and close the door as quickly as possible so that the wind doesn't rip it off.)
I must have faith that nothing is going to happen to the kale and chard and spinach and mizuna and tat soi and mustard and 12 kinds of lettuce seedlings we've got started—or the beautiful lettuce we're already harvesting in the raised bed. And that the soil in the garden will dry out enough to get our peas in the ground in a few weeks. And that the sun will come out.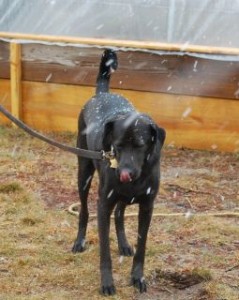 In the mean time, I sometimes just go down to the hoop house and stare at the incredibly beautiful colors of that lettuce—it's the perfect antidote to the gray skies—and pinch myself that we have all this opportunity, all these possibilities, before us. And daffodils already poking up in the maple grove. Spring will come—on its own schedule.
And for now, at least someone in the household is enjoying the snow.