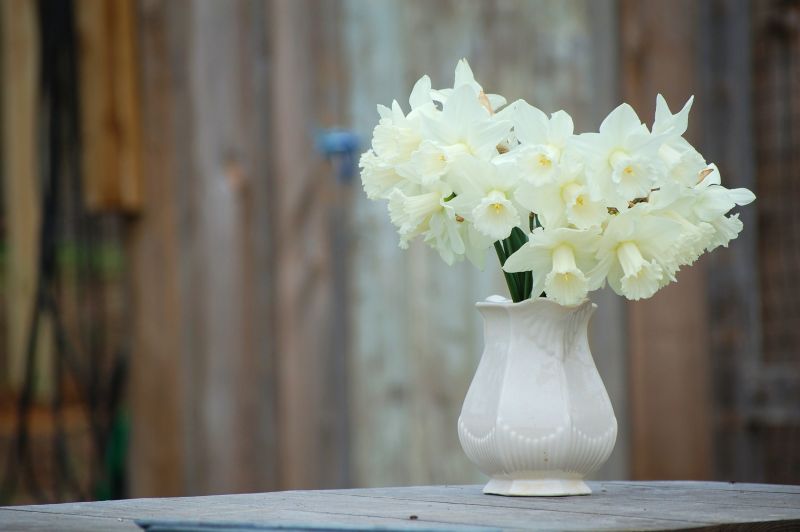 The problem with working at home is that you can keep the television news on all day. This isn't something I normally do, but considering there is a massive manhunt going on in Boston right now, I guess I can let myself off the hook a little bit.
It's not like I don't have a major deadline coming up, which should have me tied to my desk. Even with that, I managed to turn a few necessary hours of harvesting, washing, and watering into an entire morning of activity, partly because I kept going in and out to check the news and partly because I got distracted and took my camera outside.
Walking with Farmer in the early morning fog, the day felt as surreal as the world feels right now. Yet the fog felt strangely comforting, too, like a cocoon or a veil. A shield from evil. I wanted to capture that feeling in a photo, but the fog had mostly lifted by the time I got Farmer back in and my camera out.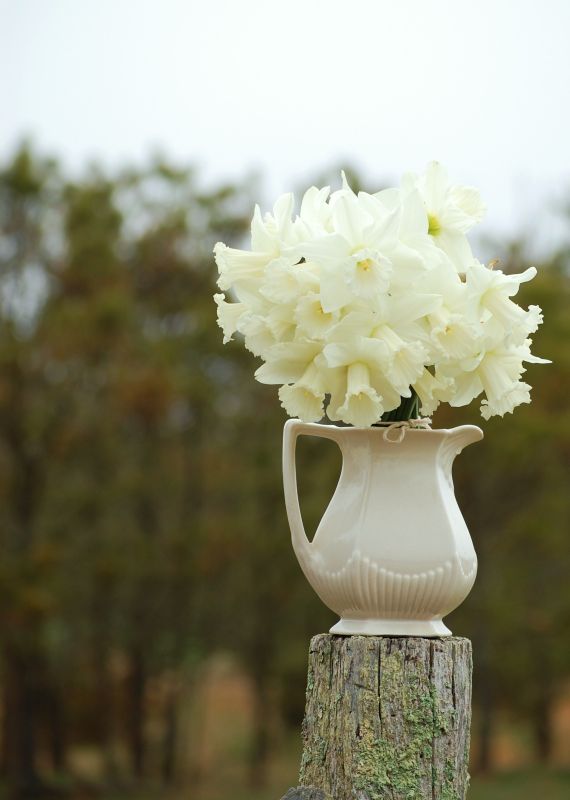 Instead, I grabbed the white daffodils I had cut in the maple grove the other day and took them outside. They are remarkably beautiful in their varying shades of white. I've always had a thing for white, and white-on-white, and I collected white ironstone pottery for many years. The daffodils wound up in a pitcher which I still have hanging around, one that wasn't quite the right shape for the flowers, but was there when I needed it.
My sister Eleanor has one just like it. We both like white. White tee shirts. White pottery. White flowers.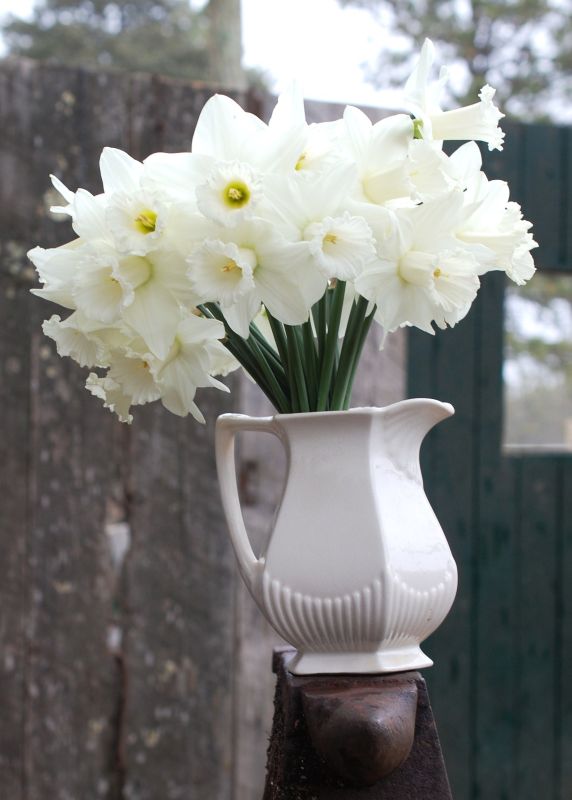 Eleanor was at mile 25.5 on Monday, running her second Boston Marathon, when a policeman appeared. She was literally in the first line of runners stopped—for a fleeting minute she watched the runners in front of her continue on, wishing that had been her. She had suffered a bad leg cramp in the last two miles, falling behind her expected finished time by several minutes. As it turns out, that delay was lucky for her. Even more fortunate, her friends who had traveled from Washington to cheer her on had moved a couple blocks down from the finish line to get a better picture of her coming around the corner.
When I finally got to talk to Eleanor, she was very calm and mostly so relieved that her friends were fine. She was never in danger, she said.
I know that, but I had to explain to her the feeling that came over me—only for a brief moment—that was a feeling I've never had.
I had been following her run on the BAA (Boston Athletic Association) website; the computerized tracking map shows a little red animated runner icon moving along the route. You can also click on a details chart to see the runner's times at every 5K interval. Around 3 pm, I kept coming inside to see if she had finished, but the little runner icon was stuck running in place at a spot right before the finish, and the last updated time was at 40K. Ten minutes went by, then 20, then 25, and the icon was still stuck. I began to wonder why she hadn't finished; I was worrying that she might have hurt herself when a Facebook message from a friend popped up on my screen: "Is your sister okay?" What?! What does my friend know about my sister that I don't?
Not yet knowing about the explosions, I had visions of something so terrible having happened to Eleanor that her face was on the news! Right then Roy called from the ferry, on his way back from dropping Libby off in Falmouth. (At one point I had considered taking Libby up to watch Eleanor run.) He was watching the television on the boat and told me the news. Another wave of a different kind of anxiety came over me.
From that point I tried to find out when the bombs had gone off in relation to when Eleanor was supposed to finish. I didn't know my father was doing the same thing and getting very uncomfortable at the closeness of the times. My poor Dad! Some very nice runners at the DC Runners Club Facebook page were the first to let me know that they didn't think, looking at her "splits," that she could have been at the finish when the bombs went off.
And one of Eleanor's friends managed to get a text message to a friend in Baltimore to call my parents in Washington. By 4:30 we knew for sure that she was safe.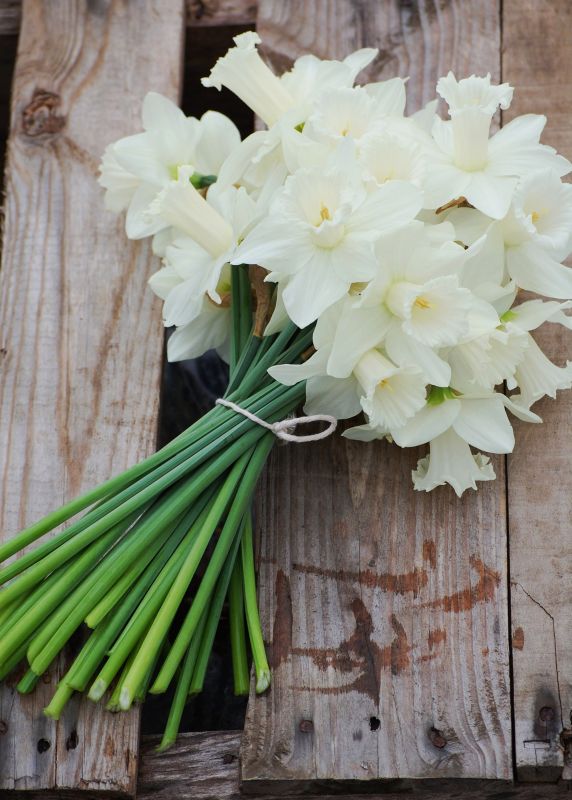 My big sister. My only sister. Selfishly, I didn't want anything to happen to her, and that's all I could think about until I knew she was safe. I've always just taken for granted that she'd be right up ahead of me, leading the way.
I've been just a little off kilter all week, even though I only got knocked around for an hour or so. I think it's because my relief was immediately replaced by horror and disbelief at the senseless and brutal injuries and killings. I just have trouble understanding why some people value life so little, and how anyone can intentionally inflict this kind of violence on children. This tragedy comes so close on the heels of the Newtown shootings, too, and I don't think I've completely processed that, either.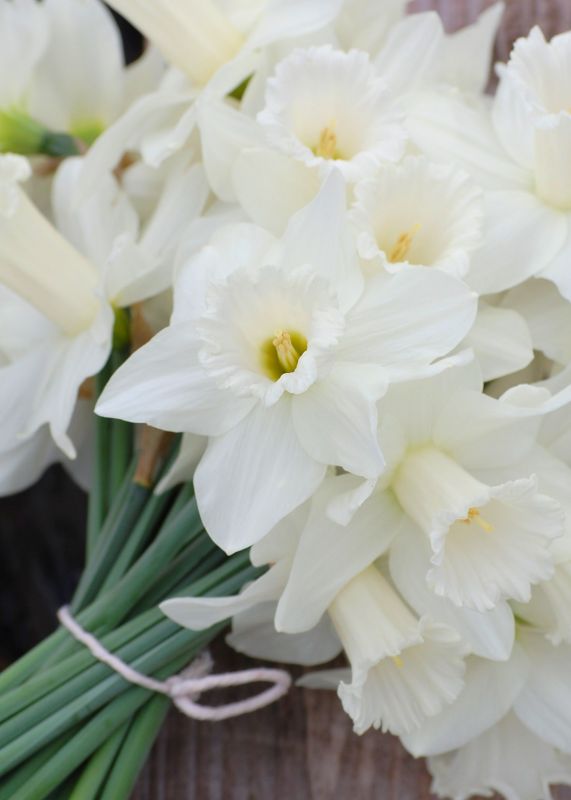 I know there is evil in the world, and that good will always overcome. And that now is the time to infuse the world with love and beauty—white daffodils for all, I say! And I guess what I have to do is accept that there are some things I won't ever completely understand. I envy my sister her resolve to return to the Boston Marathon next year (she has already qualified). I guess I will follow her lead and not let the bad guys get the last word.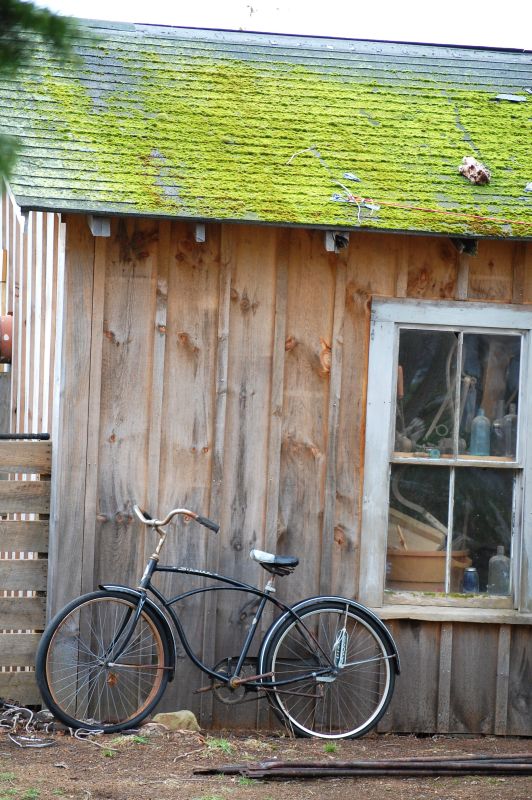 Post Script: Farm chores took me away from the computer long enough that I am just now posting this blog, just as the manhunt is ending and the second suspect is in custody. Whew.