Way back in May, we got 26 baby chicks: Twenty-five Aracaunas, who are about to drop blue eggs any day now, and one "bonus" exotic mystery breed chick, which turned out to be a Silver Polish Crested.
Now that the girls are four months old, we have to face the reality that not all of the girls are, well, girls. Though they don't seem to actually know that.
Polly, our Polish Crested, didn't get along with anyone right from the start, so she had to be separated. She had her own special dog crate in Roy's shop for the first couple months. When it was time for her to graduate, Roy fashioned her a special little coop-within-a-coop that opens out onto her own little pasture-pen. It's no wonder Polly is fond of Roy. Only problem is, Polly is really Pauley. She crows. (Or tries to crow—it sounds painful.) And she doesn't cock-a-doodle-doo at the usual rooster-crowing times, like sunrise. She crows when Roy gets home from off-farm work in the early afternoon. And she crows at sunset. (See, I still refer to her as She.)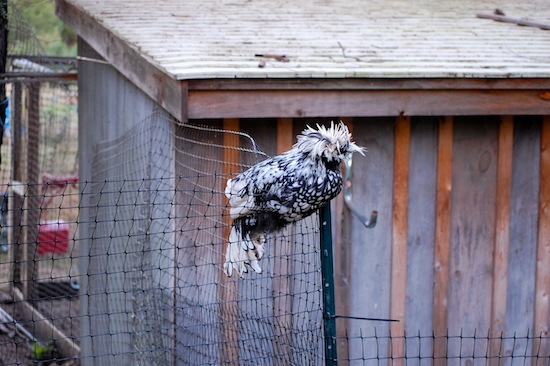 She also stays happily in her outdoor pen until dusk. Then she decides to roost on top of the deer fencing between her pen and her neighbors until Roy comes along, plucks her off, and tucks her into her little coop for the night. She could fly out and wander around (any time of the day), but she doesn't. Okay, I mean he doesn't. It doesn't look like a terribly comfortable spot to hang out, but apparently it appeals to him.
Over at the Aracaunas' coop, we have Henzilla (above). We started calling her that when clearly she was growing twice as fast as the rest of the girls. Honestly, we knew she wasn't a hen, but the name kind of stuck. And the funny thing is, though Henzilla wanders around the pen towering over all the other girls, she doesn't seem to be very aggressive and she hasn't learned to crow yet. She's pretty mellow in fact. (If you can describe an Aracauna as mellow—they're all pretty skittish. If you want docile, go for a Buff Orpington like Martha.) Anyway, I feel sorry for Henzilla, because she just seems like a really awkward teenager to me (handsome though she is!). And plus, once she  does get her Superman cape on and transform into a real rooster, she (he) might not be around for long. Roy has always said, "no roosters." Except Polly/Pauley, who he thinks is special just because she looks exotic. Which he does. If you like feathers.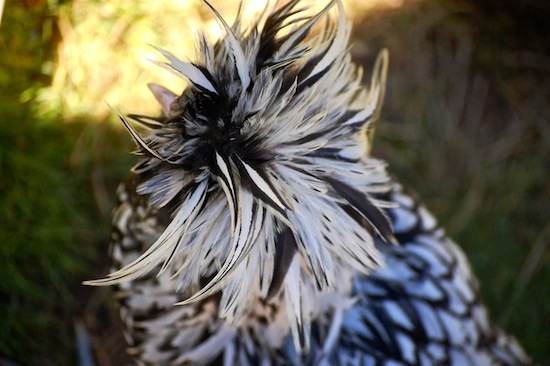 Well, who knows what will happen. With 550 chickens, 9 coops, and several large chicken pastures (not to mention 450 eggs a day) to manage, Roy is always fine-tuning the chicken operation. If I were a rooster, I might try and impress Roy, too. Considering it's all about the eggs around here, just being exotic might not cut it.