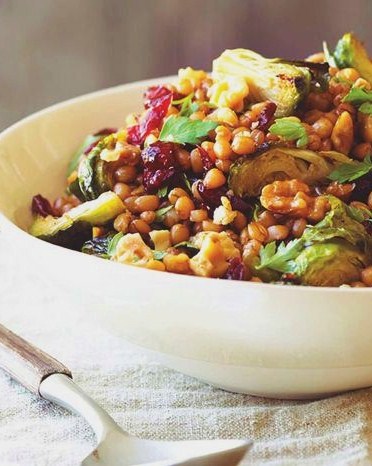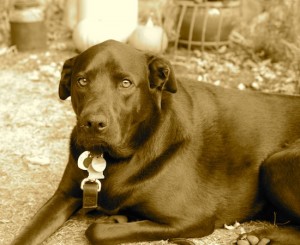 Farmer has gained 7 pounds since last year. We went to the vet for our annual check-up and rabies shot this morning and discovered this truth. He is bordering on fat, thanks in part to the treats (donuts, potato chips) he and Dad share on the couch every night, watching American Pickers. (Dad is skinny as a rail, so what does he care?) Honestly there is not much I can do about this, other than to take Farmer for longer walks, which would be good for both of us!
While I was at the vet, though, I had my usual conversation about food and cooking with Tara Larsen, who takes good care of us every time we visit Animal Health Care. This was a conversation about fresh food and vegetables, mind you, not about donuts and potato chips. She told me about a shrimp and saffron risotto she'd just had at a friend's house and about the pies she bakes every Sunday for her husband that feature a combination of Fuji, Braeburn, and Gala apples (what a great sounding combo!). And then she told me about what a fabulous cook her mom is, and how over the years, with three vegetarian daughters, her mom has mastered a tableful of interesting vegetable dishes for Thanksgiving.
So I told her about a recipe that happened to be top-of-mind. I recently got a new assignment from Vegetarian Times magazine that is going to challenge me to do some interesting things with little-used parts of vegetables—like beet greens, carrot tops, and celery leaves. So the other day I started my brainstorming by surrounding myself with books and magazines (yay!) and of course, paging through my own cookbooks to see what flavor partners and techniques I've used for some of these veggies in the past. Not only was this a very relaxing activity, but I wound up stumbling across recipes that I love but that I've forgotten to make in a while. (Pretty silly when you consider they're my own recipes!). One that leapt out at me was the Warm Wheat Berries with Roasted Brussels Sprouts, Toasted Walnuts, Dried Cranberries & Balsamic Butter Sauce in The Fresh & Green Table. Oh, my, is this a delicious, filling, and pretty dish. And—I realized while describing it to Tara—a perfect addition to a Thanksgiving table with lots of vegetarian guests.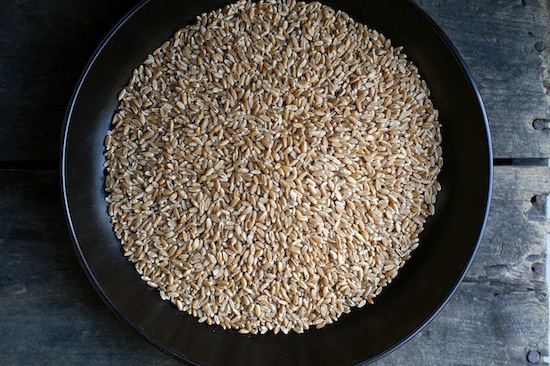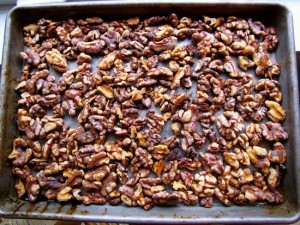 Probably the best thing about this dish for Thanksgiving planners is the make-ahead component (though there will be a little last-minute assembling.) Wheat berries (shown raw, above), like a lot of grains, can be cooked ahead and refrigerated or frozen. Then for a dish like this, you can microwave them briefly to warm them back up. You can also toast and chop the nuts, chop the cranberries, and cut up the Brussels sprouts ahead. And though the Brussels sprouts will have to go in the oven, that can happen after the turkey comes out (not everyone at the table is vegetarian, presumably), since the sprouts roast for only 20 minutes at 475°. The quick little stove-top butter sauce is so good, too, that you could double the sprouts and the sauce and put two dishes on the table—one with grains and one without!
I hope you enjoy this, Thanksgiving or not. (It also makes a great veggie supper on its own or a lovely side for roast pork.) Just don't feed any to the dog, please. He's on a diet.
Warm Wheat Berries with Roasted Brussels Sprouts, Toasted Walnuts, Dried Cranberries & Balsamic Butter Sauce
Recipe copyright Susie Middleton, The Fresh & Green Table, (Chronicle Books, 2012)
Nutty roasted Brussels sprouts have a fabulous destination to head for in this warm wheat berry dish that also features dried cranberries, toasted walnuts, and a tangy butter sauce. Cook the wheat berries a day ahead if you like and reheat in the microwave. If you do decide to make the whole recipe in one stretch, just wait to cook the Brussels sprouts until the wheat berries have been cooking for at least 50 minutes. (Hard wheat berries range in cooking time from 65 to 90 minutes. Be sure not to buy wheat berries that say they've been parboiled.) Both the sprouts and the wheat berries will stay warm, covered, out of the oven for several minutes, so if timing isn't exact, it's not a problem.
3/4 cup (winter or hard red) wheat berries
Kosher salt
1 pound Brussels sprouts, trimmed and cut in quarters lengthwise
3 tablespoons extra-virgin olive oil
2 tablespoons orange juice
1 tablespoon plus 1 teaspoon balsamic vinegar
1 tablespoon plus 1 teaspoon maple syrup
1/2 teaspoon freshly grated lemon zest
2 tablespoons cold butter, cut into 8 pieces
1/2 cup toasted chopped walnuts
1/2 cup chopped dried cranberries
2 to 3 tablespoons chopped fresh parsley
In a pasta pot, Dutch oven, or other large sauce pot, combine the wheat berries, 1/2 teaspoon salt, and 10 to 12 cups of water (enough to cover the wheat berries by a few inches). Bring to a boil, reduce to a simmer (it can be a rapid simmer or a low boil), and cook, partially covered, until the wheat berries are tender. Begin checking after 50 minutes, although this may take up to 90 minutes. (Most are usually done between 60 and 70 minutes. The berries should be pleasantly chewy. If you taste early and often, you'll get a sense of what "done" feels like.) Drain the berries very well in a colander. Shake the colander and tip it around to remove as much excess water as possible. Return the wheat berries to the pot, off the heat, and cover. They will stay warm for 10 to 15 minutes this way. (Or if making ahead, spread on a sheet pan, cool completely, and then refrigerate in a bowl, covered.)
Preheat the oven to 475°F. In a mixing bowl, toss the Brussels sprouts with the oil and 1/2 teaspoon of the salt. Arrange the sprouts in one layer in a 9×13 baking dish (they will be snug). Roast until brown and tender, about 18 to 22 minutes, stirring once if you like. If the sprouts finish ahead of the wheat berries, keep them in the pan, loosely covered with foil.
Combine the orange juice, the balsamic, the maple syrup, and the lemon zest in a small saucepan. Bring the mixture to a boil over medium-high heat and reduce to a simmer. Cook, stirring, just for about 15 seconds. Take the pan off the heat and add the cold butter, one or two pieces at a time, whisking after each addition until the butter is melted and creamy. (Don't reheat the mixture or the butter will break and the sauce will not be creamy.) Combine the wheat berries, the Brussels sprouts, and the cranberries in a mixing bowl, season with 1/2 teaspoon more salt, and pour the sauce over them. Stir gently but thoroughly. Add half of the walnuts, half of the parsley and stir well again.
Serve warm, garnished with the remaining walnuts and parsley.
Serves 3 to 4 as a main dish, 6 as a side dish