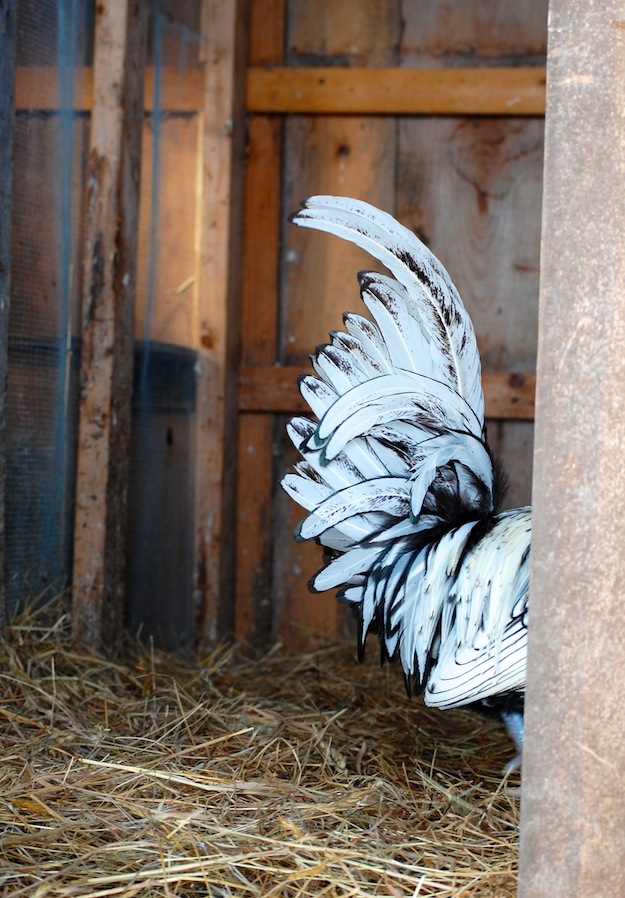 Actually, I wanted to title this blog post, "Be Afraid. Be Very Afraid." But you know, I didn't really want to scare any one.
A few days ago, I posted this warm-and-fuzzy blog about our new kitten Barney and other cute baby animals that we've encountered on the farm. (Barney is doing great, by the way. He has discovered curtains, my keyboard, the laundry basket, Libby's stuffed animals, and even his first mouse. He especially likes to sit in Roy's lap while he's reading the newspaper, helping him to turn the pages with frequent pawing.)
But we have this other creature on the farm of whom I am not so fond. In fact, most days, I do battle with him, and currently I have a scrape on my leg that he managed to give me through my blue jeans. It's Paulie, the Silver-Laced Polish Crested rooster. I've mentioned (and pictured) him before, but I bring him up again now, because he has found a new mission in life: He protects the ducks.
And attacks me when I go in the duck pen. Roy, not so much.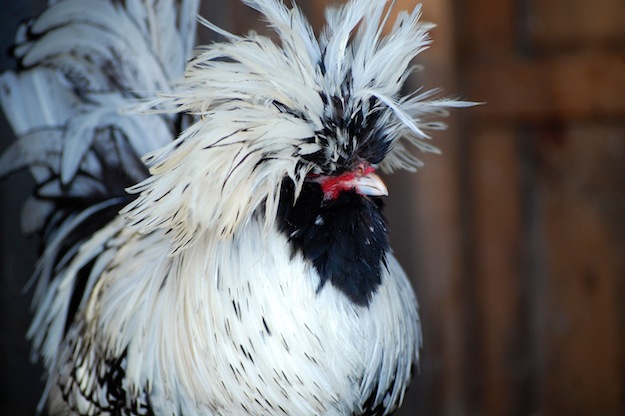 Paulie was a lonely rooster. He never got along with the other baby chicks when he arrived as our speciality "surprise" chick with the batch of Aracaunas last spring. Roy didn't want to get rid of him, though he also didn't want him in with our large groups of laying hens, so Roy built Paulie his own little coop and pen. Paulie regularly got out of his pen and free-ranged around, trying to cozy up to our original six Ladies, who are very independent and wanted nothing to do with him.
But when we got the ducks in early January, we set them up in a pen near Paulie's, and Paulie immediately hopped over and joined them. Little by little, he's made himself the Boss of the Ducks. He is so happy to finally have something to protect that he is taking his job very seriously.
Every day he seems to get a little bolder, and lately he's taken to charging at me like a bull running through the streets of Pamplona.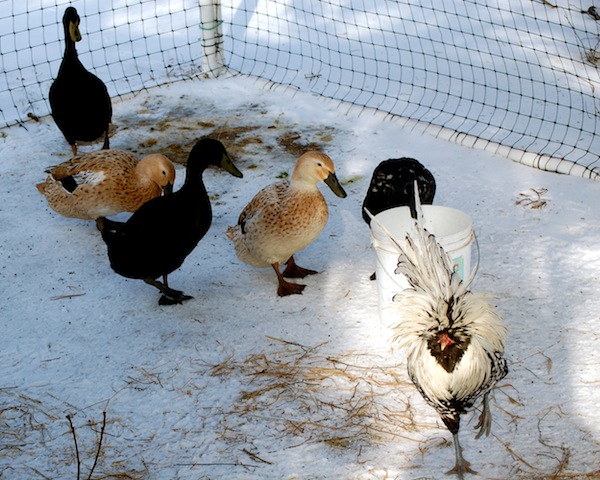 The only good news about this is that now I am prepared (or at least forewarned). The other day, when I went into the pen to grab the water bucket, I didn't realize that Paulie was stalking me until he latched on to my leg and started hammering away at me.
When I told Roy this later, he said, "Why didn't you just swing the bucket at him?"
Oh, right. You know it's funny what boys automatically think of doing that doesn't necessarily occur to a girl. Although, I think that probably would have just made Paulie angrier. Paulie doesn't attack Roy, because Roy has been handling him on a regular basis since he was a chick.
Thinking about this, I went back this morning to read a piece I remembered really liking in Edible Vineyard magazine by Kate Tvelia Athearn, who lives not too many miles down the road from us on another small farm, and writes lovely pieces about small farm life. Her story about Chickenzilla made me feel like I could keep working to improve my relationship with Paulie.
We'll see.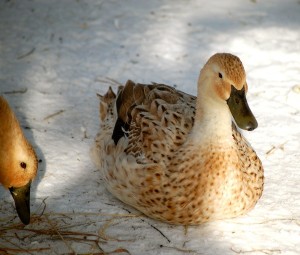 I could just let Roy feed the ducks, which he does often anyway. But he's got the 500 hens to deal with, and my route between the six Ladies and the 20 Aracaunas takes me right past the duck pen, so it makes sense. Later this spring, we'll probably let the ducks free-range a bit, so that might change the dynamics.
But it would be okay with me if Paulie disappeared. I know, that's terrible, isn't it? Roy wants to show him in the Fair this year. Fine. Maybe he will get kidnapped. Or, since he can't see very well due to the mop on top of his head, maybe he could fall off the back of the truck on the way home from the Fair, and he wouldn't be able to find his way home. I wouldn't do that though, either, because then my friend Joannie Jenkinson, the town animal control officer, would get one of those calls to come rescue a rooster. And, unfortunately, she already gets too many of those.
So I guess I'm going to have to learn to put up with Paulie. Or not.