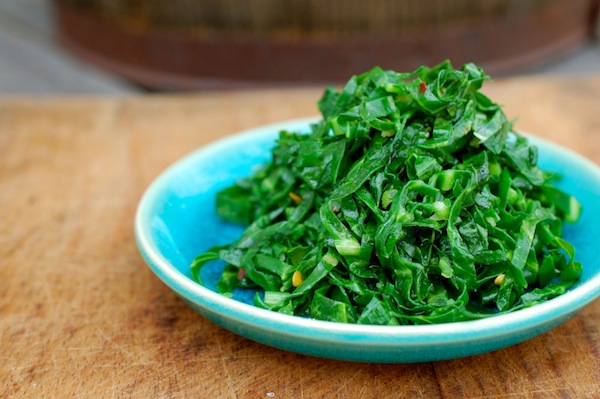 Even if I do not, the hoop house loves this weather. Or I should say the hoop house greens do. They like the cold nights and the many daylight hours of fuzzy sunlight. "Fuzzy" means grey and overcast to me, so I am not so happy about it, especially because it is freakin' windy here, and the daytime temps haven't exactly been soaring, so working outside isn't really pleasant.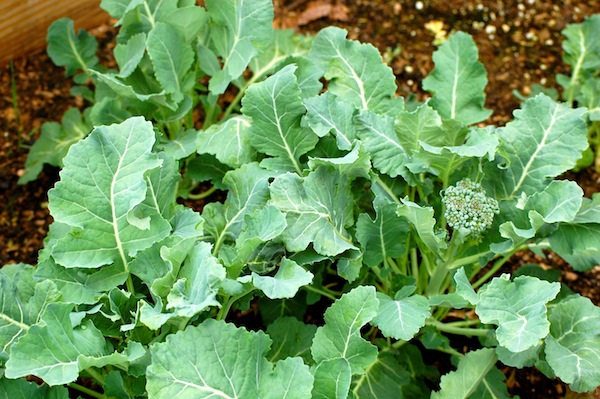 But the greens inside the hoop house don't have to deal with the wind, and they prefer these overcast days to the super sunny ones when the house gets pot-boiling hot.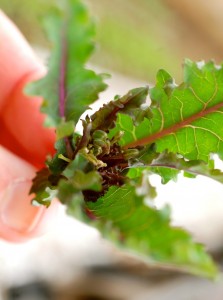 It did get hot a few days while I was away; I could tell because some of the greens bolted and flowered. I lopped off most of the flowers (including a few spent mini-broccoli heads) so that the greens could get their energy back and keep growing. In the process, I discovered that the flowers are delicious (especially the kale flowers), which I kept nibbling.
I'm not really sure, since I've never overwintered this many different kinds of greens in a hoop house, but I think the kale and collards may be flowering because the plants are aging and/or because of the day length, in addition to the heat.
But mostly, it has been cool and perfect for the greens, so the leaves are unbelievably tasty—nutty and sweet, not at all bitter. The broccoli leaves are my favorite—I can't imagine why they aren't sold in grocery stores or at farmers' markets (maybe they are somewhere!). Harvested young and tender, they need absolutely no prep before tossing in the stir-fry pan.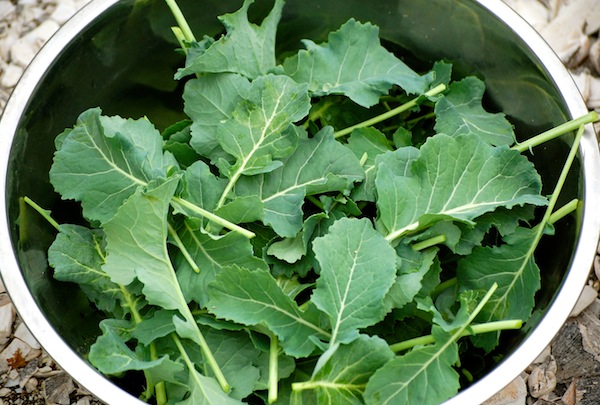 None of this I would have known if I hadn't finally taken advantage of the hoop house to plant broccoli and collards, which I normally avoid due to the cabbage pests out in the garden.
But here's the good news—you don't have to have a garden or a hoop house to do what I've been doing with the greens lately: Cooking the quickest side dish in the history of Vegetables-Meet-Fire. The secret is simply rolling your leaves up and slicing them across very thinly with a sharp knife. The slicing takes care of any tough fibers and the resulting "ribbons" cook in a heartbeat. I've often done this with mature collards in the past, but you can do it with any leafy veg.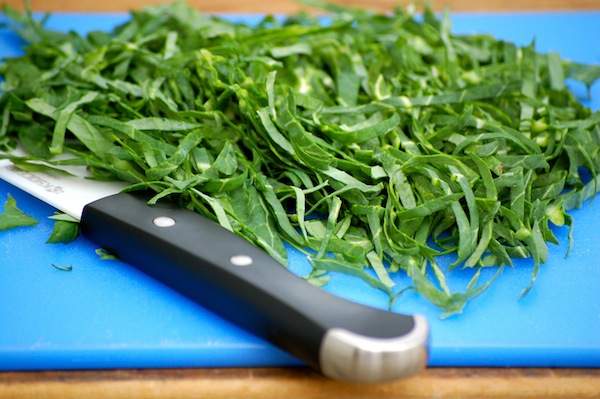 To get started, you can follow the basic recipe that I wrote for Fast, Fresh & Green (and updated slightly), below. I often just go with garlic and red pepper flakes, so the vinegar/honey/parm combo is optional here. But you could try finishing with sesame oil, soy sauce and sesame seeds or with lemon and minced capers or olives—whatever you like.
The greens also make a nice bed for fish (or lamb—it is Easter I realize!), a good addition to pasta dishes or frittatas, a nice pizza or tart topping, and an interesting fold-in to mashed potatoes or slow-sauteed root veggies like carrots and turnips.
Speaking of Easter, if you need asparagus side dish ideas, click here for a my favorite braised asparagus recipe, here for a nice saute, and here for roasting and grilling directions. Oh, and here for a nice asparagus bread pudding brunch recipe and here for asparagus bisque!
Super-Quick Sautéed Greens,"Confetti"- Style
I love using my large nonstick stir-fry pan for this and for so many things, but a large nonstick skillet works fine. Just crank up the heat so that the greens cook very quickly.
__________________________________________________________
½ teaspoon sherry vinegar (optional)
½ teaspoon honey (optional)
½ large bunch collard greens, broccoli leaves or kale
1 to 2 tablespoons vegetable, peanut, grapeseed, or olive oil
1 teaspoon minced garlic
Big pinch crushed red pepper
½ teaspoon kosher salt, more to taste
Shaved or coarsely grated Parmigiano-Regianno (optional)
____________________________________________________________
Combine the sherry vinegar and honey in a small bowl (if using).
Remove the leaves from their stems by holding the stem with one hand and pulling the leaves away from it with the other. Rip the leaves completely in half lengthwise. You should yield about 4 ounces greens. Rinse the leaves and dry them well. Stack them up on top of each other, roll them up tightly cigar-style, and, using a very sharp knife, slice them across into very thin ribbons (about 1/8-inch wide).
In a large (12-inch) nonstick skillet or nonstick stir-fry pan, heat the oil over medium-high heat. Add the garlic and red pepper flakes and cook until the garlic is softened and fragrant, 15 to 30 seconds. Add the sliced greens and the salt, and juke the heat up a bit so that the pan stays pretty hot. Cook, stirring to incorporate everything in the pan, until the greens turn bright green (at first) and then a darker green and are somewhat wilted, about 1 minute (do not cook much longer or they will begin to toughen). Remove the pan from the heat and taste. Stir in the vinegar/honey mixture if using, and serve right away, garnished with the Parmigiano if you like.
Serves 2